On a day of mostly sideways action with the bulls and bears struggling to gain control, Bernanke happened. Ben Bernanke gave his hawkish viewpoint on the economy, which was met with a solid hour of selling Wednesday before a very small late afternoon bounce into the close. His viewpoint consisted of an "unusually uncertain" economic outlook and that the economic recovery will be slow. However, he did say he does not believe we will have a double dip recession.

All in all, this testimony was very bearish and only adds more fuel to the sell-the-news reactions we have seen so far this earnings season. While earnings have been quite strong, expectations were also low to begin with. The main problem is we have not seen significant revenue growth therefore just meeting expectations has typically been met with selling.

We showed some support at the 20-day moving average in the S&P 500, which is about 1066. However, we could not break resistance Wednesday at the 50-day moving average, which is about 1086. Jim Cramer believes Wednesday's selling could put us in a great situation for a rally if Thursday's job report shows stabilization or upside in claims. I fully agree if we have better than expected claims. However, it is likely to be short-lived as our unemployment situation is worse than most even realize. This is due to the confusing unemployment rate that blinds many into thinking we are gaining traction. When people give up looking for jobs, they are no longer counted in the unemployment rate, which the pundits mostly point to in mainstream media. A jobless recovery is nearly an oxymoron.
Positive earnings reports Wednesday could help us bounce Thursday morning. Qualcomm (NASDAQ:QCOM) reported an EPS of $.57, which beat estimates by $.03 and also slightly beat revenue expectations. Afterhours, QCOM is up about 5%. However, Netflix (NASDAQ:NFLX) reported an EPS of $.80, which beat estimates by a whopping $.09, but revenue came in lower at $520 million with estimates at $524 million. After hours, NFLX was down nearly 10%. Those are not bad numbers but in this market, we have little room for error.
Doug Kass, one of the better analysts to follow, believes we have seen the lows of the year. The problem is the market is still in a clear downtrend. Unfortunately, I cannot subscribe to Kass's bold statement but truly hope he is right. In the meantime, I am mostly in cash and being very selective where I deploy my money until we can show some more general market strength. Now, let's get to some of the requested charts for the week.
--
Southwestern Energy (NYSE:SWN) (Click to enlarge)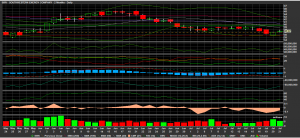 A/D line: Recent sharp uptrend but starting to level off
ADX [average directional index] line: Still in a bearish phase but showing improvement towards a buy signal
MACD [moving average convergence/divergence]: Mostly negative with small steps towards a buy signal
CMF (21): Negative, showing selling pressure
OBV [on balance volume: Confirmed all moves in the PPS, normal
RSI: [relative strength index] Neutral territory but very close to oversold
Resistance: 20-day moving average is the first resistance but the more important resistance is the most recent failed attempts at cracking and holding above $39.
Support: $35.75
Analysis: SWN is seeing a bounce right now but needs to break resistance around $39 before we can truly feel comfortable it is out of the downtrend. Due to the markets downtrending, we are mostly seeing broken charts and SWN is one of them. I'm slightly bullish on energy though, as it is one of the few areas I feel we can still see some upside strength this summer. If I wanted to play SWN, I'd initiate a small position and watch the Level 2 Quotes/Resistance. If we can break resistance around $39 and the Level 2 looks fairly clean, I'd be an aggressive buyer until it meets new resistance. At that point in time, I would aggressively take profits and let the rest ride with a tight stop loss. The MACD line should be the lead buying indicator. I'd likely be out of SWN before it even tests support levels though. We don't have a truly strong support below $35.75 as all the important moving averages are above the current PPS. Had we at least the 200-day moving average to show some support, I would feel more comfortable about upside potential.
--
Kodiak Oil (NYSE:KOG) (Click to enlarge)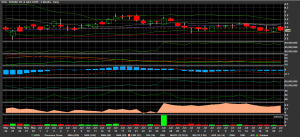 A/D line: Positive but in a slight downtrend
ADX line: Bearish but in a very weak trend, not far from signaling a buy
MACD: Mostly negative but not far from a buy signal
CMF (21): Positive
OBV: Confirmed all moves in the PPS, normal
RSI: Neutral territory but very close to oversold
Resistance: Relatively strong resistance around the 20-day moving average
Support: Strong support at the 200-day moving average
Analysis: KOG is in a trading range between the 200-day and 20-day moving average. The chart isn't too bad when comparing to most, as it seems it is near a bottom. The positive CMF is encouraging and the other indicators are not far off from being positive. With the strong support around the 200-day moving average, we should not break it anytime soon without very negative news or a very significant sell-off in crude oil. I do not expect to see either happen. Actually, I'm slightly bullish on their earnings report and KOG is currently my largest holding in the portfolio. Keep in mind, I have reduced the size of my positions due to the bearish market. In a bull market, I would have feel more comfortable with larger position sizes. If we can break resistance around the 20-day moving average, I will aggressively buy more and start to right-size my position closer to resistance and earnings. Even with good earnings, we are seeing too many sell-the-news reactions and I do not want to be caught with a full position during that.
--
Samson Oil & Gas (SSN)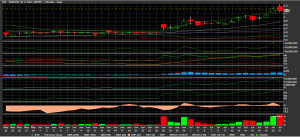 A/D line: Recent sharp downtrend however this was due to a major seller in the late afternoon today
ADX line: Very strong bullish trend
MACD: Bullish
CMF (21): Recently positive but not overly strong
OBV: Confirmed all moves in the PPS, normal
RSI: In overbought territory but if volume continues, we still have room to run
Resistance: 52-week high of 1.35
Support: 20-day moving average and weaker support levels throughout the recent breakout
Analysis: SSN reached a 52-week high today before a large late day seller took the stock down. Barring any other large sellers who are chomping at the bit to sell large positions, SSN still has room to run. Actually, since the selling seemed to be just a large seller around 3:38PM (Eastern), it is encouraging for a further run-up as SSN regained its composure after that sell-off and is up in afterhours. I would still be hesitant with any large positions in SSN since the run-up has been quite impressive already with little consolidation or support building. However, the recent trend is seeing a nice run-up throughout the intraday so some daytrading during the run-up to protect from profit-taking is ideal. This strategy allows for upside potential but still protects from too much downside risk. In a bull market, I would be more aggressive but in a bear market, protecting my capital is more important than hitting a homerun with any individual stock.
As always, do your own homework to see if you agree.
Disclosure: Long KOG and SSN but positions may change at any time