Gilead (NASDAQ:GILD) finally caught some bids yesterday up 0.5% on a volume of 23M (avg. volume 12M) shares!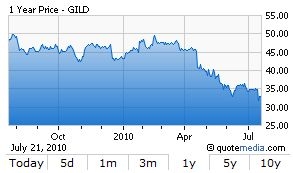 Among the supporters of the stock are Leerink Swann, who maintain their "Market Outperform" and price target of low 40's, and JPMorgan, who reiterate their "Overweight"and reduced target of $5 from $55. JPMorgan says the "Street View is unrealistically bearish". EPS was lowered from $3.66 to $3.54.
On Wednesday, Piper Jaffray reiterated neutral. On July 15, Needham & Company reiterated a buy. On February 22, 2010, Morgan Joseph downgraded the stock from buy to sell when the stock was in the high forties. See my post on Seeking Alpha in April when the stock sold off on the impact of healthcare reform commentary.
So what might we glean from all of this?
Gilead was over-owned and money came out as the market in general sold off. Insider sales over the past year may have helped the bearish stance.
The healthcare sector was trapped in the "no man's land " of healthcare reform, and GILD became a victim due to pricing and competitive concerns.
Saavy players on the "Street" found a great shorting opportunity as every analyst was bullish on the stock. The short interest as of June 30 is not significant at 16M shares, or about two days to cover.
GILD is 92% owned by institutions and many had to find cash where there was liquidity.
Analysts concerns are legitimate that the GILD pipeline is wanting and top line sales growth is slowing.
So GILD has transitioned from a growth stock to a value stock due to valuation metrics and hefty cash position of $3B.
Disclosure: Author is long GILD