According to the National Restaurant Association's Restaurant Industry forecast, the revenue of the restaurant industry is expected to increase by 3.6% in 2014 compared to 2013. On an inflation-adjusted basis, industry sales are expected to grow by 1.2%. This year will be the fifth consecutive year of real growth in the restaurant industry, although the growth rate is lower than what is expected during a normal post-recession period. It is forecasted that the restaurant industry revenue is expected to reach a record level of $683.4 billion in 2014.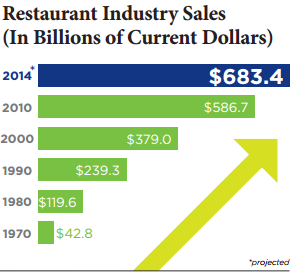 The most rapidly growing segment of the restaurant industry is the fast casual category that is showing very good growth in customer traffic compared to other segments of the restaurant industry. The following chart highlights the situation.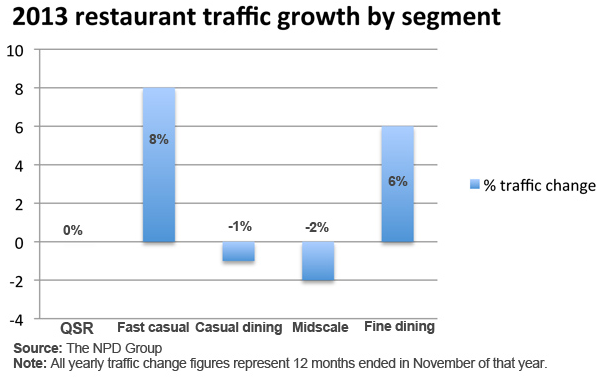 Fast casual saw the most growth in visitor traffic, at 8%. Fine dining also attracted 6% more visitors YOY. Quick service restaurants (QSRs), such as McDonalds (NYSE:MCD) and Pizza Hut (NYSE:YUM) are not able to attract more visitors in the US YOY. Casual dining and mid-scale restaurants are facing a decrease in customer traffic. Looking at this trend, we can see that the increase in customer traffic and growth in the restaurant industry is most captured by fast casual restaurants.
Trends Supporting Fast Casuals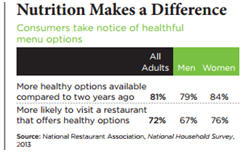 Source: Restaurant.org
Above is the survey result that shows that there is a growing concern among customers regarding healthy food available in restaurants. Compared to two years ago, 72% more adults say that they are more likely to visit a restaurant that offers healthy options. The survey reveals that this change in opinion shows a little more in women than in men. After two years, 76% more women compared to 67% more men express their tendency to go to restaurants with healthier menus and ingredients.
The survey also shows that more people compared to two years ago believe that there are healthier food options available for them at restaurants. This change in opinion is the result of efforts made by restaurants to introduce healthier food to their menus. Fast casual restaurants have a clear focus on healthy food, but QSRs have more focus on low-cost menus, and this is where they are trapped. For example, MCD has a huge cash stream that comes from its business in the U.S., and it would not want to lose that very soon by shifting its focus to healthy food rather than value. Certainly, MCD can't suddenly apologize for serving food that is deemed unhealthy and completely revamp its menu to serve healthy food. Many of these QSRs are struggling to grow in developed markets, and one of the big challenges they face is that they have to convince their customers that their menu is healthier.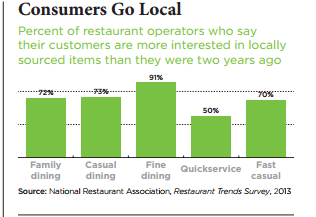 Source: Restaurant.org
The survey result given above shows the emerging trend, where more customers are now interested in locally-sourced items. According to the graph, two years ago, over 70% more customers in fast casual restaurants demanded items that were locally-sourced. There is a huge increase in demand from customers of other types of restaurants for locally-sourced items.
CMG is Leading
Chipotle Mexican Grill (NYSE:CMG) is a leading fast casual restaurant that has exhibited strong growth in its top and bottom lines in the past, and its focus on healthy and responsibly-sourced ingredients is paying proving to be beneficial. CMG promotes its image through its philosophy, which is worded as "Food with Integrity." Chipotle Mexican Grill claims it is committed to finding the best locally-sourced ingredients with consideration to animal welfare, environmental protection, and the welfare of farmers. There is a growing concern regarding the impact of genetically modified organisms (GMOs),unsafe growth hormones, and inappropriate use of inorganic fertilizers, insecticides, and pesticides on health. CMG's strategy is focused on sourcing ingredients that are not affected by these harmful practices.
Chipotle Mexican Grill has positioned itself very well to ride on the trends discussed above. Its powerful brand image as a healthy food restaurant will continue to be an advantage. Let's analyze how CMG attracted customers in the past years through its successful strategy. The company's revenue grew by about 18% in 2013, 20% in 2012, and 23% in 2011 YOY. Its operating margin has improved over the years. Net income grew consistently, with revenue growth of about 18% in 2013, 29% in 2012, and 20% in 2011 YOY.
Owing to the nature of the restaurant business, CMG receives smooth cash flow from its customers, as there are no receivables. The operating cash flow has increased at a CAGR of about 23% in the last three years. Revenue growth is slowing down, but revenues are expected to grow at a good double-digit figure by capitalizing on the trends in the restaurant industry.

Click to enlarge
Source: Morningstar.com
CMG does not pay dividends, and presently doesn't intend to pay them in the foreseeable future. In the past five years, CMG's stock has performed well and beat the S&P 500 and S&P restaurants index by a huge margin. A five-year cumulative total return assuming $100 invested in CMG, the two S&P indices, and all dividends reinvested shows that CMG's share would have grown to nearly $900, and an investment in the S&P indices would only yield less than $300.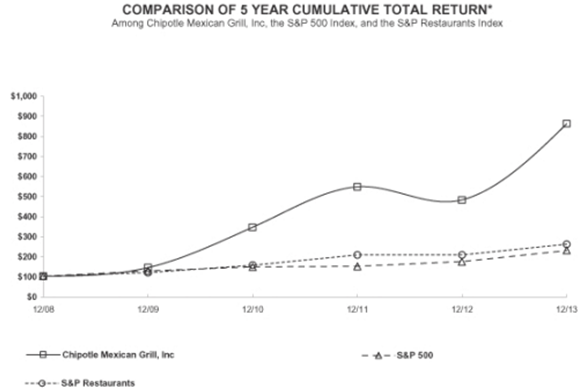 Source: CMG 10-K
Conclusion
CMG is well-positioned to ride the trends where customers are asking for healthier food with high-quality ingredients. We can expect CMG to capture more market share from the QSRs, and it will continue to grow its presence in the developed markets. CMG is a good long-term investment worth considering.
Disclosure: I have no positions in any stocks mentioned, and no plans to initiate any positions within the next 72 hours. I wrote this article myself, and it expresses my own opinions. I am not receiving compensation for it (other than from Seeking Alpha). I have no business relationship with any company whose stock is mentioned in this article.