Most investors are well aware that tobacco stocks usually offer a healthy dividend, if not healthy products. But are they safe for your dividend-focused portfolio? In my opinion, the answer is yes, generally, but as usual, some are better than others.
Altria Group Inc. (NYSE:MO) is a holding company with subsidiaries that include cigarette giant Phillip Morris USA, and tobacco makers John Middleton Co., and U.S. Smokeless Tobacco Company LLC.
Within the tobacco category, through it various subsidiaries, the company makes cigars, pipe tobacco, and smokeless tobacco products in addition to cigarettes. Altria Group recently acquired Green Smoke, Inc., an e-cigarette (e-vapor) manufacturer, and though not a tobacco product, the e-cigarette business is included in the "Smokeable Products" reporting category in company financial statements.
However, Altria Group is not just a tobacco company, as it also has significant interest in the alcohol and beverage industries.
Wholly-owned subsidiary, Ste. Michelle's holdings, has a portfolio of premium varietal wines and blended table wines. It's properties include a number of domestic wineries in northwest U.S., primarily in the state of Washington, as well an importing and distribution operation for it's foreign its offerings. St. Michelle accounts for about 1.5% of Altria Group's earnings according to its most recent annual report.
More importantly from a diversification standpoint, Altria Group also owns 28.6% of SAB Miller (OTCPK:SBMRY), which contributed $991 million in fiscal year 2013, or 14.2% of total earnings. SAB Miller's portfolio includes over 200 brands of beer, hop farming operations, various soft drinks and fruit juices, and a bottling agreement with The Coca-Cola Company (NYSE:KO).
As you can see, Altria Groups' business portfolio is diversified beyond just cigarettes, which I feel is the only product line that is any real danger of material decline at any point on the horizon.
Cigars and pipe tobacco, for most consumers, are really more of a luxury indulgence than a chemical crutch. Their use, generally, is less prevalent and far less frequent than cigarette smoking. Fittingly, there is nowhere near the public crusade against these products as there exists against cigarette smoking. In the long-term, on a macro-level I foresee demand for these products waxing and waning marginally around current levels, but I can't find a catalyst for a large decline, or advance, in the size of these sub-markets.
The cigarette business, on the other hand, is far less cut and dry. There is no doubt that public sentiment has steadily and increasing turned against cigarette smoking over the decades in this country. Public health concerns have led many municipalities to scrutinize and actively regulate, and therefore discourage, the use of tobacco products in public spaces.
Recently, technology has made it possible to reasonably replicate the cigarette smoking experience, including the delivery of nicotine, through electronically produced vapor. Eliminating the actual tobacco and all the other chemicals that come with inhaling it's smoke is in fact a very positive technological development, even if the nicotine remains. These products are called e-cigarettes and often branded and marketed with various mash-ups of the term 'vapor'.
The e-cigarette, as a tobacco alternative, is trumpeted as a healthier, cleaner, less offensive option for current smokers and the product has really caught on lately. I personally have at least a half-dozen friends that own and use one of the assorted brands in this burgeoning, yet still fragmented, market. As you would expect, the e-cigarette may represent a legitimate threat to the traditional cigarette market and this has not gone unnoticed by the industry.
Each major competitor in this market has by now either acquired or launched an e-cigarette business in response to swelling demand and Altria Group is no different, having acquired Green Smoke.
This strategy is fairly obvious for the cigarette producers. The idea being that as smokers migrate from traditional tobacco cigarettes to e-cigarettes, they are more likely to move laterally within the product line and remain customers, rather than abandon the company in favor of the new technology sold elsewhere. It's a natural hedge on the potential decline of traditional tobacco cigarettes.
It could be argued, therefore, that we should begin to think of this industry as the nicotine industry. A certain percentage of the population has a penchant for nicotine, and probably always will. The cat's out of the bag at this point. And as long as there is a nicotine demand, the companies that properly position themselves will be there to supply it in the future, whether through traditional tobacco, e-cigarettes as we now know them, or through some as-of-yet un-realized new and innovative way to ingest the stimulant.
The point here is that Altria Group's cigarette business does face certain societal headwinds (along with the rest of the industry), but I believe it will change with the times, adopting whatever nicotine delivery method is popular at the time. I believe nicotine companies will continue their largely winning ways well into the future. Yes traditional cigarette smoking is in fact declining but doom and gloom predictions for the industry, in my view, are overblown.
The primary impetus for investing in this space, on the other hand, is its reputation for slow-and-steady price appreciation coupled with above average dividends.
The reputation is fairly accurate. These are large established markets, so choosing a horse in this race comes down to trying to identify the "best of breed" stock in the industry.
So let's compare Altria Group to two of it main competitors, Lorillard (NYSE:LO) and Reynolds American (NYSE:RAI).
Taking a look at 5 years of price returns, we see that after Lorillard shot out to big lead in early 2009. It then settled in to a long correction before joining, and beginning to follow, the other two stocks in early 2013. Altria Group and Reynolds American, for all intents and purposes, have tracked each other over the entire period.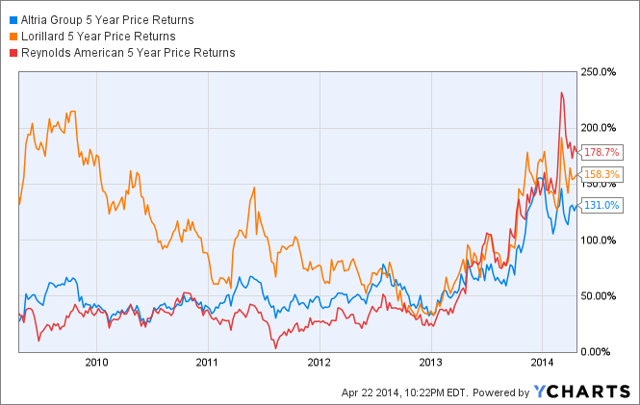 Click to enlarge
MO 5 Year Price Returns data by YCharts
The market sell-off that opened this year has put some separation between the three. With Reynolds American leading and Altria Group the laggard. I believe this spread will tighten up, making Altria Group the one with largest potential short-term gain, as it rises to catch the others, provided the current uptrend continues.
Over the long-term, I see only one reason to believe the returns of all three will not track fairly closely to each other over time. I believe the relatively greater diversification of Altria Group's revenues, discussed earlier, is both a competitive advantage over the others and a potential catalyst for potential outperformance of the group in the long-term. While the other two are no longer pure tobacco plays either, having jumped in to the e-cigarette business as well, neither approaches Altria Group's stake in SAB Miller. The income produced by it's interest in SAB Miller has risen 55.2% in the last 5 years, rising from $600 million in 2009 to $991 million in 2013. I believe steady growth in Altria Group's beer and wine businesses will help it to offset and absorb the continued down trend in cigarette revenues prevalent across the industry.
In terms of valuation, we find more of the same. On a trailing basis, the P/E ratios have a bit more wander in them than the price returns, but they share the tendency to converge, which over the long-term keeps them relatively in-line with each other. They have recently experienced such a convergence, with current P/E's ranging from 17.07 to 17.57, with Altria Group as the least expensive option.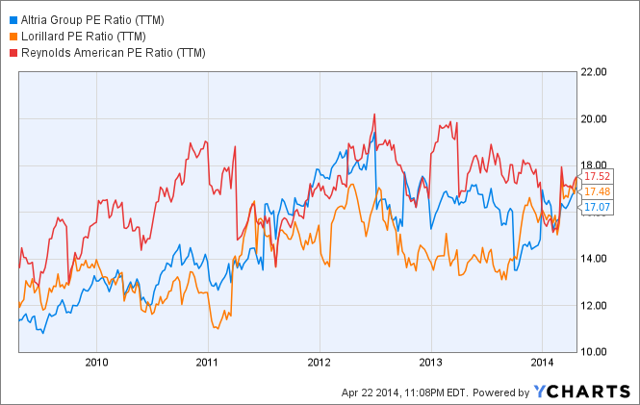 Click to enlarge
MO PE Ratio (TTM) data by YCharts
On a forward basis, the P/E's have been much more tightly aligned over the last 5 years. As we would expect, it mirrors the price return chart with the January correction opening up a similar spread in values. Again, Altria Group is the least expensive, having experienced the deepest correction, and shallowest bounce-back of the group.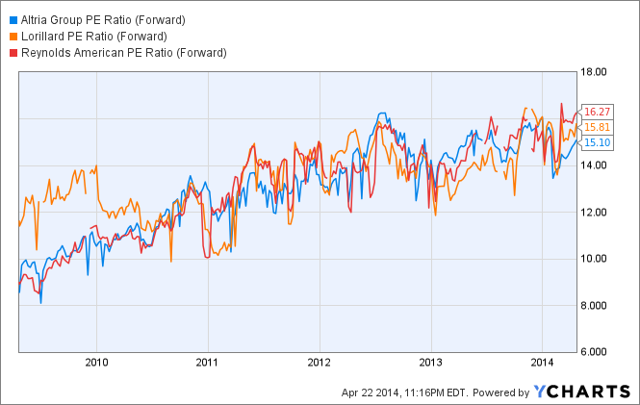 Click to enlarge
MO PE Ratio (Forward) data by YCharts
I could go through each and every valuation ratio but, we find the same patterns again and again; relatively close tracking with occasional deviations, followed by reversions to the mean. This exercise will not enhance the point any further that there's not really much meaningful separation between these in terms of market valuation; not for very long at least.
With Altria Group currently selling, by most measures, at a slight discount to the other two, it may be a good opportunity to pick up the most fundamentally attractive stock of the bunch at small discount to the others.
It is important to note that all three are rather expensive from a historical perspective, but the market is also near it's all-time highs, so that's not really very surprising. There's also not much you can do about it. You could wait for a broad market correction and buy at better price later. It may come later than sooner though, so I would advise establishing a position now if you're interested, but hold a little back so that you can pickup up more shares if we get a broad market correction in the near future like the market pundits have been predicting for what seems like an eternity now. Scaling in to the position over time in as series of 4 or 5 trades is another option.
While the market keeps the valuations of these companies fairly close, the management teams at each actively keep their dividends in-line with each other and well above the average large cap stock. They are acutely aware of what is appealing to investors about their shares and they manage the dividends accordingly.
Just look how the dividends have been routinely ratcheted up in the years since the financial crisis in dollar terms: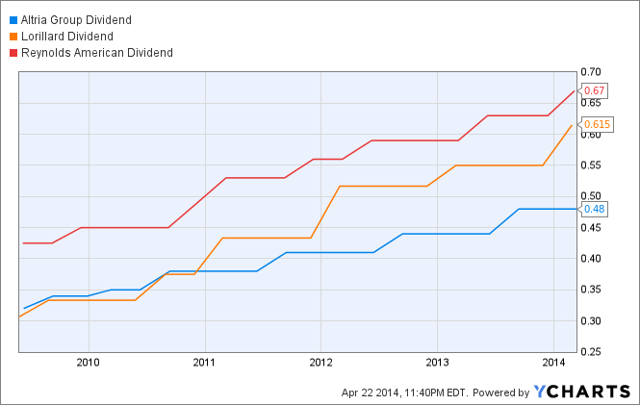 Click to enlarge
MO Dividend data by YCharts
While yields are down, from their financial crisis era highs, in this nearly-zero interest rate environment, the group has settled in between 4% and 5% annually. As the yield is inversely related to current price, it's not surprising that we find the same separation pattern from our early charts at the beginning of this year, only inverted.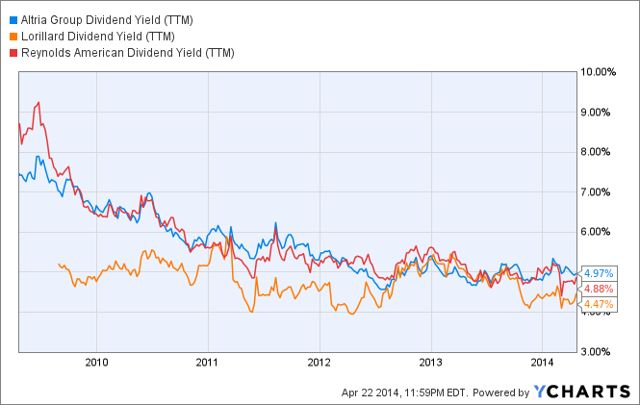 Click to enlarge
MO Dividend Yield (TTM) data by YCharts
Here Altria Group is the current leader, though all three dividends are very good by current market standards. With saving accounts and CD's paying almost no interest and a 10-Year Treasuries yielding less than 3%, its difficult to argue with a low-Beta stock like Altria Group (Beta of 0.5) paying a 5% dividend with a price chart that looks like a gentle hillside, sloping steadily upward from left to right.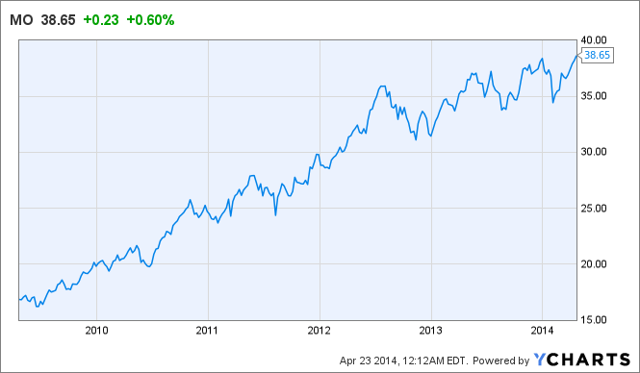 Click to enlarge
MO data by YCharts
Historically speaking, this group of stocks has paid even higher dividends, especially in high interest rate environments. Therefore its reasonable to assume that with interest rates having nowhere to go but up from here, that your 5% dividend now could become a considerably larger percentage in the future if Altria Group doesn't want to lose investors to rising bond market yields. The following charts shows how Altria Group's dividend yield has changed over the last three decades.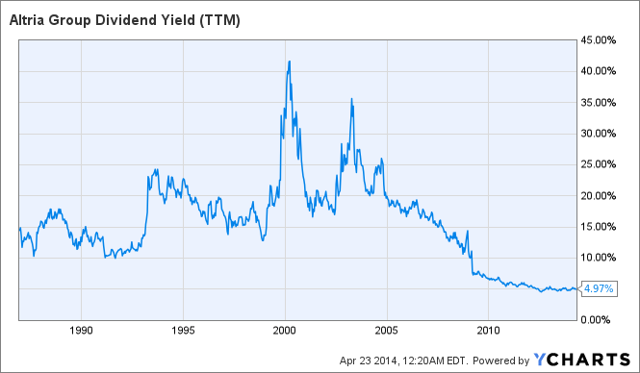 Click to enlarge
MO Dividend Yield (TTM) data by YCharts
Another concern for the dividend investor to consider before opening a position in Altria Group is the financial stability of the company. Can the balance sheet handle the dividend going forward? Will they pay it consistently? This is vital consideration, especially if you are living off your dividend payments or plan to do so.
In short, yes, when it comes to Altria Group's ability to maintain the dividend going forward, it is my opinion that it can and it will. First of all, the industry as a whole has a long record of consistent dividend payments. As you can see, at no time in the above chart does Altria Group's dividend yield fall to zero, and that's just the last 30 years in a very old industry.
On top of a good track record, the company has outwardly stated in is financial documents, as recently as its last 10-K, that it intends to maintain a dividend ratio target of approximately 80% of its adjusted diluted EPS. The company has also been repurchasing shares in recent years, removing just over 100 million shares from the market from 2011 through 2013. The repurchase program is still ongoing and is expected to end in the third quarter of this year.
Which brings me back around to the idea that nicotine business is not an endangered species by any means. If anything, it has taken on cyborg-like qualities by now offering electronic incarnations of itself. I believe tobacco dividends in general are safe for the foreseeable future. Plus, with Altria Group you get the added diversification of the SAB Miller stake, whose alcohol-fueled earnings are independent but equally as reliable.
In my opinion, if you're looking for yield, with slow and steady price appreciation in the tobacco industry, Altria Group currently represents the "best of breed" choice for your hard-earned investment dollars.
Disclosure: I have no positions in any stocks mentioned, but may initiate a long position in MO over the next 72 hours. I wrote this article myself, and it expresses my own opinions. I am not receiving compensation for it (other than from Seeking Alpha). I have no business relationship with any company whose stock is mentioned in this article.
Editor's Note: This article discusses one or more securities that do not trade on a major U.S. exchange. Please be aware of the risks associated with these stocks.