By Craig Bowles
Overview
Amazon.com (NASDAQ:AMZN) is slated to report 1Q 2014 earnings after the close on Thursday, April 24th. Results are typically released between 4:01 and 4:10 p.m. EST. A conference call will follow at 5:00 p.m. EST, which is webcast through Amazon Investor Relations. The world's largest internet retailer is a component of the S&P 500 and NASDAQ 100 Indexes.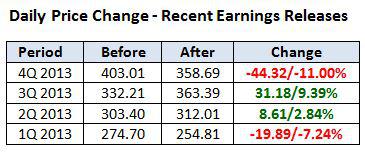 Outliers & Strategy
Amazon provided the following guidance for the 1Q 2014 period back in its January (Q4) earnings release:
Net sales: The company guided between $18.2 bln and $19.9 bln. The current consensus is $19.43 bln (range $19.03 bln to $19.93 bln). (Source: Yahoo! Finance!). Revenue is a critical measure for Amazon and often dictates the after-hours trading action, given the wide breadth of analyst and company estimates. This quarter's figure is particularly intriguing as it reflects the outcome of the holiday shopping period.
The company also indicated operating income (loss) is expected to be between $(200) million and $200 million. According to Zacks Investment Research, the consensus estimate is $191.4 mln for reported operating income.
Earnings Per Share: Amazon typically reports a "clean" figure that compares with consensus estimates. The current Street estimate is $0.23 (range -$0.01 to $0.52). (Source: Yahoo! Finance).
Forward guidance is a critical measure for Amazon and usually impacts the ensuing trading activity:
Revenues Guidance (2Q2014): Analyst consensus is $19.03 bln (range $18.48 bln to $19.61 bln).
Shares can react negatively toward conventional measures such as Earnings Per Share and Revenues but the market tends to reverse so long as the operational metrics are stronger than forecasts.
While much of the attention centers on Amazon's retail operations, an overlooked part of its business are the hosted web services & cloud-computing segments that contribute meaningful revenue. Amazon Web Services (AWS) has emerged as one of the more profitable segments with the unit now procuring major contracts from corporations and the U.S. government.
Insiders have sold 295,045 shares during the last six months.
Amazon shares have a 1-day average price change on earnings over the past eight quarters of 7.48%. Options are pricing in an implied move of 8.90% on earnings.
Recent News
04/23: Amazon has been trying to compete with Netflix and a new HBO deal is an important step, according to a post on Forbes.com.
04/23: Amazon sales in those states, which force the company to collect tax have decreased by 9.5%, according to a post at TheMotleyFool.com.
04/21: Amazon's first smartphone is said to be special in many ways and is thought to be coming in June. The device could begin shipping in September, according to TheStreet.com.
04/17: Amazon raised prices in the United States for its Prime service from $79 a year to $99 a year. Existing and potential subscribers are likely to give some thought as to whether the service is a good deal, according to a post at TheMotleyFool.com.
04/09: After more than three years, the United States Court of Appeals rejected Rovi's lawsuit against Amazon.com relating to patent violations, according to Benzinga.com.
Technical Review
Amazon's stock is below the 200-day MA but attempting to firm up after having reached the uptrend line. A third leg down similar to the first would find support at $280. Upside resistance runs up to $349. (Chart courtesy of StockCharts.com)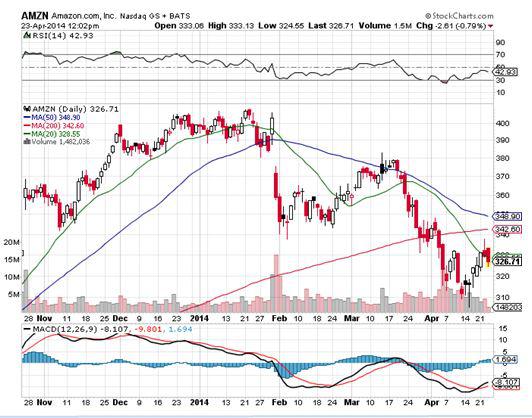 Summary
Operating income for Amazon at the high end of guidance would meet analyst expectations. Analysts have a broad range of estimates for EPS with traders expecting the middle, so EPS above $0.25 would be a positive. Revenues above $19.6 bln would be bullish for the stock as would the high end of revenue guidance. Note that in past releases, the tendency has been to sell-off sharply on the initial report, only to rally in the ensuing session as the Street focuses on the operating metrics (operating income & margin) and non-core retail business.
DISCLAIMER: By using this report, you acknowledge that Selerity, Inc. is in no way liable for losses or gains arising out of commentary, analysis, and or data in this report. Your investment decisions and recommendations are made entirely at your discretion. Selerity does not own securities in companies that they write about, is not an investment adviser, and the content contained herein is not an endorsement to buy or sell any securities. No content published as part of this report constitutes a recommendation that any particular investment, security, portfolio of securities, transaction or investment strategy is suitable for any specific person.
Disclosure: I have no positions in any stocks mentioned, and no plans to initiate any positions within the next 72 hours. I wrote this article myself, and it expresses my own opinions. I am not receiving compensation for it (other than from Seeking Alpha). I have no business relationship with any company whose stock is mentioned in this article.