Novartis (NYSE:NVS) and GlaxoSmithKline (NYSE:GSK) exchanged more than $20 billion in assets recently to reinforce their profitable divisions and eliminate their weaker businesses as drug manufacturers adjust to competition from generics and spending cuts in healthcare.
Transaction Details
The transactions, which include Novartis purchasing GSK's cancer treatments and GSK buying Novartis' vaccines division, occurred soon after news that AstraZeneca had declined a bid of over $100 billion from Pfizer.
GSK will transfer to Novartis two of its cancer treatments, Mekinist and Tafinlar, which will give Novartis a robust market position for melanoma drugs. Arzerra, for chronic lymphocytic leukemia in thrombocytopenia, and Tykerb, which treats metastasized breast cancer, are included in the transaction.
Pharma Market Movements
The international pharmaceuticals market has seen a rush of deals, while the largest companies seek to expand their growth in smaller, cutting-edge businesses, and smaller boutiques and generic manufacturers seek greater scale.
The value of deals in this industry has nearly doubled since the beginning of 2014, when contrasted to the same period of 2013.
Novartis Restructuring
The restructuring at Novartis signals the completion of a year-long analysis of its expansive portfolio after its CEO and Chairman, Daniel Vasella left the firm. Mr. Vasella was the architect and strategist behind the merger of Sandoz and Ciba-Geiby that led to the creation of Novartis in 1996.
Novartis reported that it had agreed to buy the oncology products of GSK for $14.5 billion, and an additional $1.5 billion depending upon the future results of a drug to treat melanoma. This transaction will bolster Novartis as the No. 2 leader in cancer treatment behind Roche.
In addition, Novartis reported that it sold its vaccines business to GSK, excluding flu vaccines, for $5.25 billion, with prospective milestone disbursements for $1.8 billion and recurring royalties, as well as securing a joint venture with Glaxo in consumer healthcare. The transaction includes the sale of its animal health division to Eli Lilly for nearly $5.4 billion.
Glaxco Strengthening As Well
These deals look positive for Glaxo, which will strengthen its consumer health and vaccine businesses, while returning approximately $6.7 billion to stockholders.
Chief Executive at Novartis, Joe Jimenez expects the overhaul to prepare the company for future challenges in the worldwide healthcare industry. In speaking to reporters, Mr. Jimenez said the recent deals would decrease total sales at Novartis by about $4 billion, while creating much higher profits by swapping higher-margin cancer treatments for lower-margin vaccines.
Many drug manufacturers have stockpiled their oncology pipelines as a strategy that combined drugs, known as drug cocktails, will become the leading treatment of the future for cancer.
GSK expects the deal with Novartis to bolster two of its critical franchises: consumer health, where it will earn more than $10 billion in annual revenue after the transaction, and vaccines, which supply more than 2 million injections daily.
Wide Reaches For Both Companies
The deal between Novartis and GSK represents a trend towards businesses and products of strength and away from an outdated model of drug manufacturing to treat every disease imaginable. After completion of the trade between the two companies, GSK will realize approximately 70 percent of its revenue from franchises in vaccines, respiratory, HIV and consumer health.
Novartis indicated it would seek the sale of its flu divisions quickly.
Because of its deal with Novartis, Eli Lilly will hold the world's No. 2 position in animal healthcare. It reported the funding of the transaction includes $3.4 billion in cash, $2 billion in loans and projected cost savings of approximately $200 million annually for the next three years.
Goldman Sachs Group Inc. acted as advisor to Novartis on the animal health care transaction, while BofA Merrill Lynch consulted for Eli Lilly. Lazard and Zaoui & Co. providing advisory consulting to GlaxoSmithKline.
Healthy Outlook For Investors In Both NVS and GSK
Given this win-win deal for both Novartis and GSK, along with market movements in the companies' favor, the outlook for both NVS and GSK is strong in 2014. Both stocks are up in Q1, and have seen steady increases the past twelve months.
We recommend investors take positions in both companies for increased gains this year.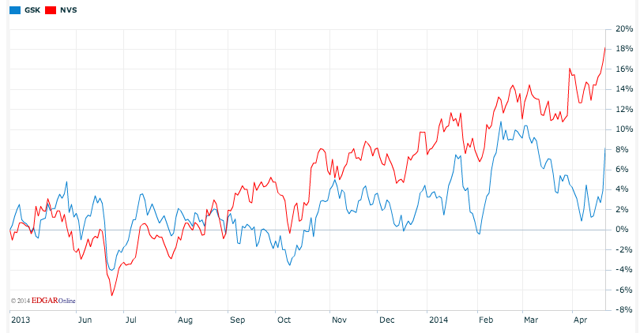 (Both charts: Nasdaq.com)
We invite readers wishing to read and join the discussion about the pharmaceuticals industry on regular basis to click the +FOLLOW button above the title of this article.
Disclosure: I have no positions in any stocks mentioned, and no plans to initiate any positions within the next 72 hours. I wrote this article myself, and it expresses my own opinions. I am not receiving compensation for it (other than from Seeking Alpha). I have no business relationship with any company whose stock is mentioned in this article.