McDonald's (NYSE:MCD) continues to struggle. If first-quarter results have revealed anything, it was that revenue challenges continue and large western markets are saturated. While some investors believe that a shift to more healthy food choices could be an effective counter-measure to sluggish growth and help attract new customers and increase store traffic, I remain skeptical. The truth is, growth will largely come from abroad, from markets with a significantly less dense restaurant footprint than in the United States. With a weak revenue growth outlook, it will be difficult to convince investors that McDonald's premium valuation is justified.
Share performance
McDonald's has been quite volatile over the course of the last twelve months, trading between $92 and $103. The restaurant franchise has delivered a negative return of only 0.44% for shareholders over the last twelve months.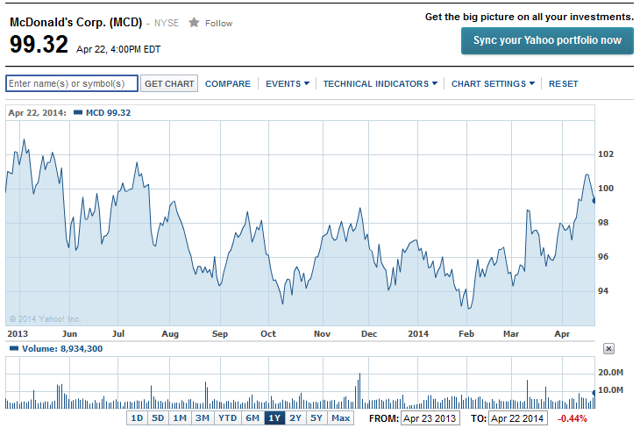 (Source: Yahoo Finance)
McDonald's underperformance is really striking. The chart below depicts the share performance of McDonald's and its closest peers in the fast food franchise business. McDonald's returned only 4% over a full two years, whereas Burger King Worldwide (BKW) soared 74% and Domino's Pizza (NYSE:DPZ) 116%. McDonald's even got outperformed by Yum Brands (NYSE:YUM), whose stock returned a disappointing 5% over the same time period.
I have been skeptical about the restaurant business for quite some time (high competition, low margins, disappointing store traffic growth, high equity valuations), and I am particularly bearish with respect to Yum Brands and McDonald's. Valuations in the restaurant business have gotten way out of hand, to say the least (see below).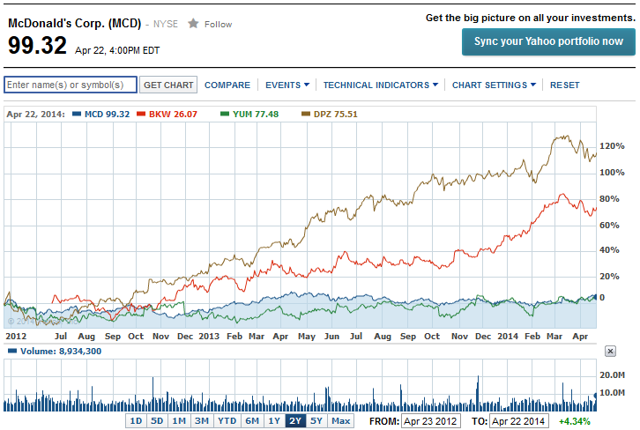 (Source: Yahoo Finance)
Intrinsic value estimate
Given McDonald's weak first quarter results, I have little reason to adjust my dividend outlook for the fast food franchise. McDonald's has paid an annual dividend of $3.12 per share in 2013 - up 9% y-o-y. I have incorporated McDonald's high historical y-o-y dividend growth rates in the dividend discount model below. Even considering a generous terminal growth rate of 5%, McDonald's still has a significantly lower intrinsic value compared to its current share price: Approximately $74 per share, based on a standard discounted dividend valuation model, compares against a market price of nearly $100.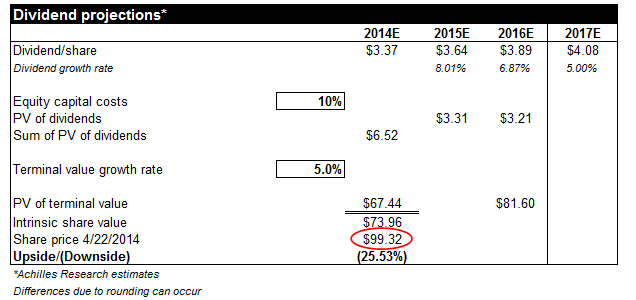 (Source: Achilles Research)
Market valuation
I do get McDonald's equity story. I am particularly happy for investors who purchased McDonald's stock in the 1990s or earlier; those investors are looking at substantial cash flow yields and benefit from an extremely low-cost basis. Having said that, I also believe McDonald's now trades at a relatively inflated equity valuation, and may even have substantial correction potential.
McDonald's presently trades at approximately 16 times earnings, while other companies in the fast food restaurant peer group trade at even higher earnings multiples. The peer group itself exhibits an average P/E ratio of 20.30, highlighting that the chance of getting a bargain are slim to none.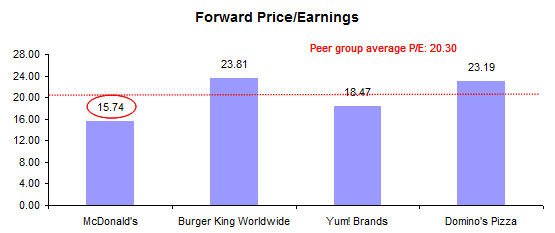 (Source: Achilles Research, Finviz.com)
Dividends
McDonald's has the highest dividend yield in the peer group: 3.26%. On first glance, the yield is attractive. With a struggling top and bottom line, however, I think McDonald's is not that great an investment and surely shouldn't be bought solely for its dividend yield.
McDonald's pays investors $0.81 per share, which translates into annual payments of $3.24 per share. I believe McDonald's will try to comfort shareholders and increase its annual payout to $3.37 per share in 2014, which would result in an estimated forward dividend yield of 3.39%.
The table below compares the present dividend yield of McDonald's to its peers in the fast food restaurant peer group.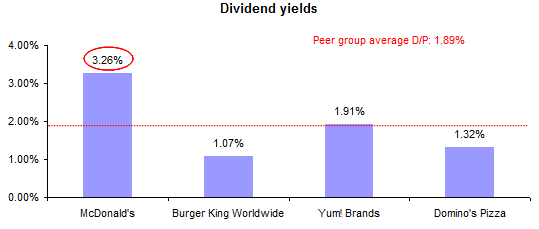 (Source: Achilles Research, Finviz.com)
A summary valuation table is provided:

(Source: Achilles Research, Finviz.com)
Conclusion
Even though McDonald's commands the lowest P/E ratio in the fast food restaurant peer group, I don't believe McDonald's deserves a multiple of nearly 16 times forward earnings. This is especially true considering that revenue challenges in the important domestic fast food market -- comparable sales decreased 1.7% y-o-y in the U.S. in the first quarter -- have not been adequately addressed yet. With so many investment opportunities in the stock market offering better capital appreciation odds and superior yields, new investors should not consider McDonald's stock as a long-term income vehicle.
Disclosure: I have no positions in any stocks mentioned, and no plans to initiate any positions within the next 72 hours. I wrote this article myself, and it expresses my own opinions. I am not receiving compensation for it (other than from Seeking Alpha). I have no business relationship with any company whose stock is mentioned in this article.