By Bryan McCormick
US stock index futures are strongly higher this morning after data out of Europe that saw banking shares up sharply there. The demand picture in Europe appeared much better than expected, likely because of a weaker euro, which helped to boost exports.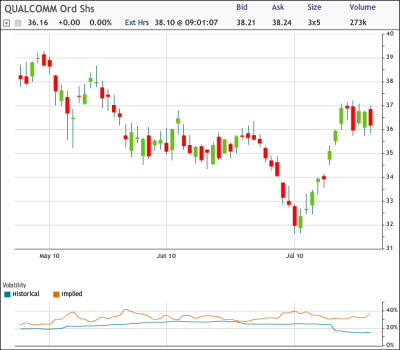 The reports in this round largely contained data only from France and Germany. Analysts have warned that, once final PMI data is published with all eurozone countries included, the results might not be so bullish.
There was also a surge in most banking shares ahead of the stress test results, which are to be published tomorrow, though there was still some debate about the form and timing of the release. The euro gained significantly against the dollar, helping to firm commodity prices.
US futures benefited from better-than-expected results last night from Qualcomm (NASDAQ:QCOM), which is up over 4.5 percent, and Caterpillar (NYSE:CAT), 3M (NYSE:MMM), and UPS (NYSE:UPS) this morning. Microsoft (NASDAQ:MSFT) got a boost this morning on a note from Bloomberg that the company may issue a larger dividend for the first time in two years. Those results may be somewhat constrained as Jobless Claims data showed initial claims coming in much higher than expected at 464,000.
Earnings news will continue to accelerate in coming days. For today, we will also hear from Amazon.com (NASDAQ:AMZN), American Express (NYSE:AXP), and SanDisk (SNDK). Tomorrow Ford (NYSE:F), Honeywell (NYSE:HON), Kimberly-Clark (NYSE:KMB), McDonald's (NYSE:MCD), Schlumberger (NYSE:SLB), and Verizon (NYSE:VZ) are among the S&P 500 names that will report.

Disclosure: No positions