The short answer is no. While risks are higher and should, in my view, be reflected in portfolios, I view the fundamental investing backdrop as favorable. This drives my view that investors should consider retaining a procyclical investment posture with overweights to equities and commodities relative to bonds. Within equities, I think investors should consider trimming European exposure because of geopolitical risks, but remain overweight equities given attractive valuations and an expectation of accelerating growth later this year. I remain positive on Japanese equities longer term, but I have a neutral view in the short term due to the absence of a near-term catalyst. I also have a neutral view on U.S. equities, as good fundamentals are offset by relatively high valuations. Emerging-market (NYSE:EM) headwinds lead me to be underweight equities and neutral on debt. However, recent underperformance and resultant low relative valuations are enticing from a contrarian perspective, especially considering the structural improvements many EM countries have implemented since the crises of the 1990s. Overweighting commodities may be prudent in light of attractive valuations, incipient inflation, and improved fundamentals.
My primary concerns stem from events in Ukraine and continuing stresses in emerging markets more broadly, but my base case is that tensions between Ukraine and Russia will not escalate to military conflict, and that emerging markets will not experience a full-blown crisis.
What Has Not Changed in My Thesis?
Heading into 2014, my view was that the global economy was healthy, supported by improving fundamentals and accommodative monetary policy. I also saw a case for incrementally higher inflation, particularly in the U.S. and Japan. Emerging markets were the bigger concern at the beginning of the year, given the stresses in the so-called Fragile Five (Brazil, India, Indonesia, South Africa, and Turkey) and slowing growth in China.
The first quarter of 2014 was a clear reminder of the importance of diversification.1 While U.S. data softened, the situation in Ukraine erupted and concerns about shadow banking in China grew. Equities were flat and safe-haven government bonds delivered positive returns. Looking ahead, many underpinnings of my earlier thesis remain in place. The fundamentals supporting developed-market growth are still constructive (Figure 1). The impact of severe weather in parts of the U.S. will continue to cloud the outlook, but it is likely to be temporary, and Europe and Japan are at inflection points that suggest potential positive growth ahead.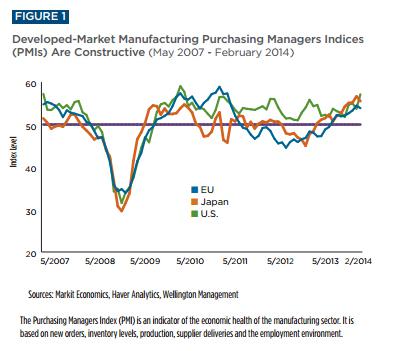 The drivers of inflation I identified at the beginning of the year, including nascent wage growth, continued improvement in labor markets, and aggressive policy action in Japan, are still apparent. In the U.S., wage pressures are percolating in small-business surveys. As Figure 2 shows, the percentage of small businesses with positions they are unable to fill is an indicator of labor-market tightness and a strong predictor of hourly earnings. In the broader Job Openings and Labor Turnover Survey (JOLTS) by the Bureau of Labor Statistics, the number of hires and the number of job openings are both increasing off their 2009 lows as well.
The U.S. Federal Reserve (Fed) remains accommodative. Concerns resurfaced about a quicker pace of rate hikes after Chairman Janet Yellen suggested at a recent press conference that tightening could begin approximately six months after tapering is complete. However, although the market's expectations of the timing of the first rate hike may have moved up a few months, the Fed's intentions are consistent with a gradual, measured path toward more normal rates from its current highly accommodative stance.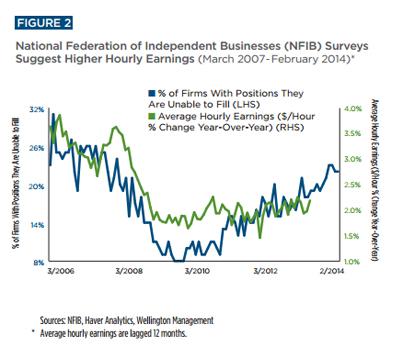 While inflation in the European Union (NYSEARCA:EU) has been troublingly low at less than 1%, German inflation is roughly twice that of most peripheral countries. Leading indicators suggest wages in the U.K. are set to rise, and the Bank of England (NYSE:BOE) appears committed to maintaining low interest rates despite the unemployment rate falling to near its 7% target; the BOE still believes there's significant spare capacity and room for wage growth.
In Japan, headline inflation turned positive in 2013 after averaging a negative reading over the past 10 years. The Bank of Japan (BOJ) is likely to remain extremely accommodative, and the value-added tax (VAT) increase from 5% to 8% in April will provide a boost to inflation. I don't expect the BOJ to alter its course until the impact of the VAT increase is known in the early summer, but in the event it results in slower growth, I expect the BOJ to act.
What Has Changed?
The most significant change to the investing landscape is a new risk in emerging markets, namely the tensions between Russia and the West over Ukraine. This situation increased the risk premium on EM assets as it reminded investors of the importance of political risks and their ripple effects in less-familiar markets. Russia and Europe are the most obvious areas of potential impact, but the ripple effects could be wider in the most negative scenarios.
Another, more incremental change in the global growth picture relates to China. In the past month, concerns about China's corporate debt were validated by the first default of an onshore domestic company. In addition, the doubling of the currency bands from 1% to 2% around the People's Bank of China's target helped pushed the yuan lower. Both of these changes impacted a widely held carry trade that relied on the assumptions that all debt was "money good," meaning that the chance of default was nil, and that the yuan would continue to rise. While China's efforts to liberalize the financial system are intended to improve the allocation of capital and curb excess financial liquidity, the transition introduces greater uncertainty.
How Should We Think About Ukraine?
The situation in Ukraine is difficult to analyze, since its evolution depends in large part on decisions by political leaders.
Russian President Vladimir Putin appears to have several geopolitical goals. He does not want Ukraine, which has strong historical and cultural ties to Russia, to move "too far" in a European direction, further concentrating global power in the West. The removal of then-president Viktor Yanukovych from office and the decision to replace him with a more Europe-friendly leader represented a diminution of Russian influence regionally and globally.
Mr. Putin also has important economic motives. Ukraine is a large trading partner, has significant natural resources, and contains extensive natural-gas pipelines that run from Russia to Europe. These assets, plus Ukraine's geographic location, are of great value, and so there is an incentive to avoid a severe Western response. From a trade perspective, the economic costs of a protracted standoff with the West over Ukraine could be substantial for Russia. Around 45% of Russia's exports go to the EU, and oil and gas account for 70% of the country's exports and more than 50% of its federal budget revenues.
Trade restrictions would also affect the West, but they would be much less painful; only 7% of EU exports go to Russia. Europe is vulnerable to energy-supply disruption, as roughly 30% of the region's oil and gas comes from Russia, but I suspect that the U.S. could mitigate this by releasing some of its own imports to Europe.
Ultimately, I believe Russia will decide that economic incentives will be more powerful than further geopolitical gains and thus avoid military escalation. The risks are not trivial, and we need to carefully monitor the situation's evolution, but I believe that a reduction of risk and diversification of exposures may be a more prudent investment decision than an outright defensive stance.
Equities: Still Rising but Likely to Pause
Part of my rationale for reducing risk in portfolios but maintaining a procyclical stance relates to valuations. European equities remain my primary developed-market suggestion given my view that they are attractively valued -- trading at a 5% discount to U.S. equities -- and the region will see improving growth through year-end. As for Japan, I believe that Abenomics is an important positive and will continue to aid Japanese equities longer term, but the market has no catalyst to drive it higher at the moment. Earnings estimates have already moved up substantially, the currency has weakened substantially, and equities have climbed. In the next few months, markets will gauge the impact of the VAT hike and progress on the third arrow of Abenomics, and the BOJ is unlikely to weaken the yen much more in the short term. This lack of a catalyst leaves me neutral on Japanese equities in the short term. U.S. equities are perhaps the most attractive fundamentally, but they are also most expensive relative to their developed-market peers and therefore have little room for error. I prefer a neutral position.
The biggest corrections have occurred in emerging markets, so a careful look at this asset class is warranted. Emerging markets are facing cyclical headwinds from China's relatively weak growth, the beginning of the end of ultra-easy monetary policy in the U.S., and current account pressures in some countries. As a result, I believe the emerging markets will struggle, and investors should differentiate among countries, currencies, and companies. That said, the longer-term positive fundamentals are important as well. Many countries have made significant structural improvements since the 1990s and are likely to grow faster than developed countries long term. While the road will be bumpy, I believe that low equity and debt valuations relative to developed markets present an interesting opportunity. Within EM debt, I prefer sovereigns over corporates. Sovereigns' spreads have widened significantly, and they could outperform corporates in the low-EM-growth environment I envision.
As for other developed-market fixed-income assets, I encourage investors to consider maintaining an allocation to high-quality government bonds for their unique role as diversifiers to equities. In riskier fixed income sectors, I prefer bank loans over high yield. Bank loans have wider spreads, are higher in the capital structure, and have higher recovery rates (around 70% vs. 40% for high yield). I think investors are being rewarded for the illiquidity of the bank-loan sector, which long-term investors can exploit.
Finally, commodities look attractive. Valuations for commodities as a group have been low for some time, and there are early signs that excess supply may be diminishing. Figure 3 shows the strong relationship between equity and commodity prices in the past, and the recent divergence. When I take into account the potential geopolitical concerns referenced above, as well as the potential for asset-allocation flows to return to this recent underperformer, I believe investors should consider taking an overweight position.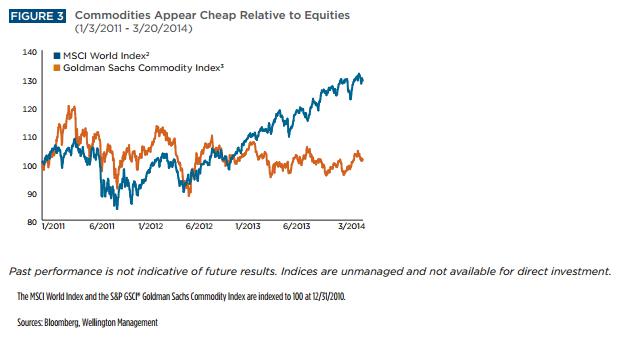 Investment Implications
Investors should consider:
Reducing risk in portfolios: A pro-growth tilt may still be appropriate, but caution is warranted given higher risks from the Ukraine crisis and EM weakness.
Trimming Europe but remain overweight: The possible ripple effects of the Ukrainian crisis justify taking a look at reducing exposure to Europe in my view, but the economic outlook is still supportive of equities.
Maintaining a neutral allocation to U.S. and Japanese equities: The U.S. has good fundamentals but high valuations, and Japan's rise is likely to pause until a new catalyst appears.
Increasing commodities exposure: Commodities broadly could do well if global growth accelerates. Precious metals are also a hedge against geopolitical risk from Russia.
Underweighting emerging-market equities: Dollar-denominated and local EM debt look attractive based on valuations relative to other fixed-income risk assets and lower volatility compared to equities.
1 Diversification does not ensure a profit or protect against a loss in a declining market.
2 The MSCI World Index is a free float-adjusted market capitalization weighted index that is designed to measure the equity market performance of developed markets. The MSCI World Index consists of the following 24 developed market country indices: Australia, Austria, Belgium, Canada, Denmark, Finland, France, Germany, Greece, Hong Kong, Ireland, Israel, Italy, Japan, Netherlands, New Zealand, Norway, Portugal, Singapore, Spain, Sweden, Switzerland, the United Kingdom, and the United States.
3 The S&P GSCI® Goldman Sachs Commodity Index is a composite index of commodity sector returns representing an unleveraged, long-only investment in commodity futures that is broadly diversified across the spectrum of commodities.
Disclaimer: Investors should carefully consider the investment objectives, risks, charges, and expenses of Hartford Funds before investing. This and other information can be found in the prospectus and summary prospectus, which can be obtained by calling 888-843-7824 (retail) or 877-836-5854 (institutional). Investors should read them carefully before they invest.
A Word About Risk: All investments are subject to risks, including possible loss of principal. Fixed-income investments are subject to interest-rate risk (the risk that the value of an investment decreases when interest rates rise) and credit risk (the risk that the issuing company of a security is unable to pay interest and principal when due) and call risk (the risk that an investment may be redeemed early). Foreign investments can be riskier than US investments. Potential risks include currency risk that may result from unfavorable exchange rates, liquidity risk if decreased demand for a security makes it difficult to sell at the desired price, and risks that stem from substantially lower trading volume on foreign markets. These risks are generally greater for investments in emerging markets. Sovereign debt investments are subject to credit risk and the risk of default. Commodity investments are subject to additional risks.
The views expressed here are those of Nanette Abuhoff Jacobson. They should not be construed as investment advice or as the views of Hartford Funds. They are based on available information and are subject to change without notice. Portfolio positioning is at the discretion of the individual portfolio management teams; individual portfolio management teams may hold different views and may make different investment decisions for different clients or portfolios. This material and/or its contents are current at the time of writing and may not be reproduced or distributed in whole or in part, for any purpose, without the express written consent of Wellington Management.
All information and representations herein are as of 4/14, unless otherwise noted.
Disclosure: I have no positions in any stocks mentioned, and no plans to initiate any positions within the next 72 hours. I wrote this article myself, and it expresses my own opinions. I am not receiving compensation for it. I have no business relationship with any company whose stock is mentioned in this article.