Pandora Media Inc. (NYSE:P) is set to report FQ1 2014 earnings after the market closes on Thursday, April 24th. Pandora, one of the biggest players in streaming music, is expected to see a drop in percent revenue growth compared to recent quarters. In each of the past 9 quarters, Pandora's revenue has grown on a year-over-year basis between 50% and 60%, but this quarter Wall Street is only looking for 37.5% growth. 37.5% revenue growth is no small feat, although Pandora is also expected to post a loss of 8 cents per share. Like many other tech stocks Pandora has been butchered since early March, and the company's stock is now trading 27% lower than its March highs. Investors are not particularly bullish on Pandora compared to the Street this quarter either, and here's what they expect.
The information below is derived from data submitted to the Estimize.com platform by a set of Buy Side and Independent analyst contributors.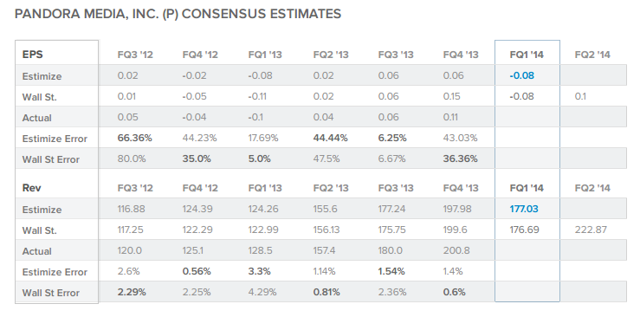 (Click here to see Estimates and Interactive Features for Pandora)
The current Wall Street consensus expectation is for Pandora to report -8 cents EPS and $176.69M revenue while the current Estimize.com consensus from 32 Buy Side and Independent contributing analysts is -8 cents EPS and $177.03M in revenue. This quarter the buy-side as represented by the Estimize.com community is expecting Pandora to report in-line with Wall Street on EPS and beat expectations by a very small margin on revenue.
Over the previous 6 quarters, the consensus from Estimize.com has been more accurate than Wall Street in forecasting Pandora's EPS and revenue 3 times each. By tapping into a wider range of contributors including hedge-fund analysts, asset managers, independent research shops, students and non-professional investors Estimize has created a data set that is more accurate than Wall Street up to 69.5% of the time, but more importantly, it does a better job of representing the market's actual expectations.
The magnitude of the difference between the Wall Street and Estimize consensus numbers often identifies opportunities to take advantage of expectations that may not have been priced into the market. In this case, we are seeing almost no difference between the two groups' expectations.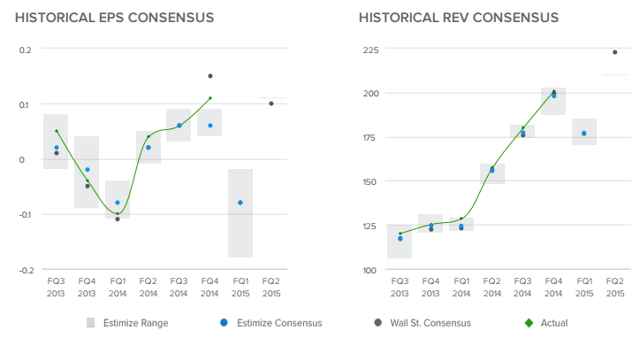 The distribution of estimates published by analysts on the Estimize.com platform range from -2 cents to -18 cents EPS and from $170.00M to $185.00M in revenues. This quarter we're seeing a very wide distribution of EPS estimates on Pandora and a slightly wider than usual distribution of revenue estimates.
The size of the distribution of estimates relative to previous quarters often signals whether or not the market is confident that it has priced in the expected earnings already. A wider distribution of estimates signaling less agreement in the market could mean greater volatility post earnings. Although the community in aggregate agrees that Pandora will report in-line with Wall Street, everyone seems to have a different opinion about what type of earnings number we will see on Thursday.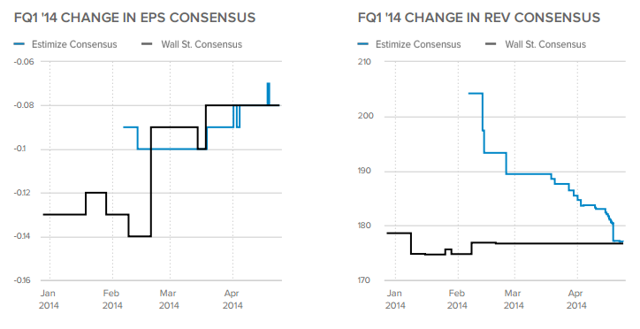 Over the past 4 months, the Wall Street EPS forecast rose from -13 cents to -8 cents while the Estimize consensus crept up from -9 cents to -8 cents. Meanwhile the Wall Street revenue consensus remained relatively flat while the Estimize consensus came down from $204.19M to $177.03M. Timeliness is correlated with accuracy and at the end of the period we saw rising EPS expectations alongside falling revenue projections.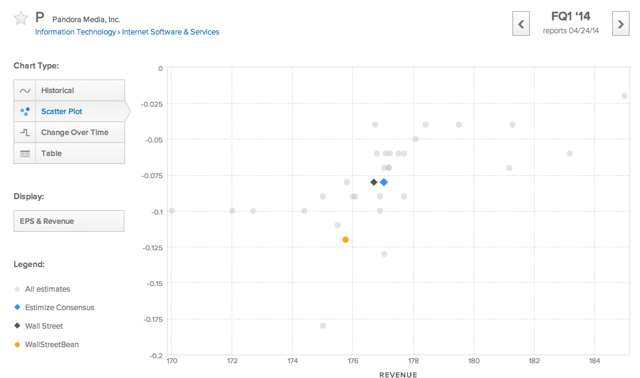 The analyst with the highest estimate confidence rating this quarter is WallStreetBean who projects -12 cents EPS and $175.76M in revenue. WallStreetBean is ranked 10th overall among 4,200 contributing analysts. Over the past 2 years, WallStreetBean has been more accurate than Wall Street in forecasting EPS and revenue 50% and 46% of the time, respectively. Estimate confidence ratings are calculated through algorithms developed by deep quantitative research, which looks at correlations between analyst track records and tendencies as they relate to future accuracy. In this case, WallStreetBean is making a bearish call expecting Pandora to miss both the Wall Street and Estimize consensus on EPS and revenue.
Contributing analysts on the Estimize.com platform are expecting Pandora to report numbers in-line with the Wall Street consensus. However, there is a very wide range of estimates on EPS, which indicates uncertainty and that could be a sign of coming volatility as investors adjust to how Pandora reported relative to their own expectations. This quarter the Estimize community expects solid revenue growth of 37.8% compared to last year, but only a 2 cent per share reduction in quarterly losses, which could be a sign of trouble in conjunction with slowing revenue growth.
Disclosure: None.