Apple (NASDAQ:AAPL) and Microsoft (NASDAQ:MSFT) are strong rivals and have a turbulent history between them. However, the two tech giants share a dirty little secret together. Both companies have had an extreme alteration of the fundamental value metrics trends that occurred in early 2012 and these trends remain locked into the newer trend ever since. For 7 quarters now, growth has stopped at the most fundamental level.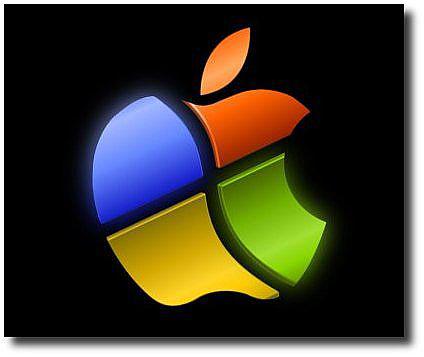 In the case of Apple, it has gone from sharply rising cash from operations which was growing at ever increasing rates to 2012 to flat ever since. A sharp inflection point marks the change of trend. The trend change and scope is dramatic and consistent.
Although the picture is less extreme for Microsoft, the cash from operations trends is even more telling, having reversed from growth up to early 2012 to a declining trend pattern ever since.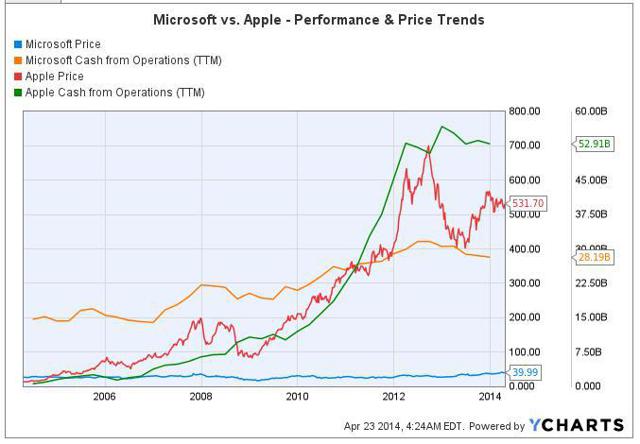 Cash from operations is far more difficult to manipulate than income. Moving sales booking from one quarter to another, boosting total revenues through discounts, changing payables and receivables aging and booking quarters, altering impairments, timing pension program funding and all these other performance manipulations are long honored financial slight of hand tricks used to massage and disguise accounting metrics. Cash from operations is one of the hardest to manipulate and therefore one of the most important fundamental performance and valuation metrics. Investors should give these trend changes the attention which they deserve.
Intel (NASDAQ:INTC) is a tech giant with a similar history. It grew from startup to tech giant, leading its industry and then reached a mature phase. The historical trend patterns for Intel's cash from operations and share price for those historical periods offer a telling lesson for Apple and Microsoft investors. Those that ignore history are doomed to repeat it. As Intel reached full maturity and transitioned to cash cow, its cash from operations also showed a sharp break in trend, departing from earlier explosive growth to flat almost overnight and struggling in those new doldrums for the next 15 years, some would say even still today (but that part is a discussion for another time).
Intel's share price was slow to react to the change in the fundamental nature of the company's performance profile, taking a few years after the break in Operating Cash to reach their exuberant peak before plummeting and then settling into a long down trend for the next decade. Apple investors would be wise to pause and take note before jumping to their company's defense. Tomorrow may brighten yet again but like Popeye's friend Wimpie, you should not pay today for that hamburger of tomorrow.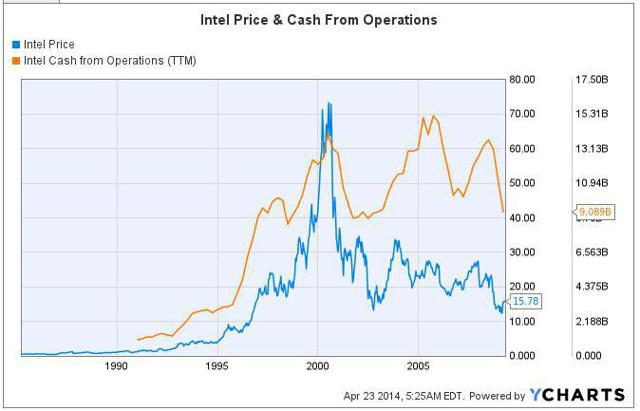 Price/Earnings ratio for Apple currently stands at 13.22 and for Microsoft at 14.81. These P/E ratios are customary and reasonable for mature slow growth tech companies but are excessive for no growth cash cows. A P/E of 9 or perhaps 10 would be more appropriate, similar to mature cash cow such as American International Group (NYSE:AIG), Ford (NYSE:F) or AT&T (NYSE:T). This translates to a P/E value price of $361.97 to $402.19 for Apple and $24.27 to $26.97 for Microsoft.
Dividend yield rates, 2.3% for Apple and 2.8% for Microsoft, are also misaligned with the company profiles as mature cash cows instead of growth companies. Yields more aligned to Intel's 3.3% or AT&T's 5.1% would be appropriate at this life cycle stage for the two Companies. Using this criteria and applying those yield ranges would suggest a price for Apple of $239.21 to $369.70 and for Microsoft of $21.96 to $33.94. Of course, these numbers are only based on the current dividends. With the low payout ratios, there is ample room to raise the distributions if we want to more realistically compare the income based valuations against yield rates. Cash Dividend payout ratio for Intel is 44.66% and for AT&T is 70%. The dividends for Apple and Microsoft to meet those payouts would adjust to $22.20 to $34.86 for Apple and $1.39 to $2.18 for Microsoft. These adjusted dividends then applied to the 3.3% to 5.1% yield rates of our pathfinder's Intel and AT&T give us dividend income value numbers for Apple of $435.23 to $1056.36 and for Microsoft these numbers are $27.25 to $66.06. Perhaps Carl Icahn should take note. If we settle on the realistic 3.3% yield and 45% payout ratio, the dividend income value numbers are $672.73 for Apple and $42.12 for Microsoft.
Conclusions:
The trend observations and value analysis presented here suggests Microsoft shares should be priced $24.27 and $42.12, Apple shares at $361.97 to $672.73. These are very wide ranges with current share prices falling within the mid ranges, MSFT = $39.99, AAPL = $571.70.
With Icahn Enterprises (NYSE:IEP) activist investor stake keeping pressure on Apple management, it is likely to raise dividend distributions slowly until they approach the $22.20 level and yield rises to 3.3%, justifying the $672.73 price target.
Microsoft will eventually catch the eye of a new post-Ballmer activist management or an outside suitor and should similarly gravitate to the $1.39 dividend yielding 3.3% for a price target of $42.12.
These price targets represent a 26.5% premium over current Apple share price and 5.3% premium on Microsoft.
This thesis clearly makes Apple the more attractive cow to buy for the milk.
I hope you will have an interest in my recent series and current new series where I detail the use of covered option writing on quality dividend income equities. Simply click on the bold link labeled FOLLOW above the title at the top of this article to get an email notice of my new articles when they are published. You will need to be sure that in your account SETTINGS/EMAIL ALERTS/DAILY EMAILS that you have checked the AUTHOR ALERTS box. Click here for a link to the index of my past and future articles.
Disclaimer: I am not a licensed securities dealer or advisor. The views here are solely my own and should not be considered or used for investment advice. As always, individuals should determine the suitability for their own situation and perform their own due diligence before making any investment.
Disclosure: I am long INTC, F. I wrote this article myself, and it expresses my own opinions. I am not receiving compensation for it (other than from Seeking Alpha). I have no business relationship with any company whose stock is mentioned in this article.