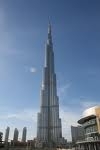 Dubai may boast about the world's highest building, Burj Khalifa, a rocket-shaped edifice soaring 2,717 feet with views reaching almost 60 miles, but with almost zero occupancy rates in the building and those around Dubai are good enough reasons to see the realities on the ground.
One doesn't need to be an economic genius to understand the fact that real growth is sustained only through strong fundamentals, a virtue that doesn't quite exist in the Dubai real estate segment. Dubai's economy diversified away from oil towards real estate and tourism. But the economic recession and international financial crisis caught up with Dubai and other regions of the world. Finally, the inflated real estate bubble that propelled the frenetic expansion of Dubai in the last six years on the back of borrowed cash and speculative investment, has burst. What's worse is that the Dubai real estate crisis is slowly but surely spreading to other emerging markets especially in Middle East And Asia making the world economic recovery a distant dream.
Till the money ran dry, Dubai's $582 billion construction boom was financed by lenders flush with oil money and safe haven seeking black money.
Half of all the UAE's construction projects, totaling $582bn (£400bn), have either been put on hold or cancelled, leaving a trail of half-built towers on the outskirts of the city stretching into the desert. Dubai has fallen about $80 billion in the red, primarily from Dubai World, a state-run property conglomerate that accounts for about $59 billion of the debt.
According to recent projections, Dubai real estate prices could fall as much as 60 % this year from their peaks in July last year, while Abu Dhabi may slide as much as 20%. Testimony to that is the fact that a four-room villa, which was evaluated at $4 million several months ago, is now available for $1 million but there are no buyers. Dubai's example shows how quickly countries can slide off the path to recovery and land into trouble. According to analysts, it would take years for the Dubai real estate market to come back to levels as high as they were in 2008.
With banks stopping any more lending and the stock market plunging almost 70%, home prices in the sheikhdom have dropped about 50 % from their peak two years ago and Credit Suisse estimates a further decline of as much as 20 %.
Dubai also never wanted 'foreigners' on a permanent basis. The country showed very little respect for the rights of foreigners in their country, including the labor market, and reversal of resident visa policies (particularly the over 60's, a massive potential market of retiree's) and foreigners never felt confident enough of their payments in escrow accounts with too many variable and unknowns around. Another important human factor against Dubai is the Islamic mindset as many westerners found out when they were made redundant before the strict legal system of the country. A case in point is Dubai's strict legal code where defaulting on debt or bouncing a cheque is punishable with jail. Any expatriate in financial difficulty knows the safest bet is to take the next outbound flight.
Whenever any economic story goes sour and looses its glare, the least talked about feature is the human element. With Dubai's real estate sector going bust, perhaps those who suffer most are the construction workers from the Indian subcontinent. The workers who had worked on perilous building sites with all their blood and soul earning as little as £70 a month played a very important part in the inflated Dubai growth story. The human effort and skill is the only positive to have emerged from the whole fiasco.
These workers who made it possible for the rich Arab Sheiks sitting in their air conditioned mansions to declare that the Sun never sets on Dubai are now facing a bleak future. The Indian embassy in Dubai has already received requests from almost 20,000 Indian citizens to be sent back. Keeping in mind that most of these workers took loans to pay agent fees to come to Dubai and lead a better economic and social life will are now flying back with nothing but large debts.
Dubai And Its Notorious Escapades

There is no denying the fact that Dubai, one of seven states that make up the United Arab Emirates (UAE), is in deep crisis. The crisis has not just appeared overnight but has been slowly building up as Dubai's Arab tycoons have tried their best to make the city breeding grounds for everything fake and unjust. Tracing Dubai's notorious past could very well bring out the answers of its not so rosy present and its bleak future.

Arab business tycoons and sheikhs who have always had a say in the country's business as well as foreign policies have always ruled Dubai and formulated its foreign polices to an extent. Those policies however were not welcoming to those labors and small time workers who were toiling hard to make the city of Dubai worth living. With Dubai's real working population as foreigners mainly from South Asia, Dubai and its rulers never gave them a reason to feel at home or citizenships or something permanent. All they had was a temporary and insecure life. With the rise of the Indian economy, not many Indians are entering the Dubai trap and are more secure with jobs in their homeland. Even tourism has nose-dived for Dubai even with all the attractive beaches and theme based parks it planned.

Even though Dubai appears to be a safe haven from the outside, the fact of the matter is that its just a tax safe heaven for all the black money in the world since the Arab sheikhs don't seem to care about the origin of the money as long as it is coming in their city. With no real regulatory body for the pool of money coming in, Dubai soon became a safe bet for gold smugglers who used to trade illegally with Iran, Pakistan and other South Asian nations. The Dubai boom of turning sand dunes into a glittering metropolis and the gold capital of the world is grinding to a halt while Arab tycoons wrapped in traditional headscarves sip fruit juice cocktails and watch Russian models twirl. Today Dubai is only for the super rich Arab sheikhs or Russian or Afghan drug lords with enormous loads of black money. All major investments that had flowed in are now moving out of Dubai. The city is left standing alone like a Ghost town with no foundation or substance but a history of notorious dealings and crime.
UAE Investment Options
ETFS: ETFs with significant exposure to the United Arab Emirates include

1: Market Vectors Gulf States Index ETF (NYSEARCA:MES): This ETF from Van Eck is designed to track the performance of the Dow Jones GCC Titans 40 Index, providing exposure to companies headquartered in countries belonging to the Gulf Cooperation Council or companies that generate the majority of their revenue from this region. MES has large allocations to Kuwait and the UAE, with a tilt towards the financial sector.
Top Holdings: MES

National Bank of Kuwait 8.19
Mobile Telecommunication Co 7.44
Qatar National Bank SAQ 7.22
Kuwait Finance House 6.93
Emaar Properties PJSC 6.09

Country Exposure % of Assets
Kuwait 40.1
United Arab Emirates 26.1
Qatar 22.3
Oman 5.2
United Kingdom 2.6

2: PowerShares MENA Frontier Countries (NASDAQ:PMNA): This fund is broadly diversified across the Middle East and North Africa, but its exposure to the UAE is the largest of its country exposures, clocking in at 22.1% of its holdings.
Average Mkt Cap $Mil 4,415
Total Expense Ratio (10-31-09) 0.70

Country Exposure % of Assets
United Arab Emirates 22.0
Kuwait 21.0
Egypt 19.8
Morocco 19.1
Jordan 10.7
Not Classified 0.1

3: WisdomTree Middle East Dividend Fund (NASDAQ:GULF): GULF is a regional ETF with an 18.6% allocation in the UAE. The ETF is an investment option that seeks to track the price and yield performance of the WisdomTree Middle East Dividend Index. The Index measures the performance of Middle East companies that pay regular cash dividends on shares of their common stock and that meet specified requirements as of the index measurement date. The Index includes the 100 largest companies based on market capitalization. Companies are weighed based on regular cash dividends paid in the annual cycles prior to the index measurement date. GULF is up only about 5% on the year, lagging behind many domestic and international ETFs.
Fund Overview
NASDAQ Ticker Symbol GULF
Inception Date 07/16/2008
Asset Type Equity Funds
Yield-30 Day (%) 0.00
Yield-12 Months (%) 3.50
Total Net Assets ($M) 14.33
Fund Manager Team Managed


Top 10 Holdings
Company Name # of Shares Market Value %
1 Industries Qatar QSC ORD 44.48K 789.48K 8.20%
2 ITISSALAT AL-MAGHRIB SA ORD 72.52K null 8.12%
3 Mobile Telecommunications Co KSC ORD 242.62K null 7.81%
4 Qatar National Bank SAQ ORD 22.96K null 5.71%
5 Qatar Telecom QSC ORD 16.88K null 4.93%
6 Orascom Construction Industries SAE ORD 13.31K null 3.92%
7 Telecom Egypt SAE ORD 178.20K null 3.80%
8 Ezz Steel Co SAE ORD 159.61K null 3.69%
9 National Bank of Kuwait SAK ORD 109.12K null 3.09%
10 Commercial Bank of Qatar QSC ORD 24.37K null 3.02%

4: EasyETF DJ United Arab Emirates EUR: (Traded on EAE as FP) is the largest holder of UAE listed names.
Market Cap (Millions) 8.749
Performance
1-Month -4.70

3-Month -14.08
1-Year 3.28

Year to Date -6.07
Abu Dhabi Plans New REIT's

Even as Abu Dhabi's property market is down by 30 % and the bursting of Dubai's real estate bubble has wiped 50 % off real estate valuations, the Abu Dhabi Securities Exchange's (ADX) is planning to launch real estate investment trusts (REITs) by the end of the year 2010. Most experts are not very optimistic of the timing of these REIT's. However, maybe with all the negative sentiment continuing to blight the region's real estate market, REITs might just help to reinvigorate the sector through opening it up as an avenue for investment, without the investor having to take specific property risk.

Outlook 2010 And Beyond:

According to recent Fitch Ratings, Dubai real estate companies are likely to face major refinancing risks when some of their debt matures in the next two years as the fundamentals of the emirate's real estate and construction market continue to weaken. The report further predicts that it sees increasing customer delinquencies, limited liquidity, and a continued reliance on short-term debt maturities holding back Dubai's real estate sector from recovery, despite the world economy beginning to emerge from recession.

Meanwhile Moody's credit agency has downgraded Dubai Holding Commercial Operations Group because of its over-leveraged speculation in Dubai's real estate market and uncertainty over the company's debt restructuring. Dubai World made global headlines last year when they announced delaying its billions in real estate debt payments.

The Dubai Real estate model is now revealed to be a mirage but for any economic revival to happen rulers of Dubai need to understand its strengths and weaknesses. The core strength of Dubai, that there is no place like it in the Middle East, still remains but there is a massive need and demand for business services to be made available in Dubai without the inflated unrealistic pricing and all the exaggerations.
Disclosure: The author holds a position in QQQQ and FCX.