Shares of Endo International (NASDAQ:ENDP), a Dublin, Ireland-based global specialty healthcare company, have been taken down huge in this correction (see chart). They closed yesterday 25% below just last month's highs, and were down as much as 35% at its lows last week. There is no company-specific news to account for this sharp correction; rather, the volatility in its shares has been in tandem with the movement in the biotech index, as represented by the iShares Nasdaq Biotech Index Fund (NASDAQ:IBB), that itself was down 25% zenith-to-nadir so far during this correction.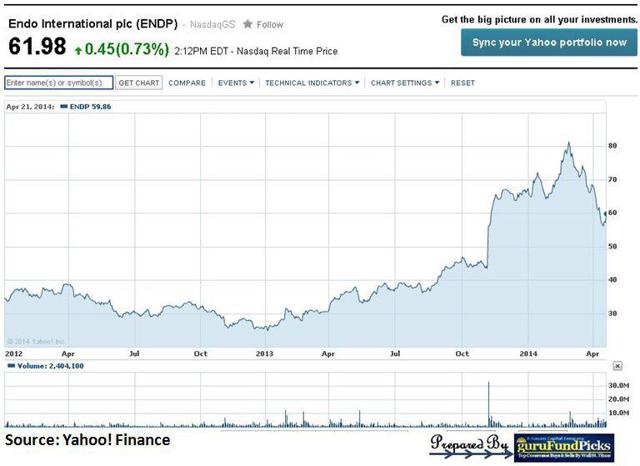 While such sharp moves are commonplace in the manic world of biotech investing with its pack of daily blow-ups and multi-baggers, Endo is not a biotech, much less a development-stage biotech. And at a $7.3 billion market cap, it is firmly in the mid-cap category. In the absence of company-specific news, we would have expected that its shares would correct more in tandem with its peers in the generic and specialty pharmaceutical group, such as Teva Pharmaceutical (NYSE:TEVA), Salix Pharmaceuticals (NASDAQ:SLXP), Actavis plc (ACT), Valeant Pharmaceuticals (NYSE:VRX), Akorn Inc. (NASDAQ:AKRX), and Mylan Inc. (NASDAQ:MYL), that are down 6%, 9%, 11%, 12%, 12% and 13%, respectively below last month's highs.
A look at Endo's chart above will perhaps shed some light on this. Endo shares, after languishing roughly in the $25 to $40 range, finally broke out of their trading range last year, rising from $25 at the beginning of 2013 to a high of over $82 last month, including almost a double in the four months leading to its $82 high last month. The correction then appears to be more technical in nature, i.e., based on investor short-term fear and greed motivations, correcting the recent rapid doubling in share price.
It would seem then that either the rapid rise last year, especially in the last few months leading to the highs, was unjustified, or the current correction taking it down in tandem with smaller biotech companies is grossly unfair.
Looking at Endo's historical revenue and earnings, and the projections, we see that revenues have been flat recently, rising from $2.52 billion in FY 2011 to $2.62 billion in 2013, and are projected to remain flat at $2.61 billion in 2015. Earnings have also been flat, rising from $4.69 in 2011 to $4.79 in 2013, and are projected to fall to $3.86 in 2015. The rise in Endo's share price then cannot be explained by the improvement in operations. In fact, if you looked at Endo strictly based on P/E, or even EV/ EBITDA or PSR (price-to-sales ratio), you would most likely assume that the rise to $82 was unjustified, and hence the current correction rational, or even not enough.
On the opposite site, bulls will argue that Endo under the new leadership of CEO Rajiv De Silva, formerly COO of Valeant before joining Endo, is undergoing significant transformation from a generics manufacturer to a global specialty pharmaceutical company and should now command a higher multiple than before. Generics manufacturers generally trade at a lower P/E; e.g., Teva Pharmaceuticals trades at a 10.9 fwd. P/E (based on FY 2015 earnings), Mylan Inc. trades at 12.7 fwd. P/E, and Actavis trades at 14.1 fwd. P/E. In comparison, most specialty pharmaceutical companies due to their higher growth and margin characteristics trade at premium P/Es; e.g., Akorn Inc. trades at 22.0 fwd. P/E, Allergan (NYSE:AGN) trades at 26.3 fwd. P/E, Zoetis Inc. (NYSE:ZTS) trades at 17.2 fwd. P/E, Salix Pharmaceuticals trades at 14.3 fwd. P/E, Jazz Pharmaceuticals (NASDAQ:JAZZ) trades at 14.4 fwd. P/E, and Valeant Pharmaceuticals trades at 12.9.
CEO De Silva is using the same playbook he used at Valeant when he helped orchestrate a near six-fold increase in share price during his three-plus year tenure at that company. In an effort to combat the threat of declining revenue due to generic competition, Endo is pursuing a growth through acquisitions strategy that gradually expands its footprint in the specialty pharmaceuticals space. Its recent $1.6 billion acquisition of Paladin Labs has been particularly hailed as a transformative deal by expanding its specialty pharmaceutical business, giving it an international platform for future expansion, and potential tax advantages due to re-domiciling in Ireland. Besides lowering its tax rate, the Irish domicile will also give Endo additional flexibility in pursuing M&A deals.
So, bulls in fact may not be looking at Endo's current fundamentals or what can be reasonably projected by analysts, but at an acquisition-fueled playbook that delivered six-fold returns to Valeant shareholders in just over three years using a similar strategy. Judging by that, Endo shares may only be a third of the way up, with strong appreciation expected over the next two to three years. In fact, given the similarity of their business models, and the fact that CEO De Silva was an executive there, there have been persistent rumors in the past that Endo ($7.2 billion market cap) could be an acquisition target of its larger peer, Valeant ($45 billion market cap).
It is in these situations, where there is a high degree of disagreement between the bullish and bearish arguments, that we have found strong merit in analyzing the collective or consensus buying and selling by our hand-picked 330+ leading fund managers (see Table). On our site, GuruFundPicks.com, we scan, track and analyze their latest buying and selling to determine their top collective or consensus picks in over 200 industry groups. Their ownership change over multiple quarters, and net buying and selling, both in shares and in number of funds, and the percent outstanding shares held by these leading funds, especially when compared to similar sized peers in the same industry, is like reading tea leaves. It gives us the extra edge, increasing the probability of making the right decision, and in many cases saving us from making a wrong decision on a stock.
The collective or consensus buying and selling activity of our hand-picked 78 legendary or guru fund managers (those with consistent long-term market beating returns like Buffett, Klarman, Icahn, Paulson, etc.), in Endo in the last six quarters, up to 3Q 2012 is shown in the Table below.

The largest guru fund manager holders of Endo at the end of 4Q '13 were:
Long-short equity hedge fund Blue Ridge Capital, founded by Tiger Cub John Griffin, and with $9.71

billion in 13-F assets, that holds 8.00 million shares, including adding 1.00 million shares in 4Q '13.

Long-short equity hedge fund Lone Pine Capital, founded by billionaire and Tiger cub Stephen Mandel, and with $23.25

billion in 13-F assets, that added a new 4.34 million share position in 4Q '13; and

Quantitative hedge fund Renaissance Holdings, founded by billionaire Jim Simons, and with $41.8

billion in 13-F assets, that holds 1.01 million shares, including adding 0.75 million shares in 4Q '13.
The ownership base also includes Capital Group Companies, arguably the most powerful controlling shareholder in global stock markets, running the American & Capital Intl. Mutual funds, and with $1.1 trillion in AUM, that holds 14.07 million shares, including adding 4.77 million shares in 4Q '13; international mutual fund firm Janus Capital Management, with $160 billion AUM, that holds 10.19 million shares, including adding 3.77 million shares in 4Q '13; and BlackRock, the world's largest and most prominent asset manager, with $3.6 trillion in assets under management, that holds 8.30 million shares, including adding 0.59 million shares in 4Q '13.
You can view complete summarized 13-Fs of all of these funds, and over 330 more for free on our website, GuruFundPicks.com.
As shown in the table, guru fund managers aggressively sold Endo over three quarters from the end of 2Q '12 to the end of 1Q '13, selling 72% of their 15.05 million share position, and then added back most of that position for the three quarters ending 4Q '13. The accumulation in the last three quarter coincides exactly with CEO De Silva's tenure at Endo starting in March 2013, during which guru fund managers collective added 10.75 million shares, or 260% to the 4.14 million shares they held at the end of 1Q '13. In our experience, the increase in guru fund holdings in Endo shares by 260% in the last three quarters is meaningful and significant, conveying in no uncertain terms their bullishness about the prospects for Endo shares, and in this case, confidence in CEO De Silva pulling off the same playbook that he did at Valeant. Also, besides Guru fund managers, Endo shares were accumulated in 4Q '13 by 27 of the world's largest or mega funds, 59 billionaires, 54 New Masters and 40 Tiger fund managers, that collectively or in consensus added 17.11 million shares in the latest quarter.
We have learned to heed to these signals from leading fund managers, especially when they buy or sell collectively or in consensus. In our research, we have observed strong correlation between leading fund manager ownership, including their consensus buying and selling activities every quarter, and the stock's immediate and long-term performance. We have documented many such cases on our website and in our archive of articles on Seeking Alpha, including six cases we discussed in just the last two weeks on Gilead (NASDAQ:GILD), Facebook (NASDAQ:FB), Actavis (ACT), Micron (NASDAQ:MU), Apple (NASDAQ:AAPL), and Plug Power (NASDAQ:PLUG).
The strong buying by these leading fund managers in the last three quarters of 2013, since CEO De Silva took over, and especially in 4Q '13 when prices ranged between the mid-$40s and low-$70s (average high-$50s), signals to us that leading fund managers, with the vast resources and market intelligence at their disposal, and their sector and industry-specific knowledge were collectively betting in favor of Endo at average prices not too far below current prices. With Endo shares currently in the low-$60s range, they are beginning to approach levels at which many of these funds would find them attractive, based on their buying in prior quarters.
Looking at the short-term chart, Endo shares reversed rather violently after trying to attack the highs on Tuesday. It seems very likely then that shares will get cut down to near or below the 200-day moving average in the mid-$50s before making a fresh push higher. The more prudent course of action would be to start buying in stages, with the initial third of a buy near the 200-day moving average, and adding thirds for every $5 dip in price below that level.
Disclosure: I have no positions in any stocks mentioned, but may initiate a long position in ENDP over the next 72 hours.
Business relationship disclosure: The article has been written by the Hedge and Mutual Fund Analyst at GuruFundPicks.com. GuruFundPicks.com is not receiving compensation for it (other than from Seeking Alpha). GuruFundPicks.com has no business relationship with any company whose stock is mentioned in this article.
Additional disclosure: Use of GuruFundPicks' research is at your own risk. You should do your own research and due diligence before making any investment decision with respect to securities covered herein. You should assume that as of the publication date of any report or letter, GuruFundPicks, LLC, has a position in all stocks (and/or options of the stock) covered herein that is consistent with the position set forth in our research report. Following publication of any report or letter, GuruFundPicks intends to continue transacting in the securities covered herein, and we may be long, short, or neutral at any time hereafter regardless of our initial recommendation. To the best of our knowledge and belief, all information contained herein is accurate and reliable, and has been obtained from public sources we believe to be accurate and reliable, and not from company or persons who have a relationship with company insiders. Also, in our preparation of this article, we referred investor resources such as Zacks.com, Marketsmith and Sentieo.