By Todd Shriber & Tom Lydon
With all the talk about value sectors trumping their high beta, growth counterparts, investors should dig deeper and emphasize quality when it comes to selecting value stocks and exchange traded funds.
Valuing high quality value is particularly important as bull markets enter their waning stages, as some market observers believe the current bull market is doing. In the early stages of bull markets, lower quality companies see their shares soar. However, as the bull matures, investors often exhibit a preference for higher quality fare with more compelling valuations.
High quality and value is accessible via the PowerShares S&P 500 High Quality Portfolio (NYSEARCA:SPHQ). According to a new research note from S&P Capital IQ:
Above Average companies recorded an average 12-month total return of 16.9% versus an average 21.7% return for those ranked Below Average, and 19.6% for all companies. However, these outsized returns for lower quality companies have also inflated their valuations. Indeed the average P/E ratio on 2014 estimated operating earnings per share now stands at 26.6X for those ranked Below Average versus a multiple of 16.9X for those ranked Above Average and 20.8X for all companies.
S&P Capital IQ ran a screen of S&P 500 companies with quality rankings of A-, A or A+ with fair value rankings of buy or strong buy. The screen turned up 20 names with seven each hailing from the consumer discretionary and health care sectors. Those sectors are SPHQ's third- and fourth-largest sector allocations, respectively, combining for nearly 29% of the ETF's weight.
While no stock accounts for more than 1.2% of SPHQ's weight, several of the names that scored favorably in the S&P Capital IQ screen appear in the ETF's lineup of 132 equities, including Dow component Walt Disney (NYSE:DIS), McKesson (NYSE:MCK) and Mylan (NASDAQ:MYL). Although SPHQ allocates just 4.7% of its weight to technology names, one of the ETF's tech holdings is Qualcomm (NASDAQ:QCOM), which also appeared in the S&P Capital IQ screen.
SPHQ tracks the S&P 500 High Quality Rankings Index, which "is designed to provide exposure to the constituents of the S&P 500 Index that are identified as stocks reflecting long-term growth and stability of a company's earnings and dividends," according to PowerShares.
SPHQ, which charges 0.29% per year, is rated marketweight by S&P Capital IQ. The ETF has $356.7 million in assets under management, up from $342.6 million on March 26.
PowerShares S&P 500 High Quality Portfolio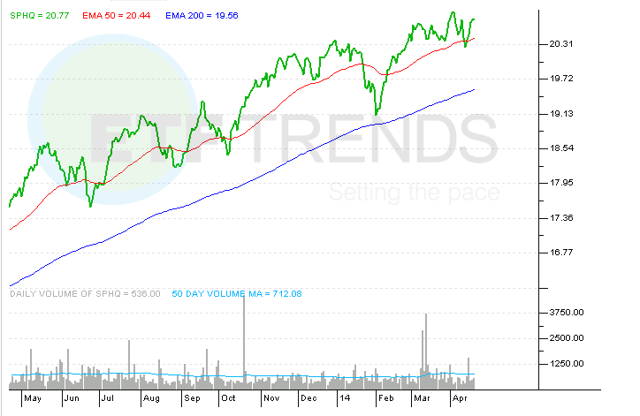 Disclosure: I have no positions in any stocks mentioned, and no plans to initiate any positions within the next 72 hours. I wrote this article myself, and it expresses my own opinions. I am not receiving compensation for it. I have no business relationship with any company whose stock is mentioned in this article.