It's easy to feel overwhelmed by the large number of ETFs that are now available; too many too many choices spread among too many styles, too many sectors, too many asset classes, too many countries, etc. If you have particular preferences, such as a desire for growth stocks, fixed income, developing country investing, etc., that will considerably narrow the choices. But if your goal is simply to find ETFs likely to perform well, whatever type they may be, you face a challenge. Different asset classes and different markets have different trading dynamics (compare commodities with fixed income, for example), so even technical models that work well with U.S. stocks may not be quite so effective with ETFs.
There are, however, some aspects of price performance that may be universal. I tried to tune into one of these with a simple model I created on www.StockScreen123.com a simple model that, in essence, follows Mr. Market around and picks up ETFs he generally likes but which fell out of his overstuffed pockets. In other words, I'm looking to buy on pauses in a broad positive trend.
The idea of the pause may truly be a universal phenomenon, even beyond the stock market. Think of somebody you know who loves to talk, on and on and on and on until you feel like your ear is ready to fall off. But even the most committed orator needs to pause sooner or later, for however brief a time, to inhale. Securities — stocks, bonds, futures, currencies, ETFs — work the same way. No matter how consistent a rally, there are times when the uptrend is interrupted. Those are the periods I'm targeting.
The Model
From among all ETFs in the StockScreen123 database, I eliminate those for which volume averaged less than 10,000 shares over the past five trading days, HOLDERs (I don't want to be bothered with the need to trade in multiples of 100 shares), and leveraged and short ETFs (I think of these as hedging tools rather than standard ETF investments of even trading vehicles).
After the list has been thusly narrowed, I select the top 5 ETFs based on the StockScreen123 ETF Rotation - Basic ranking system, which is computed as follows:
120-day share price percent change - higher is better (15%)

1-Year Sharpe Ratio - higher is better (15%)

5-day share price percent change - lower is better (70%)
The idea of a model that uses price weakness as a bullish indicator is certainly not new. But often, it's an add-on to other factors that, on the whole, emphasize strength. Here, the weakness factor is dominant, with a 70 percent weighting.
This model is designed to be re-run every week with the list being refreshed accordingly. I trade through FolioInvesting.com, where I pay a flat annual fee rather than a per-trade commission, so I don't care about the fact that turnover form week to week is often 80%-100%. If you want to follow an approach like this but do have to worry about commissions, the strategy tests reasonably well with three ETFs, or even with one. (Cutting the number of ETFs is far preferable to extending the holding period.)
The ETFs
Here's the current ETF list listed in rank order.
Here's the list from a week ago.

Vanguard Long-Term Bonds (NYSEARCA:BLV)
Vanguard Intermediate-Term Bonds (NYSEARCA:BIV)

iShares Barclays Govnment Bonds (NYSEARCA:GBF)

SPDR Barclays Capital TIPS (NYSEARCA:IPE)

Vanguard Total Bond Market (NYSEARCA:BND)
Testing/Tracking the Strategy
I suppose if I tried hard enough, I could concoct some sort of fundamental-economic rationale for the shift from fixed income to Equity ETFs, and, perhaps, even justify the eclectic mix we see in the current list. But I'm not going to do that. This is a purely technical strategy that is simply looking to make one-week trades based on what the market's been doing, whether or not the market is, ultimately "right," or even reasonable. That's not natural to me given my long-standing background in and inclination toward fundamental equity analysis. This particular strategy reminds me of one of those touchy-felly consultant stunts, where they ask you to allow yourself to fall backwards and trust that someone will catch you before you hit the floor. I never actually did that because I couldn't backtest my colleagues and there were many over the years I wouldn't have dreamed of trusting. Fortunately, though, I can backtest an ETF trading protocol.
Figure 1 shows the result of a StockScreen123 backtest from 3/31/01 through the present, assuming five ETFs.
Figure 1
click to enlarge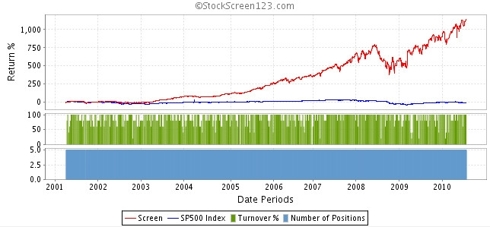 Click to enlarge

Figure 2 covers the past three years, a very challenging market environment that witnessed the fizzling of many strategies that had succeeded for a long time. On the whole, this approach held its own.
Finally Figures 3 and 4 shed light on the past three months. This is an important perspective, since no strategy is hot all the time, and it's worth seeing how the one under consideration has fared in the most recent past.
Figure 4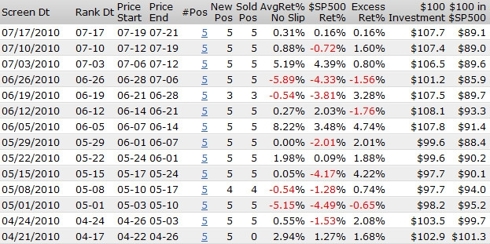 There have been few performance hiccups lately, so the law of averages makes me wary of one being around the corner. But on the whole, I'd have to describe the present as being a pretty good period for the strategy.
Disclosure: Long FAA, PEJ, XPH, DES, DBS