By Adam Fleck
Agricultural equipment manufacturers saw sales plummet in 2009, as global tractor volumes declined sharply in key geographies. Nonetheless, some bright spots shone through, and we think the three manufacturers we cover -- Deere (NYSE:DE), CNH Global (NYSE:CNH), and AGCO (NYSE:AGCO) -- will enjoy tailwinds from continued emerging market growth and a rebound in the United States. We remain cautious regarding the outlook for Western Europe, but we believe the market has generally priced in this weakness. Although we think only Deere enjoys an economic moat due to its entrenched North American market position and strong dealer network, we think each company is positioned for continued long-term success overseas.
State of the U.S. Farmer
U.S. farmers saw net income drop 27% in 2009 due to declining prices for crops, livestock, and other farmed products after a terrific 25% climb in 2008. Not surprisingly, this income typically correlates highly with tractor sales above 40 horsepower (lower-horsepower tractors are more commonly used for residential purposes), though consumer confidence represents an equally important piece of the decision process. As such, although farm income dropped nearly 20% in 2006, the relatively strong macroeconomic growth led farm tractor unit sales to decline just 3%. Conversely, during the 2009 U.S. recession, tractor sales fell almost 23% as farm income plummeted. (Click to enlarge)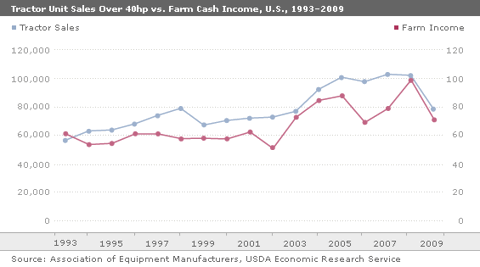 The USDA currently forecasts an 8% increase in 2010 cash income, stemming from economic recovery (during which consumers both domestically and abroad demand higher-value proteins such as livestock) and rebounding crop prices.
Farmers' balance sheets also remain healthy. Debt/equity rose in 2009, but at 14.7%, the metric still sits well below the 40-year average of about 19%, and the 20-year average of 16%. In addition, the USDA forecasts a renewed reduction in the measure at the end of 2010, due to the rebound of farm income. As a result, we think farmers' financial health can support an increased amount of equipment purchasing. Given this upbeat outlook, we expect the North American tractor market to post positive full-year growth, better than some equipment participants anticipated at the start of the year.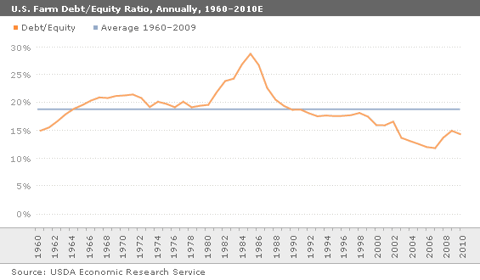 To date, unit volumes sold have yet to reflect this forecast, with above-40 horsepower tractor sales down about 1% through the first half of 2010. Nonetheless, sales at the larger end of the power spectrum (machines greater than 100 horsepower) have climbed nearly 10% year to date versus 2009. Some of this increase likely stems from pre-buying activity ahead of required 2011 emission standard changes for high-horsepower machinery, which will bring new engines and greater costs. As evidence, large, four-wheel-drive tractor sales are most affected, and are up 23% year to date. Still, we're encouraged that the industry is seeing meaningful pre-purchasing; the on-highway truck market experienced a similar engine change-over in January 2010, but didn't see a meaningful pre-buy in 2009 due to the economic recession. We think lower-power machines may see a similar boost in 2011, as new emission standards are required beginning in January 2012 on tractors 75 to 173 horsepower.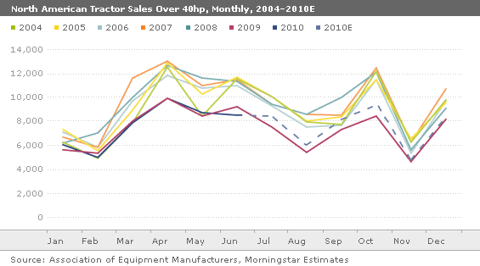 With this positive performance, the three industry players we cover increased their 2010 North American outlooks after the first quarter, and now generally forecast rising year-over-year volume for the full year. We expect a mid-single digit climb for North American agricultural equipment this year, led by larger, high-horsepower tractors due to the aforementioned pre-buying activity. Beyond 2010, although rebounding consumer confidence will likely drive increased low-horsepower tractor sales domestically, we believe international growth will present far greater prospects for manufacturers' incremental growth.
Deere Still King of the Hill in North America, but AGCO, CNH Covering Ground Internationally
However, we estimate that North American sales represent less than a quarter of the global agricultural equipment market. Deere is the largest domestic player at nearly twice the size of CNH, but both AGCO and CNH offer formidable competition abroad.
For instance, AGCO is the market leader in South America, a position cemented by acquisitions over the past decade, with CNH and Deere a close second and third at similar revenue figures. The crown jewel of the region is Brazil, and AGCO controls most of the Brazilian tractor market, followed by CNH. Tractor sales in the country were a bright spot in 2009, offering positive volume growth (albeit with fewer units than in developed economies). We expect continued near-term growth in the region, and results through the first half bear out our thinking; tractor sales are up 29% in Latin America while combine harvesters have increased 65% from 2009's first half.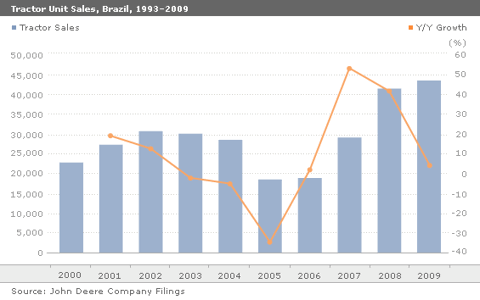 In Europe, a much larger territory, end markets have proven far weaker. Credit issues in Eastern Europe have led to a buildup of used equipment in Western Europe, and new tractor sales fell 12% in the latter region through 2009 as a result. We estimate that CNH leads Europe in market share, although AGCO and Deere are close behind. Moreover, AGCO's Fendt lineup offers higher technology tractors, and typically garners a 10%-15% pricing premium over competitors' offerings. Still, given the continued macroeconomic problems in the area, we do not forecast rebounding farm equipment volumes in 2010.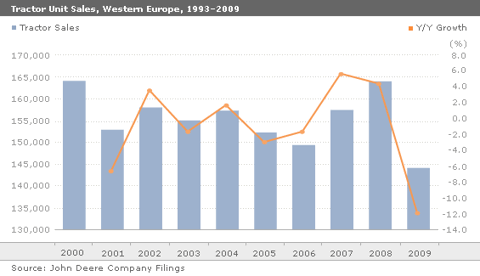 Looking across the rest of the globe, India offers the highest volume of tractor sales annually, with more than 300,000 units, or almost twice the amount of the U.S. market. However, the majority of these machines are smaller, lower-horsepower tractors that sell for lower prices than units in North America and Europe, as the landscape consists primarily of small, family-owned farms. AGCO--through a joint venture with Indian manufacturer TAFE--has managed to carve a sizeable foothold, and Deere holds a 7% share of the market, but we don't believe the three major players we cover are likely to enjoy outsized growth in this economy. For one, local players dominate this market, preventing the economies of scale that AGCO, CNH, and Deere enjoy in other regions. More importantly, we don't expect the country's preference for smaller tractors to change over the short run. Unlike other regions, where farm sizes have trended larger due to acquisitions by large corporate operators, India's farms are likely to remain small due to the popularity to bequeath land to multiple heirs. That said, we expect foreign firms to continue investing in the country, as it also serves as a critical export source.
China provides a similar target for small farm equipment; more than 200,000 tractors were sold in 2009, but most ranged from 25 to 40 horsepower. This volume has doubled since 2004 (a 19% annual average clip), but the manufacturers we cover do not have a meaningful presence in the region; AGCO generated just $72 million of sales in Asia of its $6.6 billion total revenue last year, CNH has noted its small exposure in recent conference calls, and Deere saw just $600 million in both farm and construction equipment sales in 2009. The geography's growth rate is likely to remain above-average, but we don't anticipate the region overshadowing other areas of focus.
Instead, we think Russia presents a far more exciting opportunity for agricultural equipment manufacturers. Together, Russia and the rest of the Commonwealth of Independent States, or CIS, hold a similar amount of arable land to the U.S., but only about a quarter of the mechanization level. Severe financing issues and restrictive tariffs hampered growth in the region in 2009, but AGCO, CNH, and Deere have all established joint ventures and local manufacturing capabilities that position the firms to capture what could prove to be a sizeable opportunity over the long term. The global farm equipment market is likely about $100 billion, but modernizing Russia's aged fleet could generate upwards of $60 billion in sales. As such, we think all major manufacturers could enjoy growth without viciously competing for market share.
Stocks Generally Fairly Valued
Although we think the agricultural equipment industry is healthy, much of this good news is likely already priced into companies' shares. We think that only AGCO currently offers a decent margin of safety given the dominance of weakened Western Europe on its revenue. At about 40% of the firm's sales, continued near-term regional headwinds will almost certainly crimp AGCO's profitability potential, but we think the company remains favorably positioned to enjoy long-term operating margins at or above historical averages. Deere and CNH will likely enjoy sharply rebounding construction equipment sales in emerging markets, but we believe much of this is also already reflected in current market prices. That said, Deere remains one of our higher quality names, and we think the firm has carved a narrow economic moat.

Disclosure: Morningstar licenses its indexes to certain ETF and ETN providers, including Barclays Global Investors (BGI), First Trust, and ELEMENTS, for use in exchange-traded funds and notes. These ETFs and ETNs are not sponsored, issued, or sold by Morningstar. Morningstar does not make any representation regarding the advisability of investing in ETFs or ETNs that are based on Morningstar indexes. Tim handles their stock strategist posts (separate feed) if you need help formatting or have other Morningstar-related questions.