Pandora's (NYSE:P) Q1 earnings report is due out after hours on April 24, 2014. The report is in certain circles a much-anticipated event. Pandora has a couple of times been left for dead in the last year, only to emerge ever stronger because of its music genome moat and its remarkable user loyalty. So there are a lot of investors who are interested in determining on the basis of this report whether Pandora will be any closer to GAAP profitability after this quarter.
In part the reason why some investors are confident that the Q1 report will be a vindication of the Pandora revenue growth story is because they continue to believe that the market growth opportunities for Pandora are significant. As evidence they cite the fact that at the present time Pandora represents just 8.57% of overall radio listening hours in its target markets.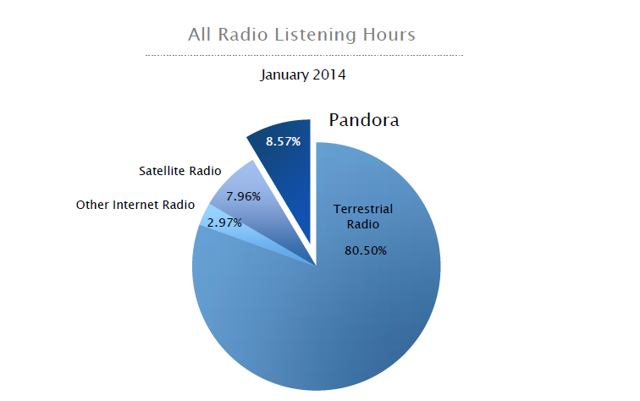 (source: Pandora investor presentation)
And to bolster their case the Pandora bulls have cited, rightly, the fact that quarterly revenue growth continues to be incredibly rapid. I have, in fairness, rarely seen a company that has been able to grow its revenue as quickly as Pandora has done, now that it has decided to flip that switch.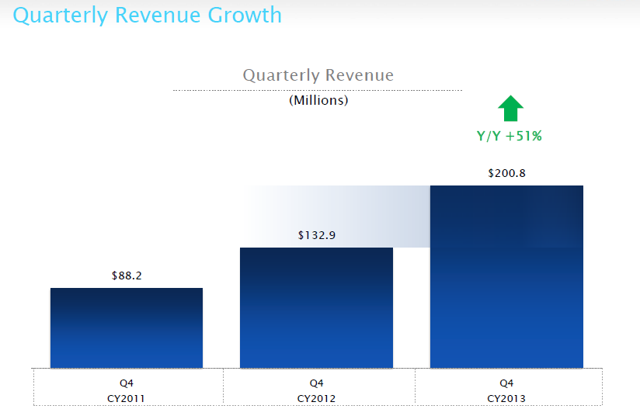 (source: Pandora investor presentation)
Mobile revenue is especially impressive, growing at a 76% y-o-y rate between Q4 2012 and Q4 2013.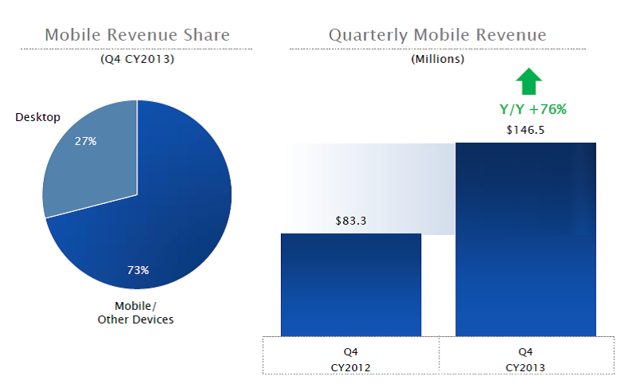 (source: Pandora investor presentation)
At this point Pandora trails only Google (GOOG, GOOGL) and Facebook (NASDAQ:FB), two titans of mobile advertising, in the U.S. mobile revenue generation business.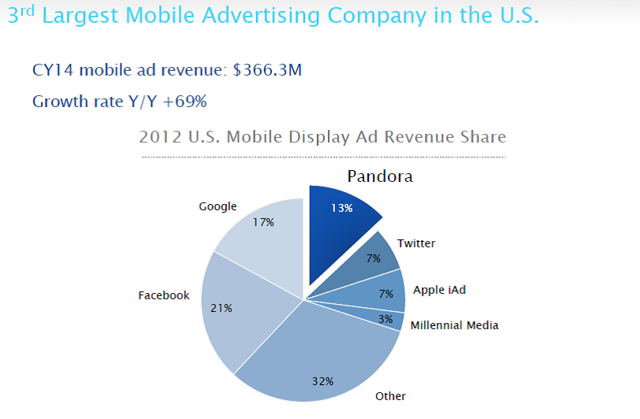 (source: Pandora investor presentation)
In part the rapid revenue growth rate is being driven by Pandora's efforts to enter new areas of music listening. Pandora continues to stake much of its future on its ability to seize a large share of the car-based radio listening market. To this end it has pursued, to date, integration with over 130 different vehicle models.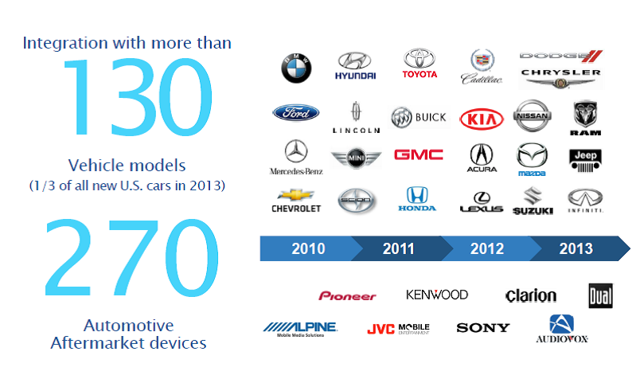 (source: Pandora investor presentation)
In spite of some of these formidable revenue growth statistics, I am actually not convinced that the Pandora Q1 earnings report is all that important an event.
There are two reasons I hold this view. The first is that Pandora's active user growth has been falling now for many quarters. In the absence of new users, the overall revenue pile will only be so large. It certainly will not be able to continue to grow at the incredibly stiff clip that it has so far been doing.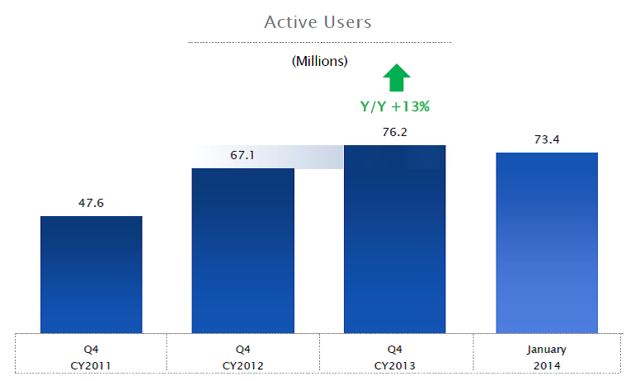 (source: Pandora investor presentation)
But the second and perhaps more important reason why I do not think that the Pandora Q1 report is especially important is that has become apparent to me over the last couple of months that Pandora does not trade on its own. Nor does Pandora trade with SIRI, one of its closest music-playing rivals, because of the move that Pandora has made in recent quarters into the car listening space. Instead, Pandora seems to trade primarily with a block of loosely-related momentum stocks that are seen by a lot of bullish investors to be the technology leaders of the future - whether in movie streaming, music streaming, cars, social media, and the like.
In other words, it does not seem as though Pandora's actual business performance has as large an impact on its stock price as does the perception among the stock-buying public that it is one of the momentum stocks. In a stock market in which the momentum stocks seem to trade as a block, the perception of the sector by the stock-buying public in fact is more important in determining the stock prices of the individual companies than are the companies' actual business fundamentals.
At any rate, Pandora, being a momentum stock, is right now a risky play for both longs and shorts. The risk has been made all the greater by the sudden price spike that has occurred in the last few days, after the initial selloff to $25. I do not know what the future months of 2014 hold for the momentum stocks. But my own view is bearish because Pandora's long-term business goals do seem still to be far from reach at this point in the life of the company.
Disclosure: I have no positions in any stocks mentioned, but may initiate a short position in P over the next 72 hours. I wrote this article myself, and it expresses my own opinions. I am not receiving compensation for it (other than from Seeking Alpha). I have no business relationship with any company whose stock is mentioned in this article.