According to a Bloomberg report, General Electric (NYSE:GE) is in talks to buy Alstom SA (OTCPK:ALSMY), a major French provider of equipment for power plants, smart grids, renewable power, and trains. General Electric may pay as much as $13 billion for the company, a 25% premium to Alstom's market valuation as of Wednesday. This would be a major coup for the company as it would be its biggest ever acquisition.
What Alstom and why is General Electric buying?
When I first read the news, I wondered, what Alstom and why is General Electric trying to buy it? However, when looking at the company, it seems General Electric may be on to something.
Alstom is a leading provider of high-speed TGV trains in Europe and a maker of light rail car via its citadis spirit line, which fits nicely with General Electric's own locomotive segment. In addition, the company is a large supplier of urban rail signalling devices.
Alstom also has a large legacy power plant business, which provides gas, hydro and wind turbines for mostly European markets. Furthermore, Alstom has also invested heavily into smart grid technologies, focusing especially on the problem of integrating large amounts of renewable energy into older grids. As an example, the company is heavily involved with modernizing substations in several Mexican cities including Toluca, Puebla, and Mexico City.
At a glance, Alstom seems like a strong fit for General Electric, especially with its shift towards becoming an industrial focused stock. All of Alstom's segments align with General Electric's. In addition, these assets should provide a spark for some of the struggling segments such as power management.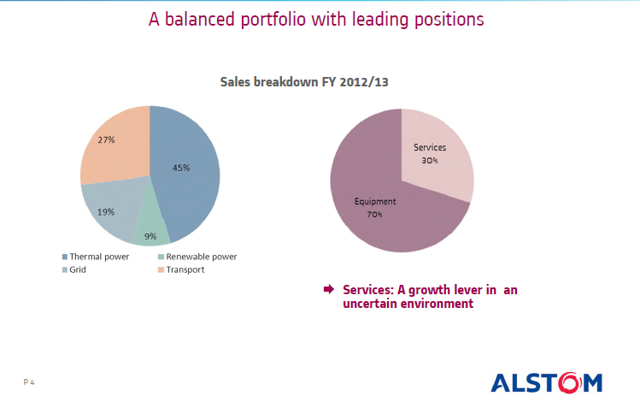 Source: Alstom Investor Presentation
Is General Electric paying a fair price?
During its fiscal 2013, Alstom generated about €1.189 billion in EBIT, €802 million in net income, and €408 million in FCF. Based on these metrics, General Electric hardly seems to paying much of a premium for Alstom.
Indeed, General Electric may have been motivated to pounce on Alstom due to its 20% decline over the past year. Shares of the company have been recovering lately, up 10% in the past week as Europe shows signs of recovery.
In addition, as highlighted by Bloomberg, General Electric would be using its foreign cash reserves to fund this acquisition. With the company sitting on $57 billion in overseas cash, this purchase makes a lot of sense compared to repatriating the funds and facing a nasty tax bill.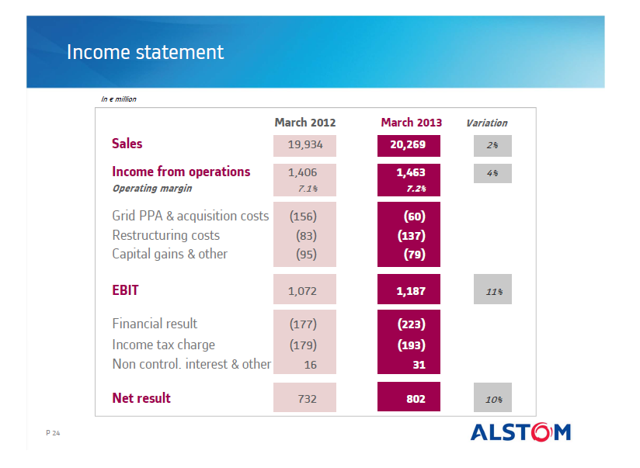 Source: Alstom Investor Presentation
Why is General Electric focusing on Europe?
Europe is recovering and General Electric knows it. The EU is expected to expand its GDP by a modest 1.5% in 2014. During its Q1 2014 earnings call, General Electric mentioned that it experienced surprising European strength, offsetting some weakness in the US.
Conclusion
Alstom's assets appear to be a good mix for General Electric's current portfolio as they would increase exposure to Europe during the early innings of the recovery. Furthermore, as displayed by last year's Lufkin purchase, a smart acquisition can respark lagging segments' profitability.
However, before we start pondering too much, General Electric first needs to clear dicey European antitrust issues. The French government may not be too thrilled to see one of its prized corporations be acquired by an American giant. Furthermore, there could be complications if General Electric would want to downsize Alstom's workforce, especially considering strict French labor laws.
Disclaimer: The opinions in this article are for informational purposes only and should not be construed as a recommendation to buy or sell the stocks mentioned. Please do your own due diligence before making any investment decision.
Disclosure: I am long GE. I wrote this article myself, and it expresses my own opinions. I am not receiving compensation for it (other than from Seeking Alpha). I have no business relationship with any company whose stock is mentioned in this article.
Editor's Note: This article discusses one or more securities that do not trade on a major U.S. exchange. Please be aware of the risks associated with these stocks.