It's nearing the end of April and that means an age-old trend should resurface once again. Wall Street traders have an adage for the occasion: "sell in May and go away." Some theorize that investors can avoid seasonal volatility by staying out of the markets from May until late October and reap greater profits. As many question whether the current bull market will last, the adage may serve conservative investors well this year.
However, as value investors are aware, fear and predictable selloffs are great catalysts for finding undervalued trends and discounted stocks. It's always a benefit to find a growing industry that's been ignored by mainstream investors. Right now, that industry looks to be lumber and wood production.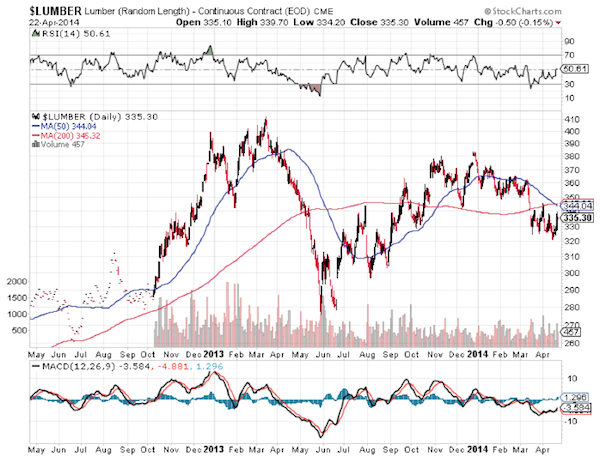 Click here to access a list of top performing lumber stocks.
Commodities across the board have been in a slump for the past few years, and lumber is no exception. Given the housing industry's dependence on wood products, the real estate crash unsurprisingly sparked a deep recession for companies in the lumber business. However, renewed strength in new housing starts domestically as well as in overseas markets like China could put lumber once again on an ascending path.
Housing starts in the US increased to 946,000 in March from 920,000 in February, but still lie well below historic averages. Estimates for where housing starts are going to be at the end of the year vary, but based on anticipated demand, it should end at around 1.2 million units - a 26% increase from March's figures.
That directly translates into good news for the lumber industry. According to International WOOD MARKETS Group, North American lumber production is expected to increase by 3 billion bf (board-foot) this year as opposed to last year's 2.6 billion bf - a 5% gain. A prediction through 2017 by the group points to climbing lumber prices as lumber production capacity will remain unchanged. The tightening supply should serve to prop up commodity prices for the next several years.
Lumber mills in the US South in particular has very low operating costs allowing them to compete on a global scale as mills in other parts of the world like Europe need lumber costs to rise above $500 in order to make large scale exporting a profitable venture.
What's the Play for Investors?
For investors looking to hop on board the rising tide in lumber, there are several options. Investors that want a broad, global exposure to timber should consider an ETF. There are currently two that offer timber and wood production stocks to investors: iShares S&P Global Timber & Forestry Index Fund (WOOD) and Guggenhiem Timber Index ETF (CUT).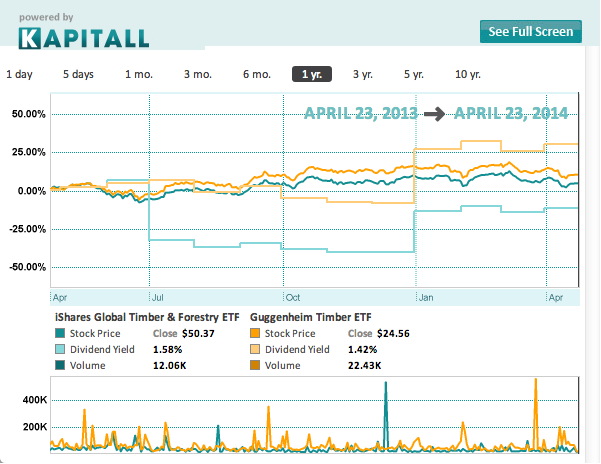 Click here to get the full, interactive chart.
WOOD has a nearly 50/50 balance between domestic and international companies and comes with an expense ratio of 0.48% -- relatively cheap for a commodity specific ETF. On the other hand, CUT has a larger overseas holding, over 70%, and a higher expense ratio as well at 0.65%.
Rayonier (NYSE:RYN) is a forestry real estate investment trust with over 2.7 million acres of timber in its portfolio. The company splits its business evenly between the U.S. and international customers in over 20 countries.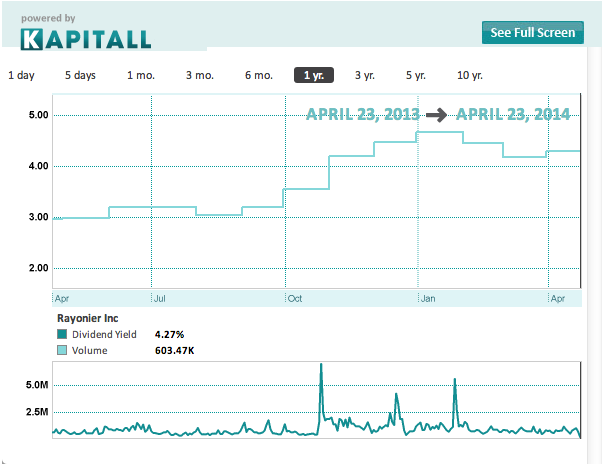 Click here to get the full, interactive chart.
Quarterly revenue growth year over year is 26% and EPS estimates have been revised slightly upwards from $2.00 to $2.03 suggesting improving fundamentals. A dividend yield of 4.3% gives investors plenty of downside protection during turbulent times and the company's plans to split off its performance fiber business is just interesting enough to speculate that Rayonier could experience double digit growth for years to come.
Disclosure: I have no positions in any stocks mentioned, and no plans to initiate any positions within the next 72 hours.
Business relationship disclosure: Kapitall is a team of analysts. This article was written by Daniel Cross, one of our writers. We did not receive compensation for this article (other than from Seeking Alpha), and we have no business relationship with any company whose stock is mentioned in this article.