By: Steven Carroll, Independent Commentator
The starting point is to understand what expectations are embedded in the current valuation - and here it's clear that the market remains extremely bullish despite the recent pullback. In order to justify the current valuation of $71.92 (the close on April 23), Asos (OTC:ASOMF) will have to grow at 35% annually for the next five years, or 27.5% over 10 years. Either sounds hugely bullish in an industry without significant barriers to entry.
Interestingly, Asos has achieved a trailing five-year EPS compound annual growth rate of 29.8%, so the market is not only expecting that impressive rate to continue but to accelerate. The normal law of economics is that as sales rise, the ability to increase them at double or triple digit rates should decline, however the laws of economics, profits, valuation, etc. don't really apply to stocks that hail from Northern California, nor in this case from London.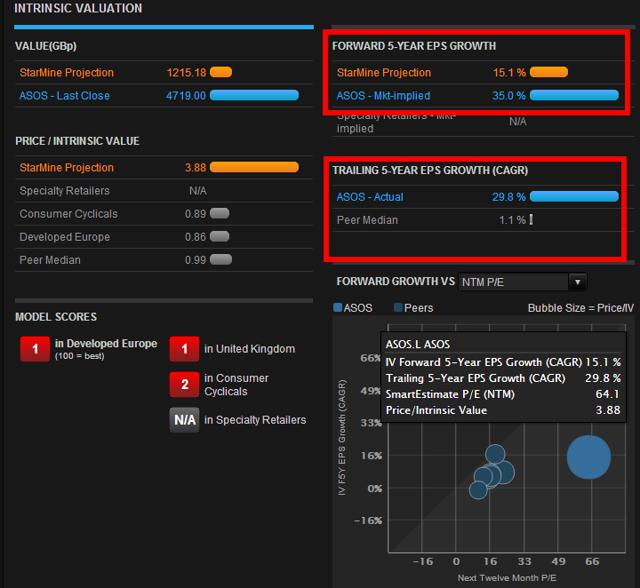 Sell side quirks
StarMine has long experience at assessing the gap between longer term forecasts and the resultant actuals. Their research showed that sell side analysts are excellent at sorting their universe on the basis of growth - i.e. if the analyst says stock A will grow faster than stock B over the next five years, it very likely will. However the analysts tend to get the magnitude of the growth wrong - unsurprisingly being too bullish in most situations. They also do tend to overweight the recent past, so they will also under-forecast slow growth stocks.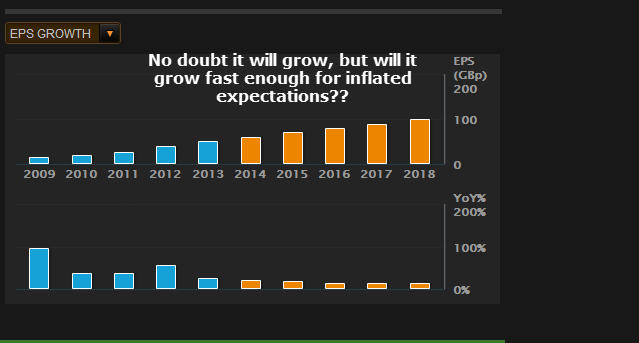 A more balanced growth projection
Using this understanding of analysts' behavior, StarMine built a separate growth projection called SmartGrowth that removes much of the over-optimism - giving you a better series of earnings projections on which to base a valuation. The SmartGrowth forecasts are that Asos will achieve 15.1% compound growth over the next 5 years - very impressive but nowhere near enough to support the current valuation (current P/E of 64).

Keep up with changing estimates
Another warning sign for growth stocks trading at a large premium to the market is that analysts need to keep updating their estimates to maintain momentum. Asos has a revisions ranking of 35, meaning just above the bottom third of companies in developed Europe. FY1 (the next fiscal year) EPS revisions are down 2.2% over the last 30 days and the stock is down 12.8%. For the bullish, I'd wait for earnings forecasts to start trending up - but considering the current valuation even the cheerleading of the sell side may not be sufficient to keep this mighty edifice propped up.
Internet retailing is a cutthroat business and Asos has a strong first mover advantage - the question is whether that's sufficient for the price you have to pay. Glamour stocks are a dangerous place to park your money in a bubble -- no matter what the fashion designers whip up.
Disclosure: I have no positions in any stocks mentioned, and no plans to initiate any positions within the next 72 hours.
Business relationship disclosure: Alpha Now at Thomson Reuters is a team of expert analysts that are constantly looking at the financial landscape in order to keep you up to date on the latest movements. This article was written by Steven Carroll, independent commentator and analyst. We did not receive compensation for this article, and we have no business relationship with any company whose stock is mentioned in this article.
Editor's Note: This article discusses one or more securities that do not trade on a major U.S. exchange. Please be aware of the risks associated with these stocks.