Recently, many investors have been very bullish on FMC Technologies (NYSE:FTI). Despite all of this positive sentiment, there are a great deal of investors that have not heard of the company or do not know much about it. In this article, I'll provide some key background information about FMC that should help paint a better picture of why the stock has been turning heads.
FMC Background
FMC is a company that specializes in oilfield services and equipment. FMC has three business segments- Subsea Technologies, Surface Technologies, and Energy Infrastructure. The biggest of these three segments is the Subsea Technologies segment, which I'll discuss in further detail below. The company had $7.1 billion in revenue in 2013 and currently employs 19,300 people worldwide with 30 production facilities in 17 countries. The company currently has over 2,000 subsea "trees" in place worldwide and this number is constantly growing.
The Subsea Technologies Segment
FMC's competitive advantage comes from its Subsea Technologies segment. The segment accounts for 66% of revenue and posted a record of $1.4 billion alone in the fourth quarter of 2013. The company holds a 40% market share of the current amount of "trees", which are subsea units that manage the input to and output from subsea wells. The company's subsea tree revenue has grown 20% annually since 2010 and is expected to see continued growth in 2014 and beyond. The subsea industry as a whole has the potential to really take off due to large upcoming future projects, many of which FMC expects to add to its already large portfolio. In addition to its impressive numbers in the industry, FMC has strong relationships with big name contract-awarding companies such as Petrobas (NYSE:PBR), BP (NYSE:BP), Shell (NYSE:RDS.A), and ExxonMobil (NYSE:XOM). Moving forward, the company expects to see subsea margins grow to 14% and will also continue to see a revenue stream from the upkeep and servicing of previously installed units. The company was also recently awarded a $322 million contract with BP for subsea systems in the Caspian Sea.
Source: FMC First Quarter IR Presentation
Long-Term Growth Opportunities
In addition to subsea growth, FMC also expects to see future growth in its Surface Technologies segment through increased shale plays. The company plans to develop its shale technologies product line to capitalize on every opportunity possible for growth in the surface industry. The key area of development in this segment is water processing units to deal with waste water from the fracking process.
Analysis and Moving Forward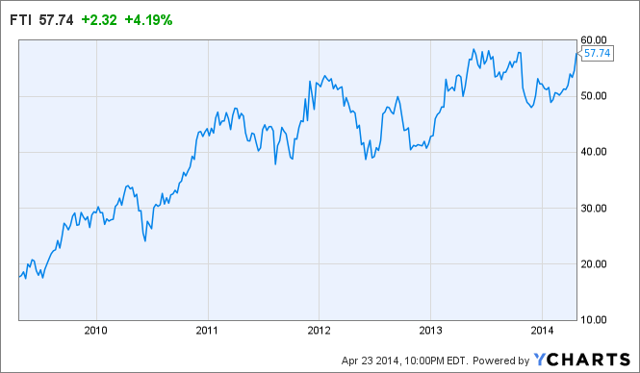 FTI data by YCharts
Looking at some of the key metrics for FMC, the future looks bright. The price has been on an upward trend for the past 5 years and looks to continue to stay this way. The first thing that seems to indicate this is FMC's growth in revenue. It keeps posting consistent strong revenue growth that will continue to push the stock's price upwards. In its 1st quarter earnings report for 2014, revenue was again up 14% over last year's Q1 value. Here's a look the revenue growth for the past 5 years.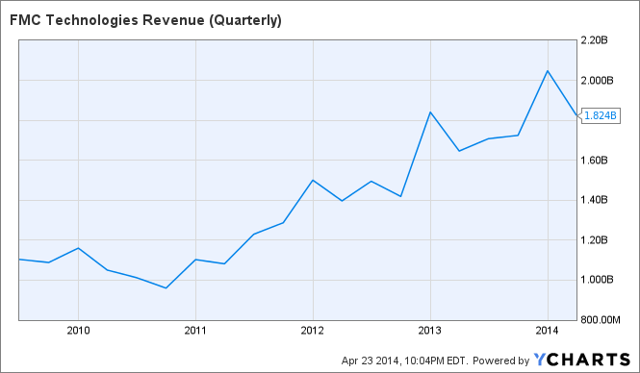 FTI Revenue (Quarterly) data by YCharts
Another sign that is encouraging to me is the company's P/E ratio. The P/E sits just above the industry average and has consistently been on a downward trend as of late. This could suggest that the company is undervalued, which is a good sign for growth in the future stock price.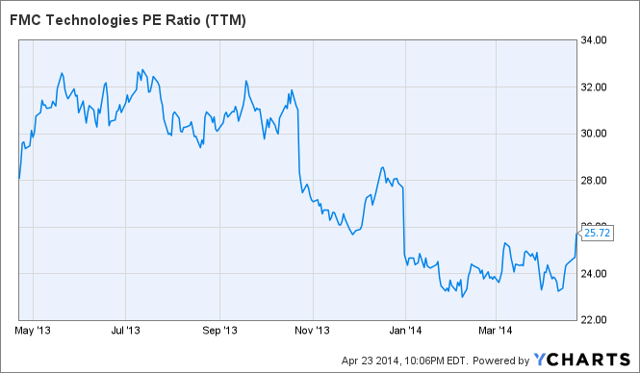 FTI PE Ratio (TTM) data by YCharts
One final thing that I really like that signals as to where FMC may be headed is its EV/EBITDA ratio. This ratio seems to backing up the trend of the falling P/E ratio for FMC as well. It's on a continuous downward decline that also suggests that the company could be undervalued.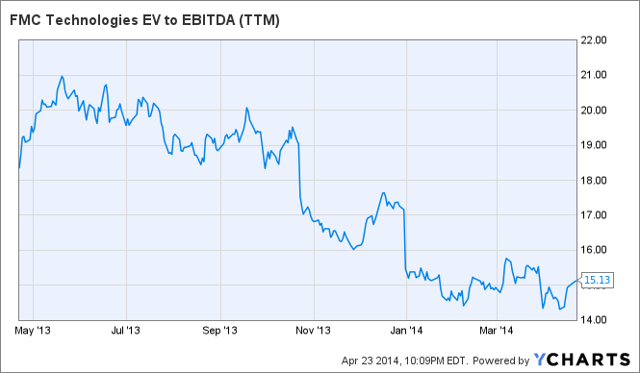 FTI EV to EBITDA (TTM) data by YCharts
Takeaway
Overall, the combination of the trends of FMC's price, revenue growth, falling P/E ratio, and falling EV/EBITDA ratio suggests that FMC is becoming even stronger of a good investment moving forward. This article is just a glimpse of some of the strong trends that FMC has shown as of late and I suggest that you take it upon yourself to look deeper into FMC. The company just beat earnings estimates for Q1 of this year and is estimated to have a successful second quarter earnings report as well. The company recently surpassed its all-time high price and seems poised to push the threshold of its success even higher.
Disclosure: I am long FTI. I wrote this article myself, and it expresses my own opinions. I am not receiving compensation for it (other than from Seeking Alpha). I have no business relationship with any company whose stock is mentioned in this article.