In just a few weeks I'll be heading out to Las Vegas for The MoneyShow (May 12-15) and RECon (May 18-20), the global convention for the shopping center industry. That's over a week in a town known more for speculation than intelligent investing.
The good news is that I'll be meeting with over a dozen REIT CEOs hoping to gain insight into the driving forces behind the world of retail repeatability. It's been over 4 years since the end of the Great Recession and as we are seeing today, the continued evolution of "brick and clicks" have become more relevant for survival. It seems that most of the Shopping Center REITs have spent the last few years pruning non-core properties and focusing on higher quality assets.
For most Retail REITs occupancy metrics have improved considerably and rents are beginning to move along the lines of an improving economic recovery. In addition, REITs have become much more defensive with their debt levels as rising interest rates bear the greatest risk over the next year or two.
Very few Shopping Center REITs made it through the Great Recession without a dividend cut. Federal Realty (NYSE:FRT) and Urstadt Biddle (NYSE:UBA) were the only Shopping Center REITs that increased dividends throughout the latest recession and Tanger Factory Outlets (NYSE:SKT) was the only Mall REIT that pulled off the feat. (Although Taubman Centers (NYSE:TCO) managed to maintain and not cut its dividend).
All of the other multi-tenant retail REITs were forced to cut dividends and many were hit hard. For investors who had "skin in the game" that was tough. Although I didn't own REIT securities then, I did own a few shopping centers and I could sympathize with the pain of watching my equity evaporate into thin air.
Having been in or around the commercial real estate industry for the last 25 years I knew 2009 was the bottom. Now, we're witnessing the climb back up. For some REITs it's a crawl, for some it's a climb, and for some it's a bounce. This is an article about a REIT that's bouncing back.
What's Ramco-Gershenson?
The roots of Ramco-Gershenson go back over 45 years as the brothers, William and Aaron Gershenson, formed the A & W Management Company. The company grew by developing over 70 shopping centers primarily in the Midwestern U.S. On May 31st Ramco-Gershenson Inc. and RPS Realty Trust merged to form Ramco-Gershenson Properties Trust (NYSE:RPT) and in just over a month the company will celebrate 18 years as a public REIT.
The Farmington Hills-based REIT owns and manages 80 shopping centers in 13 states and the portfolio has expanded into other major metropolitan markets. Over 84% of RPT's base rent comes from metro markets ranked in the nation's top 50 MSAs.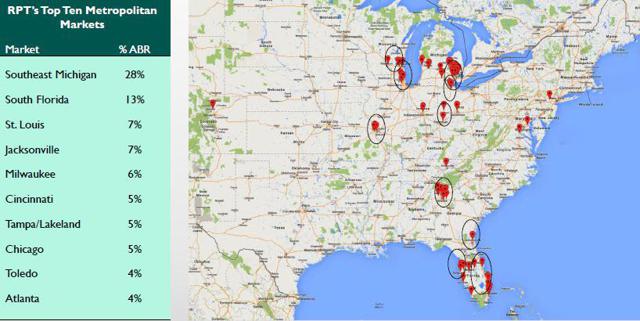 RPT's strategy is to own dominant, multi-anchored community shopping centers located in strong trade areas. The REIT's centers are leased primarily to creditworthy national and regional retailers who consistently generate strong sales. RPT's property demographic profile is strong as the average 3-mile population is 67,000 and the average 3-mile household income is $76,000.
RPT's retail composition is weighted heavily towards community centers (80%) and its dominant line-up of national and regional tenants. The other centers are grocery-anchored (8%) and power centers (12%). The average multi-anchored centers has 3 anchors.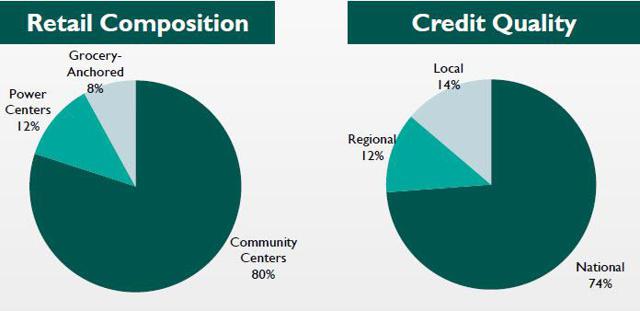 As evidenced by the snapshot below RPT leases to many high-quality tenants including TJ Maxx (NYSE:TJX), Bed Bath & Beyond (NASDAQ:BBBY), LA Fitness, The Home Depot (NYSE:HD), and Publix. Only TJ Maxx represents more than 2.3% of RPT's average base rent. Also, Whole Foods (NASDAQ:WFM) is RPT's top 10 tenant demonstrating the company's commitment to quality.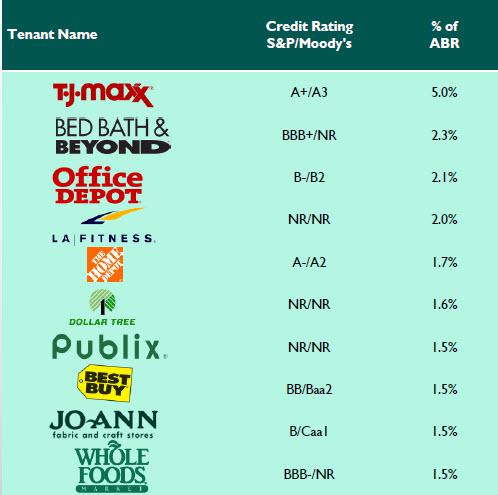 RPT maintains a well-balanced lease expiration schedule with an average term of 5.3 years and a maximum exposure in any year of less than 15%. In 2013, RPT's lease renewal rate was approximately 80% and comparable rents increased 8.2% for new and renewal leases.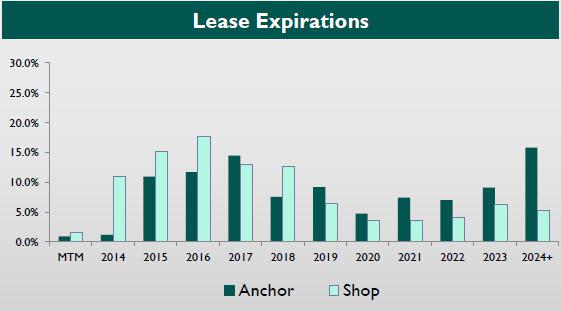 First, Let's Look at the Fall
As we review the FAST Graph below we can see that RPT survived two recessions. In 2001 the company managed to maintain its annual dividend of $1.68 per share; however, the company could not hang in 2009 as it was forced to cut its annual dividend from $1.85 to $.68.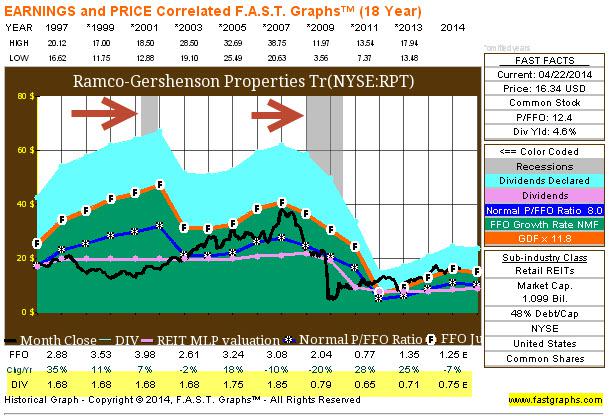 However, we can now see that RPT has been able to bounce back to a more normal existence. Since 2010, the company has been able to grow its portfolio in size and increase its annual dividend.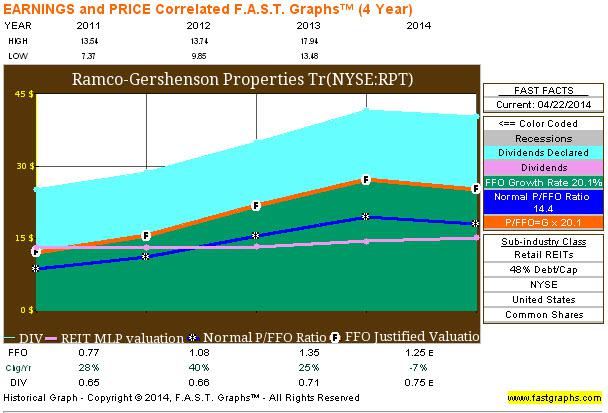 Now Let's Look at the Bounce
Since 2009 RPT has been able to grow its portfolio significantly. Last year (2013) RPT acquired $567 million of shopping centers in targeted Midwest markets including Chicago, Milwaukee, St. Louis, and Cincinnati. During 2013 RPT grew total assets to over $2 billion and the company's total capitalization grew from $1.3 billion (in 2012) to over $2 billion (at the end of 2013).

Also in 2013 RPT sold around $35 million of non-core property and completed an $18 million project called Parkway Shops in Jacksonville, FL. The company also commenced a $48 million project in Lakeland, FL (96% pre-leased). As a result of the company's investment initiatives RPT has been able to increase average base rent by 26%, or a compound annual growth rate of over 6%.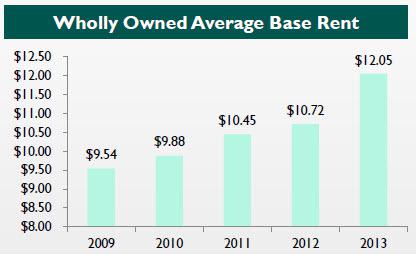 RPT's leased occupancy has increased by 420 basis points (to 95.1%), leading to enhanced tenant recoveries and operating margins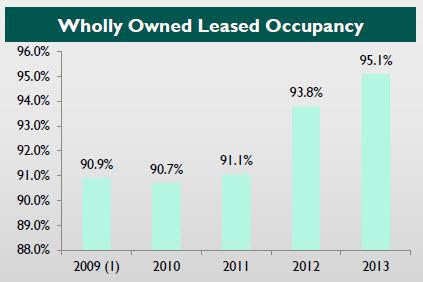 In addition, RPT's core portfolio leased occupancy has improved dramatically.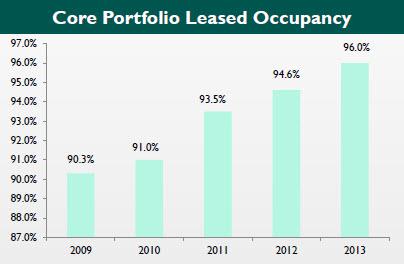 As evidenced by RPT's improving operating fundamentals, the company has achieved consistent strong same-center NOI growth. Here is a snapshot of the history including 2014 guidance: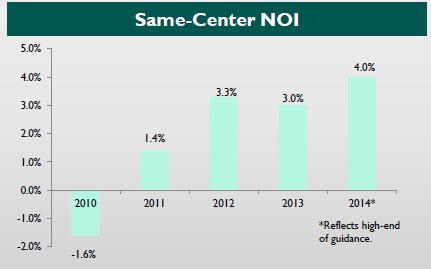 RPT's core portfolio ABR per square feet has improved dramatically. At year-end 2013, the company reported average base rent of $12.35 per square foot.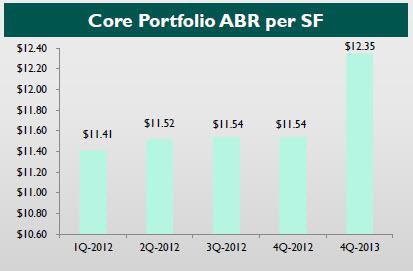 What's Fueling the Bounce?
RPT has a total capitalization of $2 billion, conservatively structured with a majority (56%) of common equity. Substantially all shares are owned by REIT funds and other institutional investors. Also, there is considerable insider ownership, including Dennis Gershenson, the REIT's chairman and CEO (shares valued at $6.3 million). Source: Yahoo Finance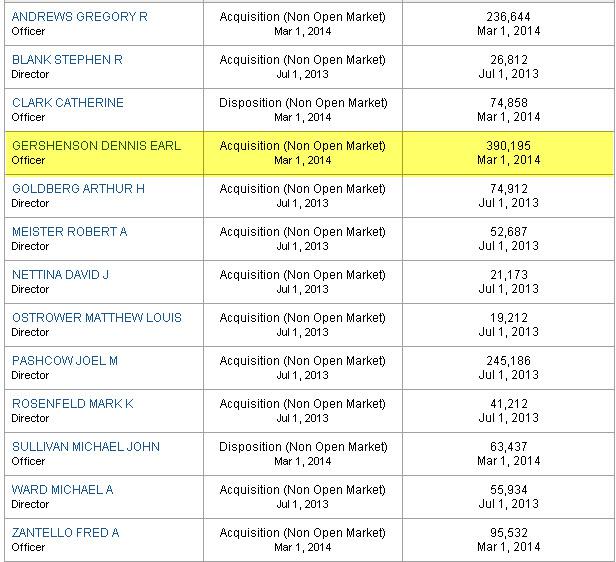 The balance sheet consists of only 17% of secured debt, 20% of senior unsecured debt, 1% in junior subordinated notes, and 6% in convertible preferred stock. The debt to total capitalization is 38% and debt-plus-preferred to total capitalization is 43%.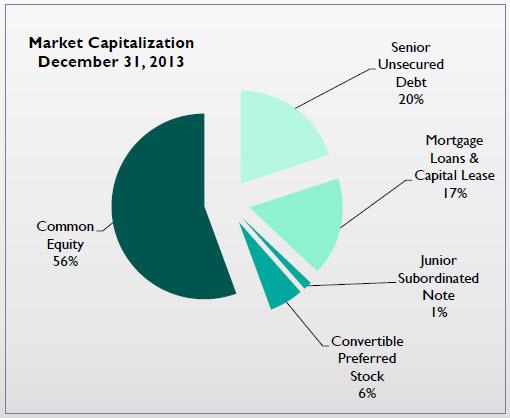 RPT's year-end debt metrics reflect continued strengthening of the company's core financial position: Debt to EBITDA is 6.3x, interest coverage of 3.7x, and fixed charge coverage of 2.7x.
These are strong credit metrics and they reflect RPT's commitment to maintaining an investment grade profile. Approximately 88% of debt is fixed rate with a weighted average term to maturity of 5.4 years. RPT has only $35 million of loans coming due between now and the end of 2014.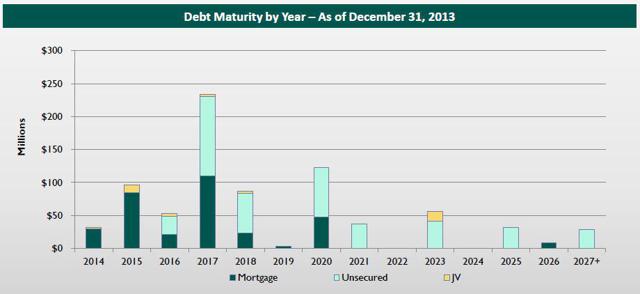 RPT has $205 million of borrowing availability under its existing line of credit. In addition, $1.3 billion of unencumbered operating real estate can support more than $150 million in unsecured borrowing, above and beyond the current line availability. All of RPT's credit metrics compare favorably to the peer group.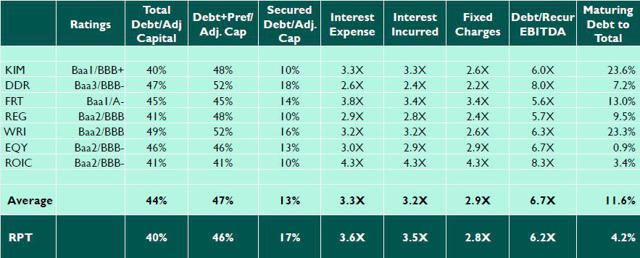 Do I Buy The Bounce?
RPT is trading at $16.16 a share with a Price to Funds from Operations (P/FFO) multiple of 13x. That's around 15% below the peer average of 15.5x.

RPT's dividend yield is 4.64%, in-line with the peer group. Given the more recent balance sheet enhancements and commitment to an improving investment-grade profile, I believe the dividend is safe.

On the latest earnings call RPT reiterated 2014 operating FFO guidance in the range of $1.20 to $1.22 per diluted share. Assuming RPT is able to expand its multiple from 13x to 15x, shares could hit $18.00 year-end - an 11% increase - plus a 4.64% dividend providing me a target total return of 16%. As illustrated below, the shares are trading at a discount and there appears to be a likely opportunity for solid appreciation.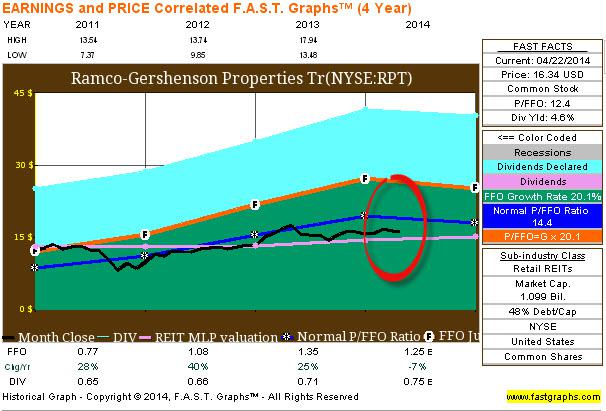 What's even more interesting to me is the fact that RPT is what I call a "tweener." In other words, the REIT is not a small-cap REIT and not a large-cap REIT but somewhere "between" the two segments. Much like we're seeing in the banking world, we're starting to see more and more REIT consolidation. How many mid-size banks do you see on your street? Most are smaller community banks or super regional banks.
In REIT-dom the shopping center sector is getting crowded. American Realty Capital Properties (ARCP) has announced the spin-off of the shopping centers into ARCenters. Vornado Realty (NYSE:VNO) has announced the spin-off of its retail REIT. Simon Properties (NYSE:SPG) has announced its spin-off REIT. Phillips Edison, a non-traded REIT, is likely to hit the public markets soon. If you add them all up, there could be 21 shopping center REITs by the end of 2014. (Just try researching all of these…jeez).
Here's my punch line: I like RPT and I'm recommending the shares at $16.16. I think this REIT has done a fine job of "bouncing" back from some dark hours in 2009. The company could grow by around $200 million to $300 million a year for the next few years and I would be happy with that. However, the portfolio is scattered and I believe that there's more value in a strategic merger. There are plenty of REITs that I consider to be formidable aggregators including Kimco Realty (NYSE:KIM), DDR Corp. (NYSE:DDR), Retail Opportunity Investment Corp. (NASDAQ:ROIC), and Brixmor (NYSE:BRX). Also, we know that Steve Roth (Vornado) and Nick Schorsch (ARCenters) have the resources to connect the dots.
I would not recommend buying shares in RPT based upon the fact that there's a competitive playing field and RPT should sell (or merge). I simply point out that RPT is "ripe" for a "combination" and the shares are somewhat attractive (in my opinion). Just as we're seeing in the office supply sector with Office Depot and Office Max, the same holds true for the shopping center sector - It's survival of the fittest.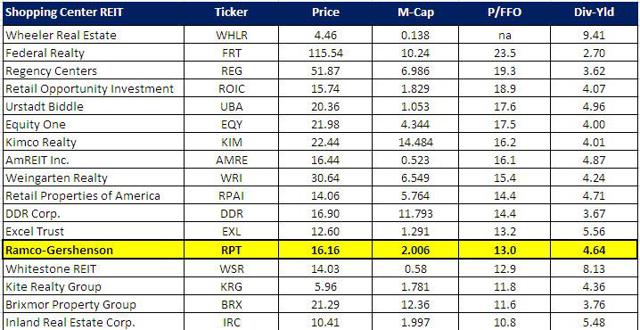 For more information on REITs, check out my monthly newsletter HERE.
Source: SNL Financial, FAST Graphs, and RPT Investor Presentation.
REITs mentioned: (NASDAQ:WHLR), (NYSEMKT:WSR), (NYSE:EXL), (NYSE:IRC), (NYSE:AMRE), (NYSE:RPAI), (NYSE:WRI), (NYSE:KRG), (NYSE:EQY), and (NYSE:REG).
Disclaimer: This article is intended to provide information to interested parties. As I have no knowledge of individual investor circumstances, goals, and/or portfolio concentration or diversification, readers are expected to complete their own due diligence before purchasing any stocks mentioned or recommended.
Disclosure: I am long O, DLR, VTR, HTA, STAG, UMH, CSG, GPT, ARCP, ROIC, MPW, HCN, OHI, LXP, KIM, WPC. I wrote this article myself, and it expresses my own opinions. I am not receiving compensation for it (other than from Seeking Alpha). I have no business relationship with any company whose stock is mentioned in this article.
Editor's Note: This article covers one or more stocks trading at less than $1 per share and/or with less than a $100 million market cap. Please be aware of the risks associated with these stocks.