Advanced Micro Devices, Inc. (NYSE:AMD) reported a good first quarter, relative to where it was last year. Revenues growth and operating income are definitely things to cheer. But there is still a substantial amount of work to be done. AMD is going to have to start generating cash from operations.
In my opinion, management should find a way to cut another few million dollars per quarter in operating expenses. And then they still have to solve the revenues problem. Maybe an increase in stock-based compensation relative to cash compensation would provide employees with the right incentives and improve cash flow from operations. Simply put, AMD has substantial financial, operating, and competitive challenges ahead of it.
If Rory Read, chief executive officer, and Devinder Kumar, chief financial officer, can figure out how to solve these problems well enough to unlock shareholder value, they would earn a combined $10s of millions. Some companies are a good investment and a good company, and some companies are one or the other; I think AMD falls into the latter category.
Recent Developments
The AMD Opteron X-Series APU, codenamed "Berlin," running a Linux environment was demonstrated. Berlin is important to companies looking to transition to x86 APU servers but who are reluctant to introduce new tools and software platforms into their IT environment. The APU will be launched later this year.
The company announced the global availability of its new AM1 platform featuring quad-core and dual-core variants of the AMD APU codenamed "Kabini."
The AMD Radeon R9 295X2, which handles 4K resolution, is being launched; the Radeon R9 295X2 graphics card is expected to cost just less than $1,500 ($1,499).
AMD launched the AMD FirePro W9100 professional graphics card, which is designed for next generation 4K workstations.
The company announced that is amended the WSA with Global Foundries Inc. for 2014; AMD expects to pay GF $1.2 billion in 2014.
PS4 sales topped 6M and that means AMD earned an estimated $660 million thus far from the PS4.
Analyst's Note
Advanced Micro Devices designs and produces microprocessors and low-power processor solutions for the computer, communications, and consumer electronics industries. The firm's sales are in the computing and graphics and visual solutions markets.
AMD offers innovative solutions within the graphics space. The AMD FirePro W9100 leverages the OpenCL framework to enhance performance while delivering next-gen capabilities. OpenCL is a framework for writing programs that execute across heterogeneous platforms consisting of CPUs, GPUs, DSPs, field-programmable gate arrays (FPGAs), and other processors. OpenCL 2.0 and WebCL 1.0 are the newest iterations of the framework. FirePro is competitive with Nvidia's Quadro K5000 and K6000 in the professional graphics space and earned a design win in Apple's Mac Pro. Readers should note that Nvidia has several solutions within the workstation space.
| | | |
| --- | --- | --- |
| For the year ending (in millions of dollars): | 2013 | 2014E |
| Computing solutions | 3104 | 2700 |
| Graphics and visual solutions | 2193 | 2800 |
| Total net revenue | 5299 | 5500 |
I was forecasting full-year revenues growth of 2%, which is below the pace of the first quarter's results. The first quarter revenues growth was partly attributable to a favorable comp as Q1 2013 revenues were a low point for consolidated revenues. The first quarter's run rate, $5.59B, is just above my forecast of $5.42B. The GVS segment is performing better than I expected, as the CS segment performs worse than I expected. Consequently, I'm increasing my full year revenues forecast to $5.5B. I think the pace of sales of the PS4 and Xbox One consoles will slow.
| | | |
| --- | --- | --- |
| For the quarter ending (in million of dollars except per share data): | 2013-06 | 2014-06E |
| Revenue | 1161 | 1440 |
| Operating income | (29) | 79 |
| Net income | (74) | 32 |
| Diluted EPS | (0.10) | 0.04 |
Revenues during the second quarter are forecasted to increase 24%. Also, the reduction of operating expenditure should improve profitability, relative to the prior year. I continue to firmly believe that management is taking on too many projects and should find a way to reduce operating expenditure another few million per quarter. Diluted EPS is forecasted to be $0.04.
| | | |
| --- | --- | --- |
| For the year ending (in millions of dollars except per share data): | 2013-12 | 2014-12E |
| Revenue | 5299 | 5500 |
| Operating income | 103 | 225 |
| Net income | (83) | 33 |
| Diluted EPS | (0.11) | 0.04 |
As previously mentioned, the revenues forecast for the full year is $5.5B. There is the improved profitability, and EPS is forecasted to be $0.04. Portions of this year's revenues will be generated at 28nm, as AMD moves towards 20nm and the industry moves towards 1X and 1Y FinFET. Essentially, AMD could be offering slower, less power efficient technology. Additionally, AMD may be the only company offering x86 and ARM 64-bit solutions for dense server.
Simply stated, this is shaping up to be a solid year for AMD, but the company continues to face financial and competitive challenges.
Risks
Competition from Intel Corporation could adversely impact the results of operations.
Variations in market growth and demand for AMD's products could adversely impact the results of operations.
PC market conditions could adversely impact the results of operations.
Global economic conditions could weigh on the results of operations.
The share price is likely to remain volatile and investors could lose a portion or all of their investment.
Investors should judge the suitability of an investment in AMD in light of their own unique circumstance.
Risks not mentioned in this section could cause a significant decline in the share price.
AMD investors could lose a portion or all of their investment.
Portfolio & Valuation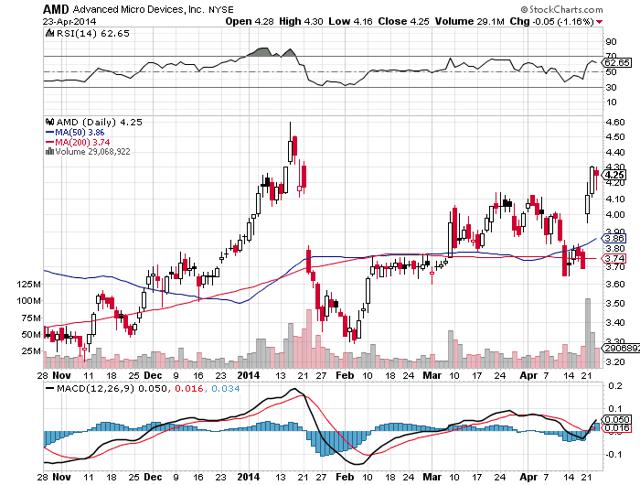 The bull market of intermediate and primary degree continues, but not without bumps in the road as seen on the chart above. I'm expecting a test of the $4.75 per share level during this intermediate-term rally.
I continue to think of AMD as a $6B to $10B company that is trading at $3.1B. But the path to $6B will take some time. The debt level needs to be reduced as a percentage of total capital. And the plan to increase annual revenue needs to work. Dense server, professional graphics, and semi-custom SoCs sales could improve the profitability profile. Also, AMD is showing some potential in the ultra low-power client market, but the company faces stiff competition from Intel in that market.
Disclosure: I have no positions in any stocks mentioned, and no plans to initiate any positions within the next 72 hours. I wrote this article myself, and it expresses my own opinions. I am not receiving compensation for it (other than from Seeking Alpha). I have no business relationship with any company whose stock is mentioned in this article.