Amazingly, shares of AT&T (NYSE:T) are down significantly despite some pretty encouraging results. AT&T's first quarter 2014 results include the following.
Solid revenue growth of 3.6%.
Earnings growth of 11%, thanks partly to buybacks, productivity gains and cost control in addition to revenue growth.
Operationally, AT&T saw:
Net consumer smartphone adds of 625,000. This compares well with just 296,000 in the same quarter last year.
Wireless data usage growth, an important trend for communications companies for the last number of years, was 15% YOY this quarter. AT&T's growth is underpinned by solid increases in mobile data usage.
Phone-only average revenue per user, or ARPU, which is an important profitability metric, increased by 0.4% year-on-year.
Putting it all together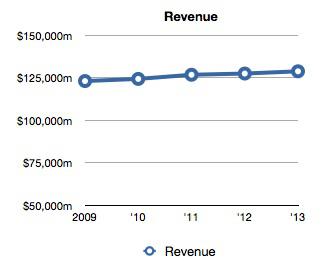 Data by Morningstar
This quarter, AT&T saw its best revenue growth in two years. The chart above shows AT&T's record of slow-but-steady revenue growth despite difficult times. To be sure, consistent 3.6% revenue growth would be an acceleration of the above trend.
Equally impressive is the fact that revenue is up across the board. There was solid growth not only in wireless but also wireline, thanks largely to continued net adds in 'U-Verse,' AT&T's cable service. U-Verse added a solid 201,000 subscribers.
Wireless margins continued to tick upwards, going from 18.9% in the first quarter of 2013 to 19.3% in the first quarter of this year. Wireline margins, however, continue to see pressure thanks to investments in 'Project VIP,' which is AT&T's plan to expand U-Verse and broadband capabilities into rural areas and smaller cities throughout the US. Wireline margins declined to 10% from 11.1% a year ago. Declines in legacy voice and data may continue to pressure margins for a while.
So the 'big picture' looks like this: AT&T is slowly but steadily growing both the top and bottom lines. The company is riding the continued, steady (but now decelerating) trend of mobile data usage growth, and has done so in a profitable way. Despite a heightened competitive environment, AT&T continues to deliver.
There's no doubt that AT&T is a slow and steady grower, and an investor should expect to see top-line growth only slightly exceed CPI inflation. This year, management expects revenue growth of about 4% and earnings growth in the mid single-digit range.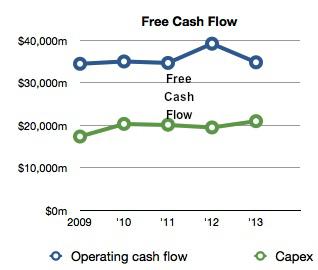 I believe that AT&T will continue to only raise its dividend by 2%-3% until Project VIP winds down. Once capital needs from that project taper off in 2015, we should see dividend growth more aligned with mid-single digit EPS growth. Dividends are only 71% of total free cash flow, so AT&T should have ample room in which to increase that dividend, not to mention plenty of cushion should revenues decline for some reason.
Valuation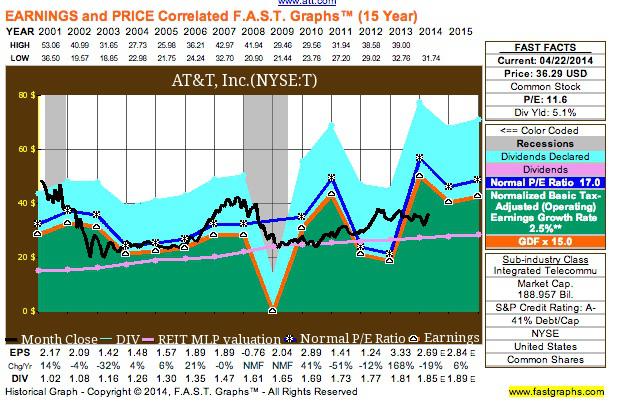 FAST Graphs
At just 11.6 times earnings, AT&T is a good value despite the company's slow growth. As we can see above, AT&T trades a good bit below its Graham 'Fair Value.' In fact, the valuation should look even better than what this chart shows because the stock is down by 3% today.
A solid dividend yield of 5.3%, with a payout that should grow by at least inflation this year, and by mid-single digits for a few years afterwards, is a good thing to find. AT&T also has a lot of the positive momentum which can typically be found in blue chip, American companies: Consistent productivity increases, continuously improving cost management and a great balance sheet from which to buy back shares all add to AT&T's bottom line. With a strong coverage ratio and modest growth prospects ahead, AT&T is a solid buy right here.
Disclosure: I am long T. I wrote this article myself, and it expresses my own opinions. I am not receiving compensation for it (other than from Seeking Alpha). I have no business relationship with any company whose stock is mentioned in this article.