After years of steady growth, Coach (NYSE:COH) has performed poorly following a disastrous holiday quarter in the US. North America sales declined 9%, with comparable store sales declining 13.6%. International sales were up 2% in dollar terms, impacted by the yen decline. China, in particular, was a bright spot, growing 25%; while the other Asian markets also showed encouraging performance. The one-year stock chart for Coach shows the sharp decline in share price following the announcement of its second-quarter earnings.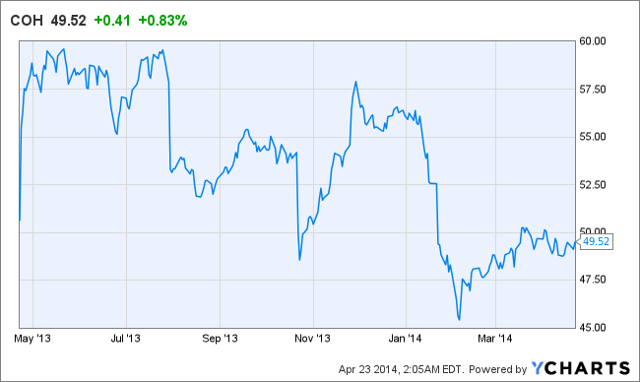 Business outlook
Unfortunately for Coach, the North America business, which appears to be in free fall, accounts for almost 70% of its revenues. Coach's management forecasts second-half comparable store performance in North America to be in line with Q2, which means a decline in the low teens. Internationally, the business is still growing, however, much of the growth is accounted for by China, where sales per store are much lower. Based on my analysis, international sales/store are only at around 70% of North America sales/store levels (with China likely to be even lower), hence, COH needs to expand at a much faster clip in emerging markets to balance the decline in North America.
For FY14, Coach management is forecasting a revenue decline in the low-to-mid single-digits. Gross margin is projected at 70%, which is over a 2-point decline from FY13 levels. This is driven by the change in mix from retail to factory stores, since factory stores typically sell lower-ticket merchandise. SG&A expenses are also expected to increase as a percentage of revenue, leading to a 3ppt expected decline in operating margins for the year.
Store growth assumptions
In the past years, COH has been slowing the growth of retail stores in North America - it shuttered 3 stores last year, and expects to close another 15 to 20 stores in FY14. Factory stores have been growing, but this puts pressure on gross margins.
Going forward, I expect the number of North America retail stores to remain roughly flat, while factory stores should grow at a modest pace (around 5%). For international stores, Japan is forecasted to grow at 3%, while China and other APAC grow at 10%.
Sales/store growth assumptions
Reversing the sales/store decline in North America will be Coach's top challenge. The fashion industry is inherently unpredictable, but the company has undoubtedly lost some of its cache in North America, being overtaken by younger brands such as Michael Kors (NYSE:KORS). Even in FY13, comparable store sales grew only 0.3% in North America. In my model, I assume that sales/store return to growth in FY15, albeit at a modest rate of 1%. International sales/store are assumed to grow at 3%, reflecting increased productivity in the China market. Here is a chart showing the stores and sales/store growth actuals and forecast: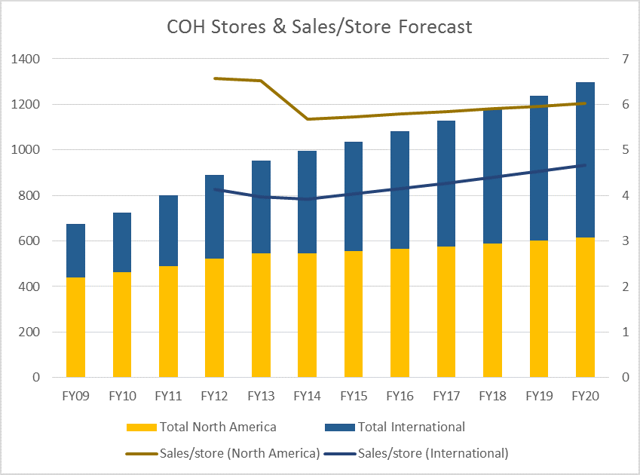 Gross margin and Operating expense assumptions
COH has had pretty stable gross margins at around 72-73% over the last three years. However, there was a significant decrease in FY14-H1, and the company is only expecting gross margins in the 70% range for H2, for a full-year number of ~70.2%. This indicates that Coach is needing to discount its merchandise to move sales. I assume in my model that margins will stabilize in the 70% range going forward. SG&A expenses are expected to ramp up this year (to 43% of sales from 41% historically) as the company advertises its new concepts in spring and fall. To model out years, I have assumed SG&A to be slightly lower going forward, in the 42.5% range.
I have assumed tax rates to be fairly stable at 32%, in line with management's expectations.
Valuation
Using a discount rate of 11%, which reflects the fickle nature of the fashion business, and a terminal value growth rate of 2%, I get to a value of $44/share for COH, which is a 9% discount to the current share price. This shows that in spite of its recent price drop, COH appears to be modestly overvalued, even under assumptions of continued store growth and recovery in comparable sales/store. Here is my valuation model: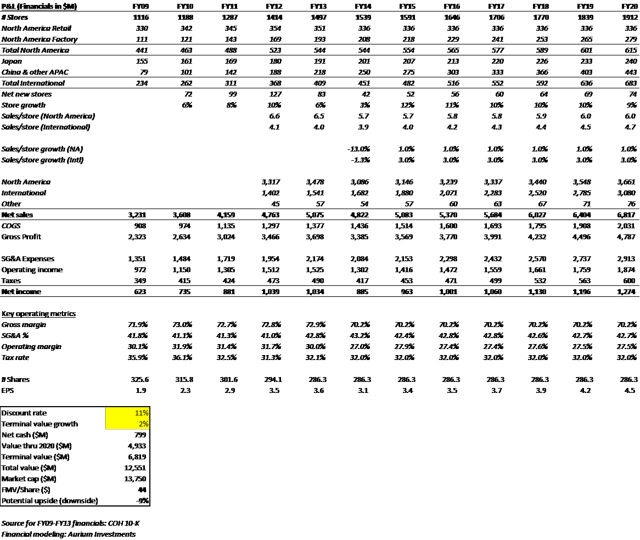 Summary
After years of stable growth, Coach's brand appears to be fading, at least in North America. Upstarts such as Michael Kors have captured the imagination. Coach needs to rapidly arrest its decline in North America, as well as invest heavily in building back its brand. International expansion will help somewhat, but the bulk of the work needs to be done in its own backyard. Fortunes in fashion are temporary, and it is very possible that COH will be back one day. Till that time, however, there are too many uncertainties to rate the stock a buy. The bar for performance is still too high to justify the current price, and the immediate outlook is not promising. Stay away for now.
Disclosure: I am short COH deep OTM puts. I wrote this article myself, and it expresses my own opinions. I am not receiving compensation for it (other than from Seeking Alpha). I have no business relationship with any company whose stock is mentioned in this article.