The Census Bureau released its new home sales report for March this morning (Wednesday, April 23). New home sales unexpectedly plunged 14.5% from February and 13.3% from March 2013. The 384k homes sold was 15.6% below the Wall Street consensus estimate of 455k and significantly below the low-end estimate of 440k. I have been suggesting that market expectations for the housing market are unrealistically optimistic and that the housing market would experience a significant decline in sales volume and prices this year. The new home sales report for March reinforces the validity of my view.
Perhaps the most surprising aspect of the big decline in new home sales for March is the fact that March is historically either the best or second best month for new home sales (chart source: Calculated Risk blog, edit in red is mine):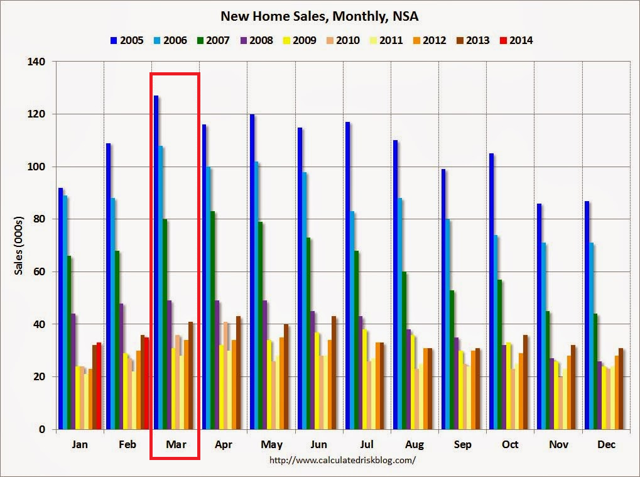 Click to enlarge
If the housing market were in recovery, we would have expected an uptick in March new homes sales from February, as was reflected in the consensus expectation. This is especially true given that 30-yr fixed mortgage rates have stabilized at a lower rate than at the beginning of the year.
In addition, low inventory and bad weather are no longer valid "narratives" for justifying disappointing home sales reports. If you look at a regional distribution of new homes sales in March (link at the top), it shows that the Northeast was the only region which registered an uptick from February. The Northeast also arguably experienced the worst weather during March. In fact California, which has been warmer than normal all year, experienced a 17% drop in new home sales from February and a 28% plunge from March 2013. Similarly, months supply of inventory jumped up to 6 months, 20% higher than February and a 42% spike higher than March 2013.
One more point about the new home sales data before I discuss the implications. The Census Bureau accounts for new homes sales when a contract or sales agreement is signed, not closed (CB sales accounting policy). This differentiates from existing home sales reports, which are based on closings. As you can see from the link, the Census Bureau never adjusts when contracts are cancelled. However, cancelled new home sales rates show up in homebuilder quarterly earnings reports. With the exception of Toll Brothers (NYSE:TOL) and NVR Inv (NYSE:NVR), cancellation rates in the past few quarters have been running around 25-30%. What this means is that today's report of 384k homes "sold" will likely translate into a much lower number of actual sales based closings. Thus, it is likely that the market may be even weaker than is reflected in today's data.
It is becoming increasingly evident in the data that new homes sales are in a declining trend. The fact that March new homes sales dropped off as much as they did from February and from March 2013 should be troubling to even the most optimistic analysts because March is on average and in general the best month for new home contract signings/sales. This tells me that analyst and investor expectations for the performance level of the housing market this year are too high.
This also suggests that housing stocks are overvalued at their current price levels. I have been making the argument since early last year that investors with long positions should take profits and significantly reduce their portfolio allocation to the sector. Aggressive traders should be looking at shorting homebuilder stocks. I first issued my call when the Dow Jones Homebuilder index (DJUSHB) was at 515. It's currently at 461 and it hit another new intra-day low for the year. This is a remarkable 10.5% decline from my call last year given that the S&P 500 is up 25% in the same time period (since Jan 29, 2013). To me, this considerable divergence is the clearest signal that something is fundamentally wrong with the housing market. Not only should analysts be reassessing the assumptions they are using to model their housing market forecasts, but money managers who are overweighted in the sector have a fiduciary duty to look a lot more closely at the reasons why they continue to hold homebuilder stocks.
I am short, and continue to look for opportunities to add to my positions in, D.R. Horton (NYSE:DHI), KB Home (NYSE:KBH) and Ryland (NYSE:RYL). I also would recommend looking at short positions in Lennar (NYSE:LEN), Pulte (NYSE:PHM), Toll Brothers and Beazer (NYSE:BZH). If you decide to start shorting the sector now, given the volatility of the homebuilder stocks, make sure to leave room to add to your position if/when we get another quick bounce in the sector.
Disclosure: I am short DHI, KBH, RYL. I wrote this article myself, and it expresses my own opinions. I am not receiving compensation for it (other than from Seeking Alpha). I have no business relationship with any company whose stock is mentioned in this article.