Industry Outlook
If certain financial commentators are to be believed, US equity markets currently exist in the final stages of a mature bull cycle, one which could soon lead cautious investors into more defensive stocks - large cap pharmaceuticals for instance.
While I don't believe this to be true, I do believe that pharmaceutical companies offer great value to investors, principally because of aging demographics, in the United States and further afield, that will greatly increase the need for healthcare.
As well as this, the rise of incomes in emerging market economies should boost the demand for better healthcare products abroad.
The tribulations that many large pharmas have gone through over recent years, as numerous blockbuster drugs went off patent, makes now a good time to take a look at these 4 pharmaceutical offerings.
Pfizer
As the largest drug maker in the world, Pfizer (NYSE:PFE) is a staple stock holding for many and needs little introduction. After a very successful 2013 which saw the stock advance by around 25%, there could be more to come as the company benefits from a new and improved business model.
Indeed, since Pfizer lost its Lipitor patent, the company has moved quickly to streamline its business, spinning off its nutrition arm to Nestle and doing the same with its animal health department to Zoetis. The $27 billion received from both of these deals means Pfizer now has plenty of cash to play with and will come in handy for financing future deals and developing pipeline assets such as promising drug product Xeljanz.
What's left of Pfizer now is a significantly leaner machine, a pure drug maker that continues to see huge success with products that include Lyrica ($4.6bn worth of sales in 2013), Prevnar ($3.9bn), Embryol ($3.8bn) and Celebrex ($2.9bn). Meanwhile, Lipitor, the biggest selling drug of all time, continues to give revenue back ($3.2bn in 2013), a figure that could rise further if Pfizer takes the drug over the counter successfully.
Managements plans for a share buyback is also encouraging and the already substantial 3.36% dividend is likely to go even higher.
Sanofi
Another pharmaceutical that looks as though it's now on the right track is Sanofi (NYSE:SNY). Unlike Pfizer, Sanofi had a relatively subdued 2013, underperforming the S&P 500 after a couple of poor earnings results, and after seeing an FDA rejection for one of it's Multiple Sclerosis treatments.
As a result, however, Sanofi now boasts a forward price earnings multiple of just 13.43, putting it at a cheaper valuation than the majority of it's peers, and looking undervalued when we consider the company's diversified asset pipeline.
Furthermore, the partnerships that Sanofi has built up with a number of young biotech firms look increasingly promising. Regeneron is one exciting biotech that Sanofi has under its wing while another is Anylam, who also struck a deal with Merck (NYSE:MRK).
Almost as important for investors though is the competence of well thought of CEO Chris Viehbacher. Viehbacher has already mentioned that Sanofi will be avoiding potential patent cliffs altogether going forward, preferring to focus on safer, more reliable routes such as vaccines, consumer products and drugs for rare diseases - these are typically harder for competitors to replicate.
The proliferation of the patent cliff has been a huge problem for pharmaceuticals in recent years so this decision could well turn out to be very good for Sanofi indeed.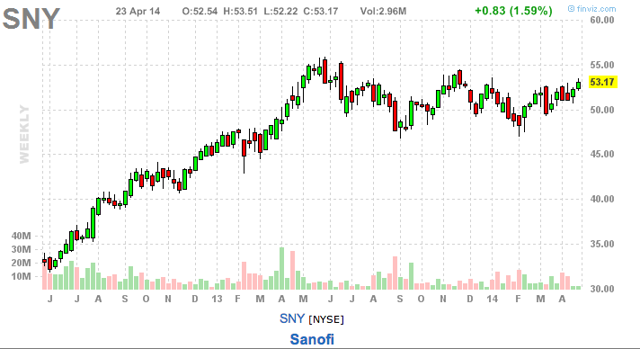 Ampio Pharmaceuticals
Further down the list in terms of size, Ampio Pharmaceuticals (NASDAQ:AMPE) boasts a market cap of around $300 million, but also offers investors significant profit potential. The company develops therapies for inflammatory conditions and is currently in phase III testing for an anti-inflammatory molecule treatment, known as Ampion.
According to AMPE management, Ampion will offer huge benefits to the 27 million sufferers of joint pain in the US caused by osteoarthritis. The treatment could be as effective as Vicodin or Oxycydone and since the drug is derived from human blood the treatment is expected to be without side effect or risk of addiction that come from the use of those more powerful drugs.
The stock chart for Ampio tells an interesting story as we see that the stock was bid up to over $10 last October, before falling back to the current price level of $5.78.
The rise towards $11 can be partly put down to traders becoming too confident about Ampio's products too early but as we shall see confidence is something that is not in short supply when it comes to Ampio's management.
Indeed Ampio management believe so much in their product, the company is already building a new $7 million facility in order to roll out the drug in 2015 and is planning to double headcount by this time. Insiders also hold a good portion of shares in the company which is always a good sign.
Rafarma Pharmaceuticals
Rounding out this list is Rafarma Pharmaceuticals (OTCPK:RAFA), a stock of much smaller size and currently trading below $1 per share. All stocks of this nature carry their own risks, meaning due diligence is required before investing, however, RAFA has been making a number of interesting moves recently and could be one to look at more closely.
Rafarma is a pharmaceutical based out of Russia that manufactures antibiotics, specialty pharmaceuticals, and proprietary products as approved by the Ministry of Health of Russian Federation. Just recently, the company opened a state of the art 270,000 new facility in Lipetzk, forged a deal with the St Petersburg Academy of Pharmaceutical Chemistry and secured a $1.2 million private placement at $0.65 a share.
A compelling insight regarding Rafarma is that the company is now the principal supplier to both the Russian army and Russian public health system, a fact made even more interesting given the current political situation in Ukraine. It's likely that the short term effect of the crisis will lead to many opportunities in Russian shares as time goes by.
Notwithstanding the goings on in Eastern Europe, Rafarma will be supported going forward by its close ties to public departments and the transitional steps being taken by the Russian government.
Indeed, the Russian government is committed to bolstering the pharmaceutical industry and predicts the sector will grow around 12% -15% annually, from $10.7 billion today to $50 - $60 billion by 2020.
As it stands, the domestic pharmaceutical industry in Russia is significantly under developed with almost 80% of pharmaceuticals being imported from abroad and this will likely be high up on the list of priorities for government focus groups.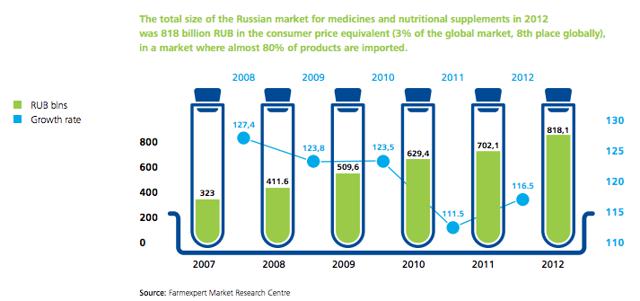 It may also be worth mentioning that RAFA's stock price has been steadily up since June of last year. Those out for an early opportunity may well like to take a closer look.
Disclosure: I have no positions in any stocks mentioned, and no plans to initiate any positions within the next 72 hours.
Business relationship disclosure: I wrote this article myself, and it expresses my own opinions. I have no business relationship with any company whose stock is mentioned in this article but may receive additional compensation for writing the article.