In this article, I will be screening for growth stocks that have the potential to outperform when the market has its next large correction, but still have upside if the market does continue higher. For my search, I will be using the holdings of three selected ETFs, to see which stocks are held in each fund. If a stock is a holding in each ETF, it possesses the qualities of each fund. When thinking of stocks that can outperform in a down market, growth stocks are usually not the first choice on an investor's buy list, it is usually consumer staples or utilities.
The three ETFs I will be using for my search are the Guggenheim S&P 500 Pure Growth ETF (NYSEARCA:RPG), the First Trust Capital Strength ETF (NASDAQ:FTCS), and the WisdomTree U.S. Dividend Growth ETF (NASDAQ:DGRW). The reason I chose RPG was the table below from Guggenheim shows that the pure growth ETFs only select the stocks, which are truly growth stocks whereas traditional growth ETFs have a grey area where a stock could be considered both growth and value.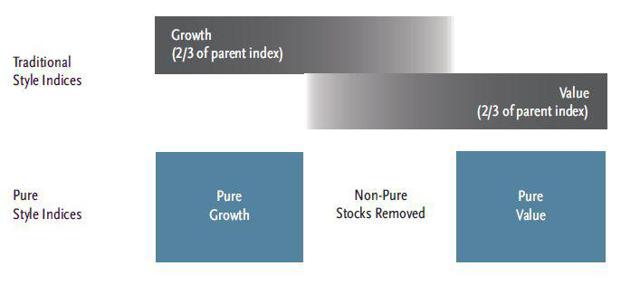 Click to enlarge
[Chart From Guggenheim RPG page]
The reason I chose to use FTCS was that it has some conservative qualities like ranking stocks by lower volatility, and to be included in the ETF stocks must possess all the following qualities [From FTCS Fund Page]:
At least $1 billion in cash or short-term investments.
Long-term debt to market cap ratio less than 30%.
Return on equity greater than 15%.
Eligible companies are then ranked by a combined short-term (3-month) and long-term (1-year) realized volatility.
The 50 companies with the lowest combined volatility score are selected for inclusion in the index.
The reason I chose to use DGRW was that I wanted growth stocks that paid a dividend because in times of market distress more money seems to flow to stocks which pay a dividend than do not pay a dividend. To be included in DGRW stocks have the following qualities [From DGRW Fund page]:
Market capitalization of at least $2 billion.
"The growth factor ranking is based on long-term earnings growth expectations, while the quality factor ranking is based on three year historical averages for return on equity and return on assets." [DGRW Index Description]
My Process
Find Common Holdings
First, I went to the fund holdings page for RPG, and exported the 109 holdings to a spreadsheet, and I repeated the same process by going to the FTCS fund holdings page and exporting the 50 holdings, and then exporting the 298 holdings of DGRW to the spreadsheet. I then combined the three lists of holdings to see which companies were included in both, and I found that three companies were included in all three. Those three companies are PPG (NYSE:PPG), Qualcomm (NASDAQ:QCOM), and TJX Companies (NYSE:TJX).
Check Dividend Growth & Stability
The next step I did was I went to Dividendchannel.com to see the yearly dividend totals for every year since 2006, because I wanted to capture the environment at the last peak, and to see if these three companies cut dividends during the great recession. The yearly dividend totals are in the chart below, which I created in Excel, and shows that all three companies either maintained or grew dividend every year so all three have made it to my final step of estimating fair value.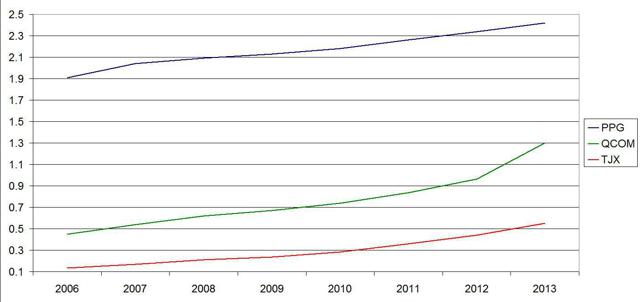 Click to enlarge
Estimate Fair Value
The final step in my process was to take the three companies from above and estimate the fair value of each, and to do so I will be using a DCF calculator. The data for earnings and growth for each company coming from Zacks, benchmark data from longrundata.com, CPI data from the BLS, and I will use the following assumptions in the calculator. The results are in the table below.
Earnings grow for next: 5 years
Level off: to 1% after
Benchmark return: 10 yr annualized SPY return of 7.25%+1.50% inflation= 8.75% benchmark
| | | | | | |
| --- | --- | --- | --- | --- | --- |
| | EPS | LT Growth | Current Price | Fair Value | |
| PPG | 8.68 | 9.25% | $196.50 | $159.75 | Overvalued |
| QCOM | 4.01 | 14.29% | $80.75 | $90.33 | Undervalued |
| TJX | 2.84 | 12.01% | $59.23 | $58.43 | Overvalued |
Based on the results of my fair value estimation, Qualcomm is the only one of the three that is currently undervalued. Based on my estimation, PPG is overvalued by 18.70% and TJX is only slightly overvalued by 1.35%.
Closing Thoughts
Based on my process, I believe Qualcomm possesses the qualities of being a growth company with capital strength, dividend growth, and is currently undervalued. I believe Qualcomm is a strong stock to own in both good and bad markets because of the qualities it possesses. If PPG and TJX were to get to the point to where they were undervalued, I believe they should be considered buys as well, because they have the same qualities as Qualcomm, except for the undervalued aspect.
Disclosure: I have no positions in any stocks mentioned, and no plans to initiate any positions within the next 72 hours. I wrote this article myself, and it expresses my own opinions. I am not receiving compensation for it (other than from Seeking Alpha). I have no business relationship with any company whose stock is mentioned in this article.