Telecommunication companies are soaring, to say the least, which should be particularly welcomed by income investors who often have to sacrifice capital appreciation potential in order to receive high dividends. High recurring income requires companies to pay out a good chunk of their profits which naturally limits upside potential.
Income investors who have exposure to the telco sector are facing a set of positive investment characteristics: Recurring cash flows, mobile broadband growth underpinning distribution growth, high free cash flows and, mostly, reasonable valuations. In fact, the larger the company in terms of market capitalization the lower the forward earnings multiple.
The last time I wrote about Frontier Communications (NYSE:FTR) was on November 27, 2013 and I'll admit that the timing was a bit lucky. Telco companies have had a strong run since the end of last year as investors increasingly funneled their investment dollars into high-yield telco equity securities. The telco sector saw another wave of buyer interest at the beginning of February 2014 and it doesn't look like it is subsiding. Purchasing telcos was a wise move last year: Frontier Communications gained a stunning 46% over the last twelve and currently quotes at $5.90; its 52-week high of $6.10 is just about to get crushed.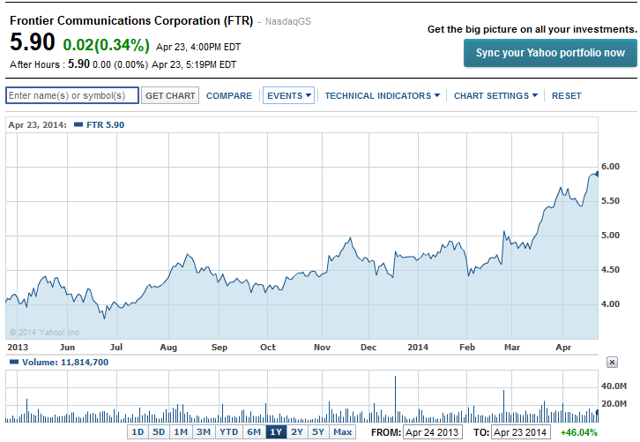 (Source: Yahoo Finance)
Recent buyer interest in Frontier Telecommunications made the telco the best performing company in the peer group with a two-year return of 43%. Verizon Communications (NYSE:VZ) gained 20% and AT&T (NYSE:T) 10%. CenturyLink (NYSE:CTL) lost 9% and Windstream Holdings (NASDAQ:WIN) 19%.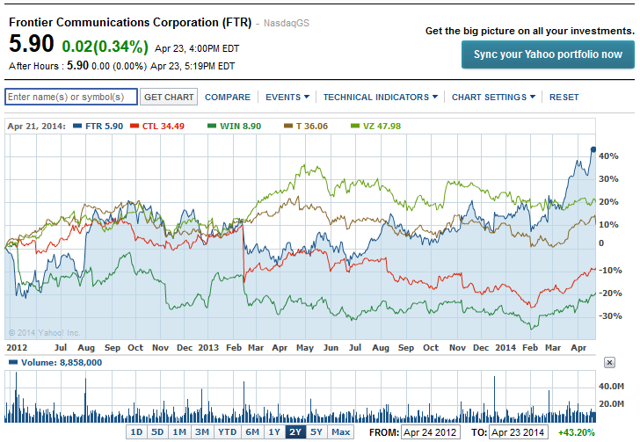 (Source: Yahoo Finance)
Higher-yield telco investments (think Windstream and CenturyLink) have done relatively poorly over the last two years and Frontier Telecommunications would have certainly been a part of this group if it wasn't for the surge in share price since February. Investors regularly worry about the high dividend yields and sustainability of payouts as the companies, at least in some markets, face limited growth potential. In my November article about Frontier Communications -- the telco traded at $4.67 at the time -- I opined:
Frontier Telecommunications' dividend payout ratio stood at 43% in Q3 2013 and its dividend is covered by free cash flow. With an annual dividend yield of 8.57% the company is still an attractive addition to portfolios that need to produce constant income. Given that the dividend is covered by Frontier's free cash flow, I don't think dividend revisions are likely in the near future unless profitability worsens considerably. Frontier's network expansion and its broadband segment provide significant upside potential for the shares of the company. Cost- and leverage reductions are also the right steps to create a leaner, more cost efficient carrier.
Since November, Frontier Telecommunication's share price has increased by 26% supported by strong sequential broadband growth and improvements in its adjusted EBITDA margin in the fourth quarter of 2013 (FTR's adjusted EBITDA margin stood at 48.3% in Q4 2013 -- the highest level for the year). Free cash flow in the fourth quarter 2013 was more than solid and handsomely covered Frontier's dividend payout: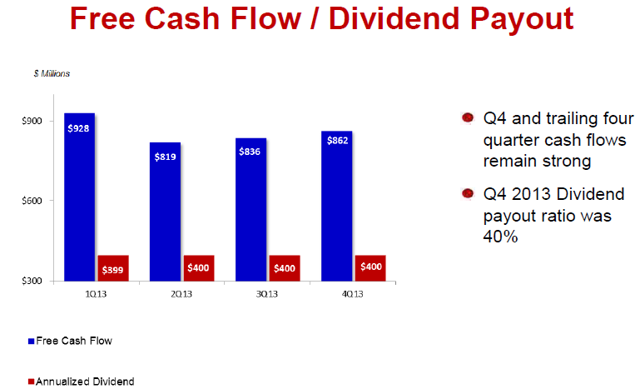 (Source: Frontier Communications Investor Update Fourth Quarter 2013 Presentation)
Market valuation
Let me clarify right from the beginning that I don't think Frontier Telecommunications (or Windstream for that matter) should be compared to Verizon or AT&T because of different scope of businesses and growth characteristics. However, AT&T and Verizon compete with mid-cap companies such as Frontier Communications over income investors who are chasing their yields.
Frontier Communications presently trades at 23.69 times forward earnings which is the highest valuation multiple in the peer group. Windstream Holdings, which offers investors an eleven percent dividend yield, has the second highest P/E ratio of 21.71. AT&T and Verizon, the two largest companies in the peer group in terms of revenues and market capitalization, have substantially lower P/E ratios of around twelve. If large-cap telcos are compared against each other, I believe AT&T is the better long-term bet for income investors.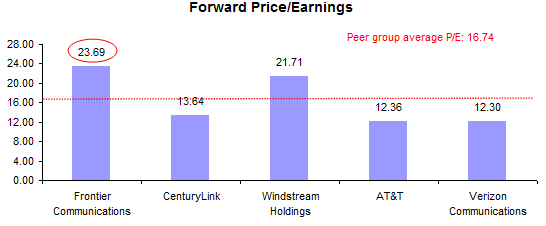 (Source: Achilles Research, Finviz.com)
Frontier Communications offers investors a dividend yield of 6.78% which is in direct competition with CenturyLink's 6.24%. Frontier pays $0.10 per share per quarter translating into annual payments of $0.40. Given Frontier's free cash flow strength, I think the dividend is sustainable.
(click to enlarge)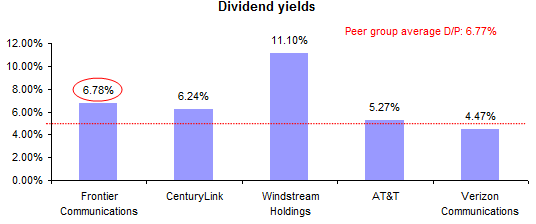 (Source: Achilles Research, Finviz.com)
The usual valuation table summarizing the information from the two charts above is presented below:

(Source: Achilles Research, Finviz.com)
Conclusion
Income investors looking for higher-yield alternatives to AT&T and Verizon could certainly consider Frontier Communications. Revenue challenges in the sector, however, also extend to mid-cap companies which are struggling from declining business revenues as well.
Frontier Communications is a free cash flow strong telco enterprise offering yield conscious investors the little extra yield. Frontier's equity valuation has risen notably over the last six month and its P/E ratio is the highest in the peer group which is also the reason why I would recommend the purchase of the stock only in periods of share price pullbacks and broader market consolidations.
Disclosure: I have no positions in any stocks mentioned, and no plans to initiate any positions within the next 72 hours. I wrote this article myself, and it expresses my own opinions. I am not receiving compensation for it (other than from Seeking Alpha). I have no business relationship with any company whose stock is mentioned in this article.