Apple (NASDAQ:AAPL) just reported a strong Q2 blowing away most analysts' expectations including mine. The strong results were directly a result of much better-than-expected revenues from iPhones in the quarter, coming in at 43.7 million units versus expectations that ranged as low as 36.5 million units. Actual results versus my Q2 forecast are set out below: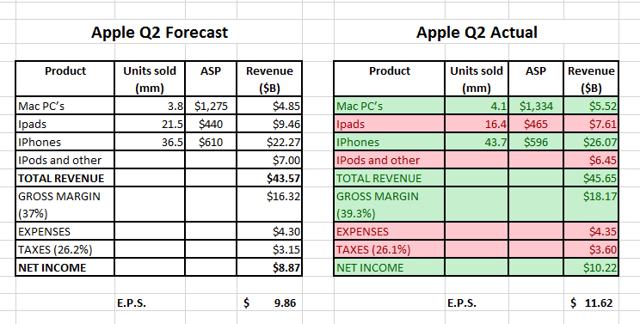 Note: For convenience I have included other income in the margin line
Source: Apple earnings release, Blair analysis
The strong performance reflected iPhones sales well above analysts' forecasts which averaged 38.3 million units.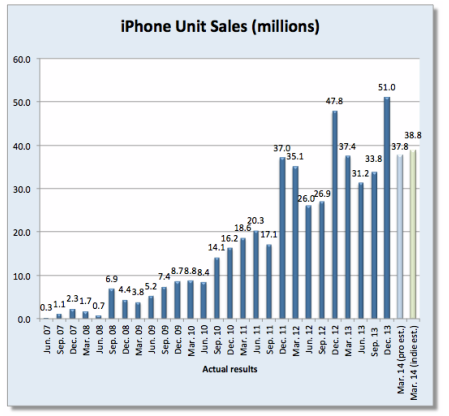 Source: Phillip Elmer DeWitt article in CNN Money
DeWitt's compendium of iPad forecasts were generally higher than the 16.4 million Apple reported for the quarter.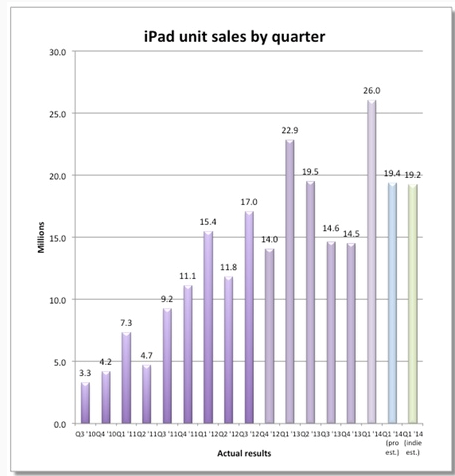 Source: DeWitt blog reported in Macrumors
Apple's Q3 is not expected to be quite as robust. The company is guiding to $36 to $38 billion in revenues; margins of 37% to 38%; expenses of $4.4 to $4.5 billion; and a tax rate of 26.1%. In my model, Apple's Q3 will break out as shown below: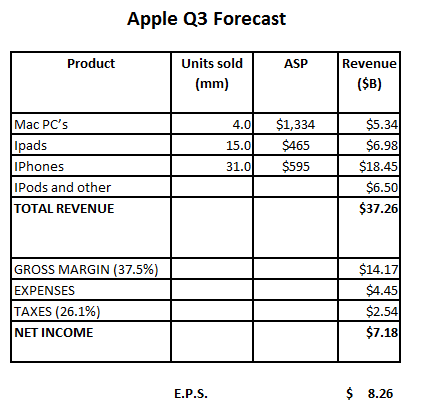 The guidance is interesting in that it implies the June quarter will be substantially below the March quarter, presumably because Apple is seeing its order flows lessen now that we are three weeks into the quarter and possibly because Apple recognizes there may be buyers who will delay purchase until the iPhone 6 is launched. Regardless, if Apple does meet its guidance the results will be nicely better than the $35.3 billion in revenues it turned in for the quarter ended June 30, 2013 when Apple reported what was at the time a record for the June period.
The geographic mix of Apple's Q2 results warrants mention. Sales in the Americas rose 2% year over year and in Europe 4%, both markets showing signs of maturation. Revenues from Japan were up a blistering 26% year over year, a reflection of Apple's deal with DoCoMo resulting in the company having a commanding 55% of the Japanese smartphone market. The 13% year-over-year gain in Greater China no doubt reflects Apple's deal with China Mobile (NYSE:CHL) which bodes well for Apple's China business for the balance of the year. Sales in Asia other than China and Japan actually fell 17% from the prior year despite those markets being among the world's fastest growing.
In summary, Apple showed 5% year over year revenue growth in Q2 and 3% year-over-year growth in net income. That sort of tepid growth, while ahead of expectations, would not be enough to warrant the enthusiastic response from the stock market which pushed the stock up some $40 points in afterhours' trading. That enthusiasm no doubt reflected Apple's decision to boost its dividend; increase its stock buyback; and, split its shares seven for one, bringing the share price into a range more affordable for many retail investors. Those sorts of mechanics often see share prices rise not because dividends, buybacks or share splits create any value but because they often are evidence of management's confidence in the outlook for their company.
Confidence is certainly warranted by the quarter's results if they are sustainable. I had thought the higher iPhone sales must have resulted in part from increases in channel inventory, but that thought was quashed by the information from the conference call indicating that channel inventories grew by only 100,000 units. It was end user demand that propelled the sales higher and in impressive fashion.
As readers know, I am short the stock and short some puts I sold into the release as a hedge as I often do. I will cover those puts tomorrow and write some longer dated puts to mitigate the punishing loss that is sure to continue as regular trading commences. Nonetheless, the trade will result in a loss.
Given the unexpectedly strong results, I think I will spend a few days quietly reflecting on the smartphone market trends before deciding where best to trade Apple in the weeks ahead.
As always, I wish all investors good luck on their investments.
Disclosure: I am short AAPL. I wrote this article myself, and it expresses my own opinions. I am not receiving compensation for it (other than from Seeking Alpha). I have no business relationship with any company whose stock is mentioned in this article.