We know Starbucks (NASDAQ:SBUX) is one of the star performers, and has been a rewarding investment for investors. There are convincing indications that SBUX is expected to continue its growth story in the coming years. First, let's have a look at the company's performance over the past five years.
SBUX produced fantastic results over the span of five years from September 2008 to September 2013. The following graph shows how SBUX beat the S&P 500, Nasdaq Composite, and S&P Consumer Discretionary Index. If $100 was invested in SBUX in 2008, it would have grown to around $545 in a matter of five years, while $100 invested in the stated indices would have produced a much inferior return, and would have grown to a value between $236 and $161 during the same period.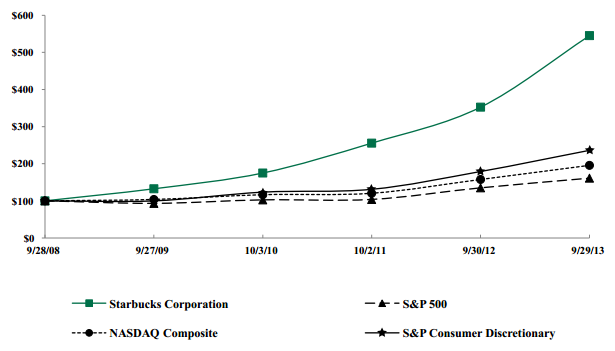 Click to enlarge
Innovator that sells experience
Customers visit SBUX for its nice coffees, but customers do not pay a premium for just a cup of coffee. SBUX is also paid for the experience that it offers to its customers.
Its fabulous ambience, comfortable environment, music, and service all create a pleasurable experience that customers love. Starbucks' management has made sure that employees at all levels of the organization understand clearly what SBUX stands for and project it clearly to its customers. SBUX's dynamic menu keeps customers curious with the new caffeinated beverages, with its exotic feel, and new tantalizing food that keeps appearing in the menu.
Proactive Leader Venturing into New Products
The business environment today is more dynamic than ever, and the only way businesses can continue to be successful is by keeping a step ahead of the industry. Being proactive helped Starbucks change the restaurant concept in the U.S. years back and succeed in leading millions of customers to its restaurants each year. SBUX is again stepping forward to expand its service in a new way.
SBUX restaurants attract flocks of customers in the morning, but by the afternoon, customer traffic reduces. SBUX has decided to make full use of its restaurant space by changing its restaurant into a bar at night, offering alcoholic drinks to customers. Skeptics are unsure as to how successful SBUX will be in offering two different services in the same building at two different times of the day while keeping its brand image, that worked, intact.
SBUX has changed the restaurant concept in the U.S.; its zeal for innovation and expansion into this new service area will produce good returns for SBUX. As restaurants are saturating the U.S. market, it's a very good idea to expand into new areas. This would allow SBUX to continue to create value for SBUX investors.
Previously, SBUX offered items beyond coffee, including La Boulange bakery products, Teavana teas, and Evolution Fresh Juice to expand its product offerings. SBUX believes that it can develop a tea market as it developed the demand for the SBUX coffee concept, and SBUX is working on deriving future growth from this new product.
SBUX Expanding to Capture Demand
SBUX is continuously expanding its retail chain, and is adding new stores every year. SBUX is working on its plan to add 1,500 net new stores to help SBUX continue its top and bottom line growth. Currently, SBUX has over 19,000 stores in 62 countries. SBUX added 404 stores in the US in 2013. SBUX has a huge presence in the U.S., and had 5,415 stores in the year ending September 2013.
There is still room for expansion in the U.S., but SBUX is likely to saturate the market in a few years, as has happened with many other retailers who are now looking to expand internationally to derive growth for its top and bottom lines. SBUX added around 467 restaurants outside of the US. International expansion is likely to give SBUX access to new growth opportunities, as the emerging markets, such as Asia Pacific, including China and India, are developing rapidly.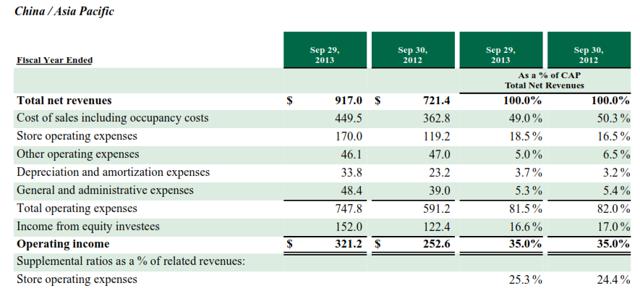 Click to enlarge
Source: SBUX 10-K
Success in China and the Asia Pacific region is a testimony to the fact that SBUX can make good returns for its investment in this rapidly developing region in the coming years. In 2013, revenue from this geographical segment increased by 27% and contributed $917 million to the topline. This is a 6% contribution to the total revenue, but its significance is due to the future growth prospects for the restaurant giant. Operational profit also increased by 27% and contributed $321.2 million.
The Latin American segment performed well, and there was an 18% increase in the store count that reached nearly 700 stores, and revenue grew in all the 12 markets. SBUX is working to transform its business in Europe, the Middle East and Africa, and this segment is positively contributing to the company's performance.
Conclusion
SBUX successfully developed a market for its coffee concept and restaurant experience. It is a retail genius that has the potential to successfully move into the alcoholic drinks retail business. It is still finding room to expand in the U.S., and its expansion in the international markets, especially in the rapidly developing Asia Pacific region, is likely to fuel growth in the coming years. Investors should consider adding SBUX to their portfolios.
Disclosure: I have no positions in any stocks mentioned, and no plans to initiate any positions within the next 72 hours. I wrote this article myself, and it expresses my own opinions. I am not receiving compensation for it (other than from Seeking Alpha). I have no business relationship with any company whose stock is mentioned in this article.