"We generated $13.5 billion in cash flow from operations and returned almost $21 billion in cash to shareholders through dividends and share repurchases during the March quarter. That brings cumulative payments under our capital return program to $66 billion."

-Apple CFO Peter Oppenheimer
Apple (NASDAQ:AAPL) flexed its muscles yesterday to remind everyone in the world that it's likely the most fundamentally sound company to ever exist.
Going into earnings yesterday, Apple stock had calmed down a bit - posting 29.4% gains over the last 12 months, but losing 6.5% since the beginning of 2014.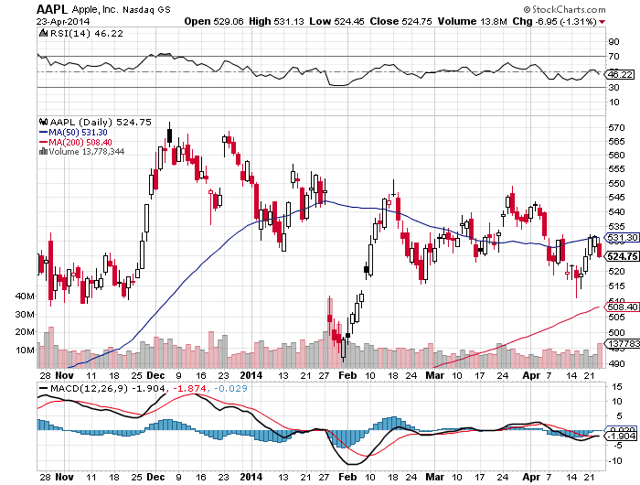 Often, I end my Apple articles by reminding readers that I think Apple is the most fundamentally sound company on the planet. Yesterday, we got to see a little bit of what happens when the beast decides to wake up and show off its strength a bit. Apple announced earnings after market yesterday, and completely blew the lid off of what was expected of it.
Apple reported EPS of $11.62, which beat by $1.44 - and revenue of $45.65 billion, which beat by $120 million. Both lines smashed estimates in what was supposed to be Apple's weakest quarter.
In addition to posting its fantastic numbers, Apple also announced a 7:1 stock split, raised its buyback from $30 billion to $90 billion, and raised its dividend by 8% to $3.29.
The split of the share price is going to open up Apple's floodgates to a whole new level of retail investors. We are likely to see people pouring into this stock in a manner in which we haven't in years. Additionally, with the added security of the dividend, investing in Apple for value (alongside companies like Coke, J&J, 3M, etc.) is going to be a more prudent reality.
(click to enlarge - source Apple)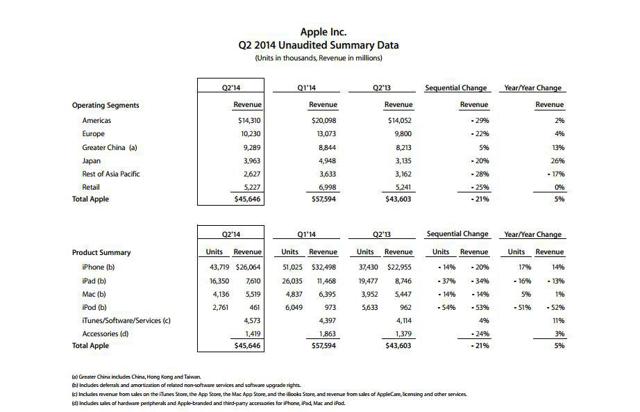 In addition to both lines crushing estimates, stronger iPhone numbers also helped fuel Apple after-hours. iPhone revenue increased by 17% YOY. Additionally, one area that I was concerned with, the iTunes store, continues to perform well. iTunes posted revenue gains of 11% from last year.
Seeking Alpha elaborated on the details of emerging market success and Apple's recent buying spree:
Additionally, as I wrote about in my earnings preview, Apple sought to unlock even more value for shareholders - opening the floodgates and spilling over $130 billion to give back to shareholders. I concluded this article days ago by stating:
As one of the most fundamentally sound companies in history - with over $150 billion in cash in the bank - Apple always remains a good pick for long-term growth, in this investor's opinion. Aside from its rock solid fundamentals, the company has tons of cash to do their business with and continues to offer shareholders the safety of a dividend.
Then, a day before earnings, I went out and nibbled on some Apple calls. I disclosed the position in my StockTalks and on my Twitter. It was a decision I'm already reaping the benefits of.
The bears have been meekly taking to Twitter to try and manufacture an argument against the company - namely, that the company failed to announce a product release and will be lost without one heading out of this quarter. Clearly that's not going to be an issue for Apple.
Not only was this last quarter statistically supposed to be one of the worst for Apple, as it's when the company's product cycle refreshes, but analyst sentiment was "not to expect too much" when Apple reported after the bell. CNBC actually led with that headline for most of yesterday - although I'm unable to find the image, the headline was from an analyst who was expecting $9.75/share EPS. I guess that didn't work out.
Even this morning, questions about the product were listed above the powerhouse results that Apple reported yesterday.

Calm down, CNBC. The products are coming, I assure you. And when they do come, they're going to kick your butt. Why isn't the focus on the amount of iPhones Apple was able to move in a quarter where it was heralded that they wouldn't be able to sell enough because people were waiting about the iPhone 6? Can we stop fantasizing about products for just two short minutes to see that Apple is an absolute juggernaut of a company? With these metrics, I wouldn't care if Apple was selling hot dogs, it's an impressive company.
Back to products. A long time ago, I wrote an article about whether or not Samsung (OTC:SSNLF) would steal Apple's thunder from being the first to the smartwatch niche.
I concluded:
For Apple, it hasn't really been about timing (possible exception being the iPhone), it's generally been about the quality of the product. Apple is of the mindset that they are producing the best quality and most innovative products in the world, and while they have a concern with shipping in a timely fashion, it's not what their model is based on.

You have your Apple cultists that have already committed themselves to the iWatch, before it's even arrived. And, you have your Apple "Ecosystem" crowd, who are already familiar with the brand. Finally, you have your Apple elitists that have bought into the fact that Apple is trying to simply create better and more innovative products than competitors.
Apple has a knack for tapping into new markets. It did it first when it started into the mp3 business, and it carried that over and morphed it into the iPhone. From there, it was the tablets. Every single new product it makes is nicer to look at than what's currently out there, and offers superlative new function. Apple only seems to enter into a market if it can be the best.
There hasn't been anything that has made major media in the world of wristwatches for as long as I can remember. After Samsung could actually be the best possible time for Apple to enter into this market - like a prize fighter waiting for his/her opponent to exhaust themselves first before striking.
No doubt, Apple's product is going to exceed the mark in quality and set the standard for what other smartwatch makers are going to want their watches to be able to perform.
So, the products are coming, and will be worth the wait.
"We're very proud of our quarterly results, especially our strong iPhone sales and record revenue from services. We're eagerly looking forward to introducing more new products and services that only Apple could bring to market."

-Apple CEO Tim Cook
The Apple calls that I bought don't expire until June, and I plan on holding them. Fueled by the buyback, impressive numbers, and coming new products, I believe Apple has the potential to see $600 relatively soon. So much for the "Microsoft (NASDAQ:MSFT)-esque trading range" headlines that were plastered about just months ago.
Apple was trading at $564 pre-market this morning.
Congratulations to Apple longs.
Disclosure: I am long AAPL. I wrote this article myself, and it expresses my own opinions. I am not receiving compensation for it (other than from Seeking Alpha). I have no business relationship with any company whose stock is mentioned in this article.