Tuesday morning, the FHFA released their Housing Price Index for February 2014. For the period, home prices rose 0.6% versus 0.5% for the prior month. Most importantly, home prices rose 6.9% versus the same period in the prior year. This reading has important ramifications for predicting the results of mortgage and housing related stocks, as well as the overall economy.
Meanwhile some weakness appears to be showing in other housing data. Existing home sales came in slightly lower than expected on Tuesday at 4.59 million units, but new home sales were well below expectations dropping to 384,000 versus expectations of 455,000 in reports released Wednesday.
Mortgage insurers like MGIC Investment Corp. (NYSE:MTG) and Radian Group Inc. (NYSE:RDN) should perform well with continued increases in home prices. Based on expected future results, both companies trade at very decent earnings multiples of about ten and eleven times forward earnings. Radian is expected to report 1st Quarter earnings soon.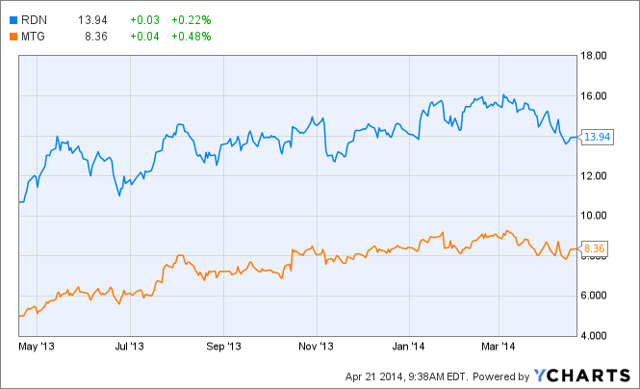 RDN data by YCharts
MGIC released their 1st Quarter 2014 earnings earlier this week. The company beat estimates, reporting a profit of 15 cents per share. This reversed a 31 cent per share loss from the prior year period.
Mortgage giants Fannie Mae (OTCQB:FNMA) and Freddie Mac (OTCQB:FMCC) are set to release their earnings in the coming weeks. In the same period of 2013, Fannie Mae reported a record $59 billion in Net Income, which no person expects the company to repeat. Since August 2012, the Treasury has swept 100% of each company's net worth, putting their bailout in a cash flow positive position for taxpayers.
Fannie and Freddie Shareholders Continue to Make Noise
Shareholders have been speaking out recently, due to the fact that Fannie and Freddie have now created a solid profit for taxpayers. They believe it is time for the Rule of Law to be restored and shareholders to begin participating as business partners in these entities operations.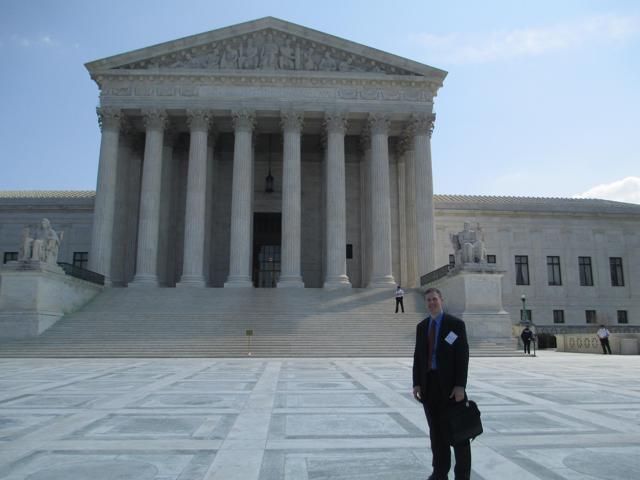 Andy Nicols, a shareholder from Nevada sent me this statement:
I purchased stock in Fannie Mae and Freddie Mac in August of 2008 because I listened when James Lockhart said the GSEs were adequately capitalized.

I heard that and thought this would be a good time to buy into the American Dream. I was a mortgage broker at the time and I knew how important Fannie Mae and Freddie Mac were to our housing market. So, it made since for my family to purchase Fannie and Freddie stock as a long term investment. I bought in at just over $5 a share which ended up being a mistake because just a few weeks later on September 7, 2008, (FHFA) put Fannie Mae and Freddie Mac into conservatorship and assumed control of the GSEs. Shortly after, my shares were worth 30 cents apiece and my whole investment was almost wiped out.

The conservatorship agreement was put in place to preserve and conserve the assets of Fannie Mae and Freddie Mac. With the idea that once the companies were sound and solvent they would be released back to the shareholders.

I made the decision at that point to stick with my investment and wait it out until the housing market recovered which I knew it would eventually. I believed that the Treasury would follow the rules in the original conservatorship agreement.
It was statements like this one from Acting Director DeMarco On September 15, 2010 that kept me confident in my investment in Fannie Mae and Freddie Mac:
"The statutory purpose of conservatorship is to preserve and conserve each company's assets and put them in a sound and solvent condition.

Statements like this one made me feel like our Government would do the right thing and compensate shareholders for the eventual seizure of private property.

On August 17th 2012, just as Fannie Mae and Freddie Mac were starting to be profitable again, the third amendment to the conservatorship was enacted sweeping all of the profits from Fannie Mae and Freddie Mac to the Treasury.

FHFA which is supposed to represent the shareholders of Fannie Mae and Freddie Mac decided that instead of preserving the companies' assets they would give all profits to the Treasury in direct conflict with the original conservatorship agreement. Shareholders need just compensation for the seizure of our property. This whole thing is about more than just Fannie Mae and Freddie Mac shareholders, it is about the treatment of private property rights going forward in the United States of America.
As the elections loom for 2014, there are some rumors that the Senate Banking Committee may amend the Johnson-Crapo bill to include language favorable to shareholders. What is unclear are Mel Watt's intentions with respect to the GSEs. Mr. Watt has a fiduciary duty to shareholders, as well as taxpayers in his role at the FHFA and therefore should clearly communicate the desired path to restore shareholder rights.
With housing prices firmly footed, lack of action on restoring the GSEs to private markets is going to cause a lot of problems in the long-run. For instance, the GSEs are still running without adequate capital reserves. If weakness persists in areas like new home sales, there is a possible underlying problem with the housing economy that may cause ripple effects. It is important that all for-profit entities carry equity reserves for periods of instability.
Click here for a related audio webcast for this article.
Disclosure: I am long FNMA, FMCC. I wrote this article myself, and it expresses my own opinions. I am not receiving compensation for it (other than from Seeking Alpha). I have no business relationship with any company whose stock is mentioned in this article.