Recently, Citi Equity Research released an updated list of global bond refugee stocks. Bond refugee stocks have higher dividends and lower volatility, and may be a suitable alternative to bond investments for income-seeking investors. Among companies making the cut is Coca-Cola (NYSE:KO), with a current dividend yield of 3.0%. Below, we continue our bond refugee review with KO.
Previously Reviewed Bond Refugee Stocks

Bond Refugee Recommend Actions:
Overall Bond Refugee Rating: Hold and Accumulate at More Attractive Level
Bond Refugee Valuation: Overvalued
Bond Refugee Dividend Stability: Highly Stable

Background
KO engages in the manufacturing, marketing, and sales of soft drinks and non-carbonated beverages. KO is one of, if not, the most recognized consumer brands in the world. KO's management is currently executing on a five-prong strategy, as seen in the slide below.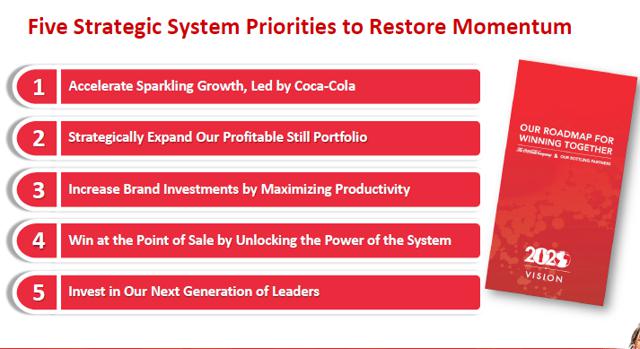 KO is accelerating growth in sparking beverages by targeting key marketing opportunities in emerging markets. KO management indicated recent Sochi Olympics efforts yielded strong results, and expect the World Cup event presents another powerful opportunity. Product innovation driven by Freestyle cola dispensers, natural zero-calorie sweeteners, and entry-level packaging will result in accelerating growth.
KO is expanding its still beverage portfolio, most notably seeking growth in single-serve, pod-based beverages.
Finally, KO is emphasizing increased operational and sales execution as a means to drive improved profitability.
Valuation
KO has a $178.9 billion market capitalization and enterprise value of $187.0 billion. KO trades at a hefty premium to both the S&P 500 and the consumer staples sector. KO's price-to-earnings ratio is 21.8 and 18.2 on a trailing and forward earnings basis respectively. Analysts estimate KO's earnings will grow at 6.7% annually over the next five years, versus 11.85% and 9.23% for the S&P500 and consumer staples sector respectively.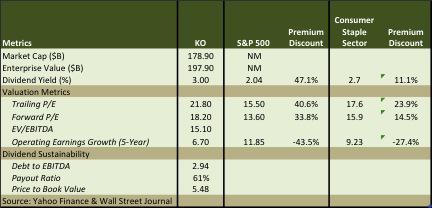 We rate KO as overvalued based on bond refugee criteria that stresses relative value and stability of income.
KO trades at significantly higher earnings multiple than both the S&P 500 and consumer staples sector on both a trailing and forward basis.
KO's projected five-year growth rate of 6.7% is approximately 250 basis points below the consumer staples sector, and over 500 basis points below the S&P 500.
Aside from earnings, stability offered throughout the consumer staples sector earnings and fundamental factors do not support a 40% (33% on a forward basis) multiple premium to the S&P 500.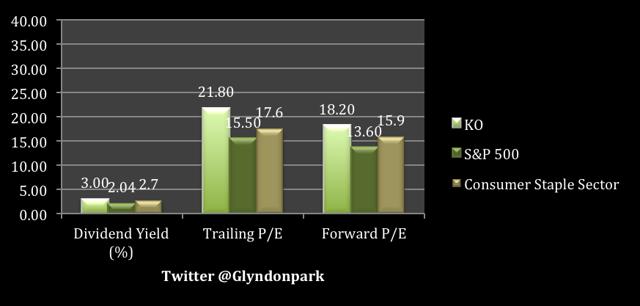 Dividend Stability
KO has an outstanding track record of increasing dividends for more than 50 years. In financial measures, KO has a debt-to-EBITDA ratio of 2.94. Given the inherent stability of earnings and KO brand value, current debt levels are easily managed with existing and projected cash flow. KO paid out a reasonable 61% of TTM earnings.
We rate KO's dividend stability as highly attractive based on:
KO's extended history of dividend increases and management commitment to sustaining shareholder returns. (see recent presentation below)
Projected payout ratio and cash flow are easily supported.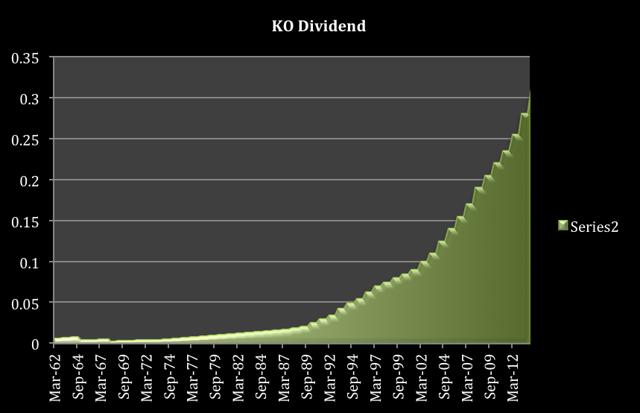 Disclosure: I have no positions in any stocks mentioned, and no plans to initiate any positions within the next 72 hours. I wrote this article myself, and it expresses my own opinions. I am not receiving compensation for it (other than from Seeking Alpha). I have no business relationship with any company whose stock is mentioned in this article.