So much has happened since we last visited Herbalife (NYSE:HLF) just a week ago. The story just continues to get uglier and uglier for Herbalife. Under the surface, the fundamental issue of the company being a pyramid scheme. Now, claims by distributors that Herbalife products can cure brain tumors.
The regulators must step in and stop this farce before it fleeces more people out of their hard earned money.
Most of the contention so far has been about how Herbalife does its business - primarily through recruiting an endless chain of distributors that are forced to load thousands of dollars of overpriced inventory in order to be given the right to recruit others for money. Now, we're starting to read between the lines and check out some of the other disturbing things going on "on the ground" with Herbalife distributors.
Just last night, one of the little discussed issues surrounding Herbalife - distributors making claims about Herbalife products curing disease and providing health benefits - was a focus of an ABC Nightline report. You can view the details of the investigation at ABC's report here. Of note from the video was a President's Team member standing in front of a group of distributors making income claims of over $42,000 a month. Also included, a woman who claimed that Herbalife helped her get pregnant.
This just isn't funny anymore.
The fact that these claims can continue to be made in the face of all of the regulatory scrutiny that Herbalife is facing is a slap in the face to the FTC and other government agencies that are watching this story. The sooner they can step in here, the more low income distributors they're going to be able to protect.
So far, Herbalife is being investigated by the FTC, SEC, DOJ, FBI, and the New York Attorney General's office. Additionally, it's been reported by the NY Post that Canadian authorities are also looking into the company.
And the party keeps growing. Last Thursday, CNBC reported that in now is the Illinois state attorney general
Illinois Attorney General Lisa Madigan's office is investigating nutrition and weight loss company Herbalife, her press secretary said on Thursday.

Madigan's office had been urged to look into the company months ago by civil rights groups who claimed that the company was a pyramid scheme targeting minorities. Hedge fund manager William Ackman was the first to call Herbalife a fraud and placed a $1 billion bet against the company in 2012.

The company denies the allegations.
In last night's ABC report, one of the points of contention was that a Herbalife whistleblower didn't disclose he was receiving money, when he wasn't receiving money.
Said whistleblower had a deal with Mr. Ackman that would protect him if he lost his job as a result of being a whistleblower. When he was first interviewed by ABC, he hadn't lost his job - and didn't disclose that he was receiving money from Mr. Ackman - because he wasn't. Post-interview, he had lost his job and began to collect on his agreement to protect his well being.
Additionally, he failed to disclose the document at all, which is something that I would have encouraged him to do from the get go, as I think Mr. Ackman would have, too. We have the winning argument on the short side, no need to dilute it by anything less than 100% transparency. However, he did tell the truth when he was asked if he was being compensated at the time and his agreement was pending him telling the truth, most importantly, about Herbalife.
At one point ABC had trouble getting information from both sides - Herbalife distributors at an event were told by "corporate" not to speak to the media, and Herbalife's whistleblower, when asked about what he told government agencies, was whisked away by his lawyer.
The report was scathing, however, casting yet another net of doubt over Herbalife, its business practices, the company fundamentals, and its nutrition clubs - which more and more simply seem like venues for recruiting. Des Walsh, in his company statement, seemed a bit more squeamish than usual.
Additionally, we found out from the ABC report that Herbalife has disciplined over 600 people for violating its rules regarding income claims and health claims. If Herbalife clamps down on these, it's going to be a lot tougher to move the $3,000 in inventory required to purchase for the right to earn from recruiting.
Seeking Alpha reported:
Herbalife disciplined almost 600 distributors last year for making false medical claims about the company's nutrition products. The company even stripped 12 people of their distributorships.
Herbalife disclosed the figures to ABC News following an undercover investigation in which the channel found distributors saying that the products could help treat illnesses such as diabetes, heart disease and even a brain tumor.
The investigation comes as Herbalife faces probes by several authorities into whether it is a pyramid scheme.
Herbalife, who has been perpetually avoiding the point, decided to focus its press release this morning on Bill Ackman's protection of whistleblowers, rather than answer fundamental questions about the company's business.
In fact, one of my favorite parts of this morning's press release from Herbalife is this line:
The previously unreported information includes confirmation that Mr. Ackman has spent more than $20 million to date on his campaign. This includes a contractual arrangement to pay an individual up to $3.6 million over 10 years to make accusations against Herbalife, in addition to Mr. Ackman's agreement to pay the individuals legal fees and arrange his public relations efforts.
This is almost like a company coming out and spending $30 million on "defending itself from a short seller" without going into detail as to what they spent the money on. Sound familiar?
Herbalife then hilariously ends the press release by stating questions that Mr. Ackman should "answer fully and honestly." This makes me recall an original list of questions that Mr. Ackman sent to Herbalife years ago, that were anything but answered "fully and honestly." In fact, they weren't answered at all.
Herbalife has changed its tone a little bit, recently claiming that only some people are signing up for "part time" income, and that most people become distributors simply for a discount on the products that they love so much. This is hilarious.
Remember this gem from Herbalife's new website?

The claim that only a select few are signing up for the business opportunity completely contradicts things like Board member John Tartol's promising of $10,000/month income to people who signed up as distributors.
Therein lies two pesky questions that could, again, silence this entire debate between Ackman and Herbalife.
1. How much product is sold outside the network?
2. Why would I sign up for a distributorship for a discount on product, when I can buy it from eBay at a massive discount, right now?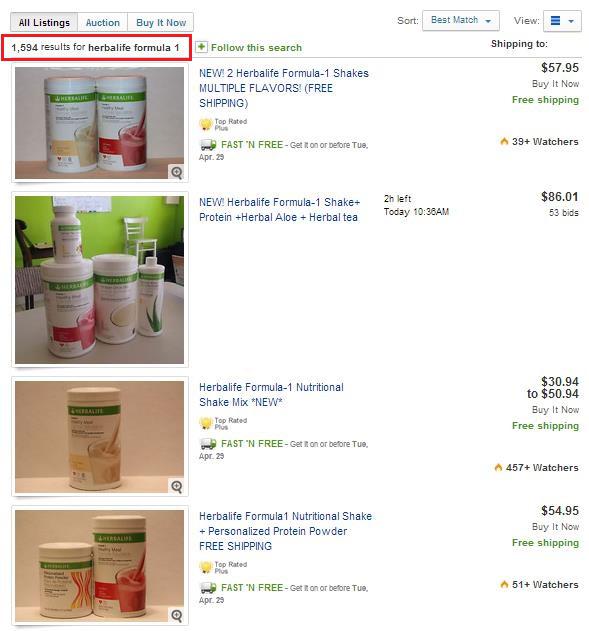 If you think about it, it's hilarious. This whole saga basically perpetuates around Ackman asking these two questions, and Herbalife's inability to answer them. If Herbalife provided audited results to show that this figure is in compliance, this whole argument would be over - Herbalife would win. Instead, they're offering up anything and everything, in a "throw everything but the kitchen sink" style defense that doesn't matter.
Fortunately, now that regulators are involved, these are the types of questions that are going to be taken extremely seriously.
As the days go by, the wheels continue to fall off for Herbalife. Sure, the stock has inched upwards on little volume lately - who knows why? Maybe a product of the buyback, maybe lack of sellers for the time being. I'm not concerned with those blind enough to be bidding for Herbalife at this stage in the game.
But, one thing is for sure - as a long-term investment, Herbalife remains a monster risk. I continue to contend that the company is a global confidence game that needs to be shut down by regulators. As more and more people pile on - and Herbalife moves more and more into the spotlight - it's going to get real tough for the company to continue to ignore the only two questions that matter.
I remain bearish and short Herbalife.
Best of luck to all investors.
Disclosure: I am short HLF. I wrote this article myself, and it expresses my own opinions. I am not receiving compensation for it (other than from Seeking Alpha). I have no business relationship with any company whose stock is mentioned in this article.