Russia supplies Europe with around a quarter of its gas. However the picture varies widely across countries in the continent. Germany alone receives nearly a third of all the gas that Russia exports to the EU-28. And a similar amount is taken by the second and third importers, Italy and Poland, together. Finland and the Baltic republics import only around 10% of the Russian supply, but they are totally dependent on it.
On the other hand, heavy importers the UK and Spain do not rely at all on Russian gas, while France sits somewhere half the way in terms of dependence.
Share of Russian imports in Europe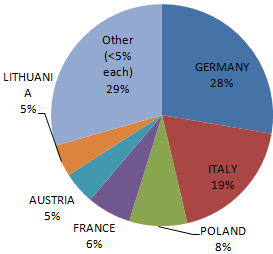 Source: Eurogas
Russian gas as a % of total consumption in each EU-28 country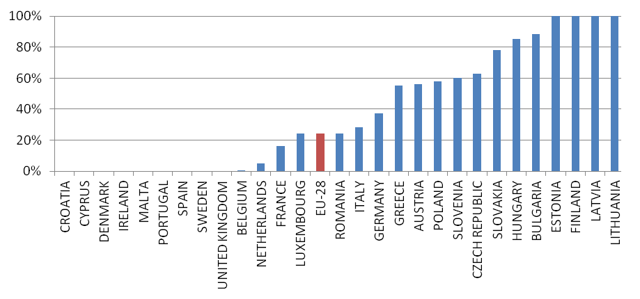 Source: Eurogas
After the recent turmoil in Ukraine and the precedents of 2009, when Russia shut down the pipelines after an argument with this same country, the old continent may be willing to move in a direction that allows securing alternative gas supplies.
However, weak cross-border pipeline connections make Europe a fragmented market. The political will required to rebalance this situation and establish a common policy, together with the cost and time required by the involved infrastructures, suggest that Europe will probably only move slowly in this direction.
Russia and its giant Gazprom (OTCPK:OGZPY) would be clear losers in such a scenario. This article tries to point towards a list of potential winners that might benefit from the diversification scenario.
At first sight, there are several options to move away from the current scenario.
Developing European gas resources
Within Europe, only Norway, The Netherlands and Britain export a material amount of gas. Gas fields in the two latter are being depleted, so only Norway seems really able to increase gas flow to Europe, which makes Statoil (NYSE:STO) a first good candidate for our list of potential winners.
Then there is the potential for unconventional gas, although this has still to become a commercial reality in Europe and therefore remains a speculative bet. Poland is currently the country with the biggest reserves in the region and is committed to developing them. It is also where projects are more advanced thanks to San Leon Energy (OTCQX:SLGYY), which we would consider as well for our list given the recent news and the fact that competitors Talisman Energy and Marathon withdrew from Poland last year.
Securing alternative gas suppliers (through pipeline)
The obvious options to displace Russian gas through pipeline are supplies from either Africa or the Central Asia.
Unlike Africa, Central Asia still requires completing one of the competing pipeline projects that would connect the Caspian region with Europe through Turkey. The Trans-Adriatic Pipeline (TAP) to Italy through Greece and Albania is due on 2018 with an initial capacity of 10 billion cubic meters (bcm).
These alternatives would directly benefit Azerbaijan's state energy company SOCAR and indirectly the Italian gas network operator SNAM (OTCPK:SNMRY), through increased transportation of gas. TAP is owned by SOCAR, Statoil and BP with a 20% stake each, plus other companies with smaller stake.
Africa, on the other hand, already enjoys connections from Algeria: to Spain through both the 8 bcm Medgaz and the 12 bcm Maghreb-Europe pipelines, and to Italy through the 30 bcm Trans-Mediterrarnean pipeline plus the 10 bcm GALSI pipeline due on 2014. Italy is also connected to Libya through the 11 bcm Greenstream pipeline. Additional plans in the region include connections from Algeria to Nigeria through the Trans-Saharan pipeline due on 2015.
In an analogy to the Asian case, Algerian state-owned Sonatrach would benefit from extended connections together with Italian SNAM and as well the Spanish gas network operator Enagas (OTCPK:ENGGY). You can read my previous assessment of Enagas here.
Italy could use additional capacity from Algeria to reduce its dependence on Russia. Spain does not use any Russian gas but could supply third countries in Europe through its network. It suffers from a bottleneck in its connections with France, currently limited to 5.2 bcm through Larrau. Plans to increase capacity with the 1.9 bcm interconnector in Biriatou and the 7.2 bcm Midcat would allow Spain to use its network to pump gas towards the rest of Europe.
Securing alternative gas suppliers (through LNG)
Liquified Natural Gas ((NYSEMKT:LNG)) is a flexible alternative to pipelines in terms of potential sources as supply as it allows gas to be transported by ship from any gas liquefaction plant to a receiving regasification terminal.
The disadvantages of LNG are basically that supply is inelastic because liquefaction plants are expensive and tend to be very carefully planned and also that its flexibility make importers compete in a world market for LNG. Currently Asian countries are paying high prices for their supplies, so LNG would be an expensive alternative for Europe if it could easily get access to additional supplies.
The advent of American shale gas offer in the LNG market can become a game changer in LNG exports in the future, but export facilities need to be built in the US before producers and exporters of shale gas can benefit from European demand.
Cheniere Energy (LNG) could be among the first to benefit from LNG exports through the Sabine Pass facility. Half of its exports will go Asia and half to the Spain and the UK after contracts with Centrica (OTCPK:CPYYY), BG Group (OTCQX:BRGYY) and Gas Natural (OTCPK:GASNY).
The European countries of choice for LNG imports come as no surprise once LNG import facilities are considered.
Spain leads the LNG import capacity in Europe with one third of the receiving terminal capacity, followed closely by the UK. France comes third in the list with roughly half the British capacity.
Europe LNG import Capacity in 2013...and planned for 2016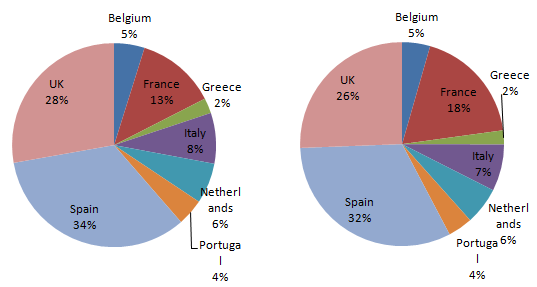 Europe has plenty of underused capacity, so Spain and the UK could act as LNG importers and transport that gas to other countries in the continent. As with African pipelines, the Spanish network operator Enagas would benefit from such an option once the interconnection bottleneck with France is eased.
Nevertheless, as LNG would make gas a more global market, operators would sell gas to whoever offers higher prices for gas. Today that would be Asian countries rather than the Russia-dependent countries in central Europe.
In a final twist, as well, nothing prevents Russian gas to enter Spain through LNG
Conclusion
Russia has been and will likely continue to be a key supplier of natural gas to Europe. Alternatives to Russian gas have been considered for long and may be accelerated after the recent crisis in Ukraine, but alternatives will take time to be developed and do not always guarantee reliable suppliers or better prices when compared to Russia.
Investors willing to play the theme of European gas diversification have been offered several options through this article as a point from which to start their own due diligence.
To start, our current checklist would include
Statoil STO
San Leon Energy SLGYY
SNAM SNMRY
Enagas ENGGY
Cheniere Energy LNG
Centrica CPYYY
BG Group BRGYY
Gas Natural GASNY
Disclosure: I have no positions in any stocks mentioned, and no plans to initiate any positions within the next 72 hours. I wrote this article myself, and it expresses my own opinions. I am not receiving compensation for it (other than from Seeking Alpha). I have no business relationship with any company whose stock is mentioned in this article.
Editor's Note: This article discusses one or more securities that do not trade on a major U.S. exchange. Please be aware of the risks associated with these stocks.