Advanced Micro Devices' (NYSE:AMD) current marketing strategy, #IfItCanGame, plays on the company's recent success in the next-generation consoles. Many AMD bulls are hoping for console sales in China to be a major catalyst for the company in the near future.
In this article, I will explain why I am more reserved than most when it comes to the potential success of consoles in China, look at the Chinese gaming demographic and TAM (total addressable market), and explain why I feel this could be a major catalyst for the company, if it were to be pursued.
Barriers To Entry
GameSpot has a rather succinct list of content that will not be allowed in games to be sold in China:
Gambling-related content or game features.
Anything that violates China's constitution.
Anything that threatens China's national unity, sovereignty, or territorial integrity.
Anything that harms the nation's reputation, security, or interests.
Anything that instigates racial/ethnic hatred, or harms ethnic traditions and cultures.
Anything that violates China's policy on religion by promoting cults or superstitions.
Anything that promotes or incites obscenity, drug use, violence, or gambling.
Anything that harms public ethics or China's culture and traditions.
Anything that insults, slanders, or violates the rights of others.
Other content that violates the law.
You should see right off the bat that this list sucks the fun right out of most games. My emphasis was added to the bullet point which I feel will be most limiting. Depending on how far this bullet point it taken, it could essentially be used to censor almost any popular AAA title released in the US.
Forbes points out that consoles have been available on the "grey" market before now, so it's hard to determine how many consoles were sold in China before the ban was officially lifted. To point out one specific quote from the article:
More to the point, illegally imported console units are so widespread and easily found in China that gamers who have wanted a console in the past have already purchased one (at international prices). These units are imported via Hong Kong or Guangzhou, or places north, and then put on trucks to various destinations. There is even a city in the north that is known for the re-export to points further west of consoles that have been imported illegally. Still, a new generation of consoles always attracts new purchases, and China should be no exception.
So the gaming market won't be virgin territory, but rather, just legalized. Undoubtedly, this could lead to easier purchases, which could drive revenues and volumes, but how much this would boost sales is the unknown.
I highly recommend reading both articles linked to in order to understand my overall hesitation. As a final data point, here is a final article on Reuters which reaches the same conclusion that censorship would prevent many of the popular western games to be released in China.
China Already Has a Massive Game Market, But It's Different From The US Market
According to research group EEDAR, via GameSpot, China has more gamers than the US has citizens. This is an enormous market.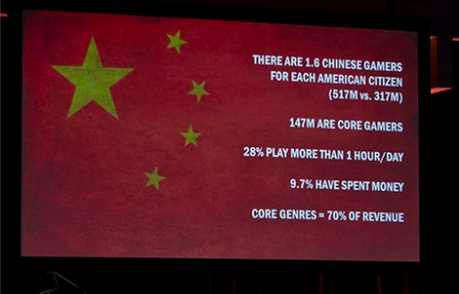 Source: GameSpot
Pay particular attention to the numbers in the slide, and specifically, the "147M core gamers" statistic, as well as the "Core Genres = 70% of Revenue" statistic.
Another report, via GameInAsia, pegs the total gaming market in China at $13B. Note this $13B figure is for software sales, if I am reading the report correctly, not hardware sales.
The genres played are very specific. MMORPGs (massively multiplayer online RPGs), MOBAs (multi-player online battle arena), and other free-to-play titles top the charts of games played in China (Source: Kotaku, China.org.cn).
The common thread of these titles is they are low-cost or free, and run on fairly basic hardware, as the games are designed to reach the widest audiences. This is in stark contrast to console and AAA titles, which are designed to look and play best on next-gen consoles or more expensive PC hardware. And if 70% of the revenue is spent on these less-demanding titles, this means the vast majority of Chinese gamers would be well served by a PC with a focus on performance per dollar.
As a final point, in the Forbes article linked to above, it was pointed out that software piracy is rampant. Console games are typically expensive, whereas these free-to-play titles rely on in-game purchases in order to generate revenue. Consoles aren't expensive compared to comparable PCs, however, the pricing difference between software on PCs and consoles is dramatic.
I am by no means an expert in anything related to China or the Chinese gaming market, but from my perspective, I'm not overly optimistic for the prospect of next-generation consoles in China. Being in the US makes it difficult to verify this information, but from my research, it seems like there are a few factors that will put a damper on the success of consoles:
Consoles aren't as universal as PCs, so use is limited mainly to gaming.
Free-to-play games, not $60 AAA console titles, are the most popular in China.
Censorship will present several hoops for studios to jump through to release content.
Consoles have been available to purchase in China prior to the ban being lifted, and volumes weren't particularly high. Reports (via GameInAsia) are pointing to Microsoft potentially aiming for 100k Xbox Ones to be initially sold. This relatively low number seems somewhat telling, at least to me, if compared against the launch volume in the US.
Because of these reasons, I believe the Chinese gaming market represents an enormous opportunity, but I do not believe the next-generation consoles are the proper ammunition to target the market.
A High-Volume PC Designed For Free-To-Play Gaming Could Be A Gangbuster
In a recent technology conference, CSO Mr. John Byrne explains that AMD has over 40% market share in China.

Source: AMD
AMD's most recent 10-K filing shows the company generates a large portion of revenue from China, an amount almost equal to the sum of all other countries.
AMD could build on this strength by partnering specifically and strategically with a Chinese PC maker in order to create a product that could be specifically marketed at lower-budget Chinese gamers.
Companies such as Gigabyte already offer these types of PCs that I'm referring to, but they are not remarkably well-marketed, and Gigabyte isn't one of the larger PC OEMs.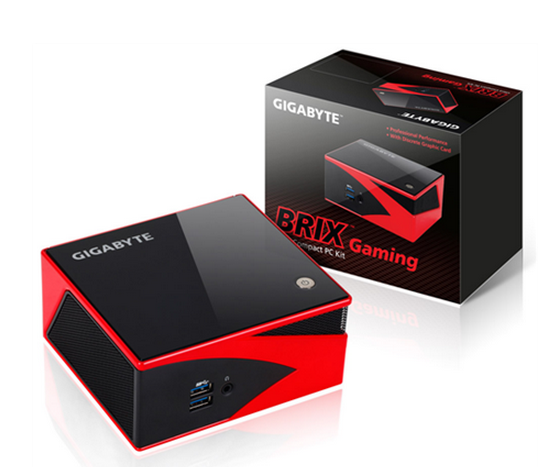 Source: GigaByte
The above unit retails for $569 on NewEgg, and would be more than capable of playing the types of PC titles that are most popular. The issue here is the price tag, which is higher than the next-generation consoles. The Brix pictured above would also require the consumer to purchase the operating system, memory, and hard drive. This would put the price closer to $750, depending on parts choices, to create a functioning PC.
However, if AMD were to partner with a larger OEM that had the power to actively market and target gamers in China, volume economics and carefully selected parts designed to play these popular, but less-demanding games could allow for a significant price reduction from the Brix SFF (small form factor) PC shown above.
AMD's new low-cost AM1 platform, paired with a mid-range discrete card has proven to be a relatively potent and cost-effective way to game (Source: SemiAccurate, PCPer). PCPer pieced together their platform for $440 using Amazon, sans Windows.
Conclusion
I typically refrain from hypothetical articles, because I personally don't see the value in them. However, I felt this one was worth publishing, as it presents the bear case against consoles in China, and that is something that I have not seen covered on Seeking Alpha.
Second, the data point of a 100K lot of Xbox Ones being the purported target for the China launch is an important metric. If these consoles sell quickly, and/or Sony (NYSE:SNE) manages to sell these consoles in large volumes, then we know the barriers to entry aren't overly significant. However, if the 100K Xbox Ones don't sell in relatively short order, that could be seen as a sign of disinterest.
As for the hypothetical scenario I have presented regarding a light gaming PC, I think if actively pursued, this could be a massive catalyst for AMD.
Partnering with a powerful OEM would ensure the PC is well-marketed at the target audience. Because of the TAM of the Chinese gaming market, there is a huge market. The type of software that is popular doesn't require the latest and greatest to run, and fits perfectly with AMD's strength in graphics and gaming.
A lightweight gaming PC is also in lockstep with AMD's current #IfItCanGame marketing strategy.
Finally, and most importantly, the PC I am suggesting could easily be built with COTS (commercial off-the-shelf) parts. From a revenue standpoint, APU sales fall to CS (computing solutions), which has been one of the few sticking points surrounding AMD's recent turnaround. Tiernan Ray of Barron's summarized the upgrades and downgrades for AMD following the recent earnings report, and the common theme from the bears is "PC weakness." This would be a way to significantly boost APU sales, buoying CS revenues and taking away bear food.
In line with AMD's OPEX reduction strategy, AMD already has a robust portfolio of products, so no semi-custom or special solution is needed to target this market, minimizing any R&D expenditures. Special pricing arranged with an OEM as part of this package may negatively impact gross margins, but a strong partnership in a high-volume design could easily make up for this. AMD's semi-custom business thrives on low gross margins, but where most of the gross margin dollars fall to operating income. If AMD were to manage to land a deal like this, provided operating margins similar to consoles, this would be extremely accretive to earnings.
By partnering with an OEM, designing a PC specifically to play less-demanding titles, and directing marketing specifically at gamers, AMD could offer a more robust gaming experience than the Android consoles cropping up in China, but one better suited to the market than the next-generation consoles.
Disclosure: I am long AMD, INTC. I wrote this article myself, and it expresses my own opinions. I am not receiving compensation for it (other than from Seeking Alpha). I have no business relationship with any company whose stock is mentioned in this article.
Additional disclosure: I actively trade my AMD position and own both shares and options. I may add to or liquidate part or all of my position at anytime.