What a great day yesterday was for Apple Inc. (NASDAQ:AAPL) shareholders: The highly admired tech company presented top notch second quarter results and supplemented its earnings release with the announcement of a meaningful upgrade in its capital deployment program (the most important driver of shareholder value in my opinion). As far as financial results were concerned, Apple didn't disappoint either:
Second quarter revenues reached $45.6 billion compared against $43.6 billion in the year ago quarter -- an increase of 4.7%. Analysts expected revenues of $43.5 billion.
Apple's second quarter gross margin was reported at $17.9 billion (39.3%) vs. $16.3 billion (37.5%) last year -- a dollar increase of 9.8%.
Second quarter net income came in at $10.2 billion compared to $9.5 billion in Q2 2013 -- a surge of 7.1%. Q2 2014 diluted EPS stood at $11.62 vs. $10.09 in Q2 2013 -- an increase of 15.2%. Analysts expected earnings per share of $10.22 on average.
Apple's cash pile shrunk to $150.6 billion in the second quarter (due to its capital deployment program and share repurchases) from $158.8 billion in the first quarter.
Apple also reported a six-month operating cash flow of $36.2 billion and with a couple of tailwinds (iPhone 6 release anyone?) the company could be well on its way to achieve meaningful free cash flow growth.
Apple's share repurchases also have significantly reduced the share count (the company shelled out $23.0 billion for the repurchase of its common stock in the first six months). In its second quarter financial news release Apple reports the share count for the most recent quarter at 879.5 million compared to last year's 946.0 million: A respectable y-o-y decrease of 7%. Further share repurchases, as announced (see below), will continue to benefit shareholders as Apple buys back shares far below intrinsic value (I think Apple has an intrinsic value about double of where the stock trades now). I have previously argued that share repurchases will drive shareholder value more than anything.
I think this is a point worth repeating: Many analysts and investors focus entirely on the company's iPhone sales growth or tablet shipments. Of course it makes perfect sense to determine where Apple stands in the growth cycle and how products perform in different markets. However, investor and analyst expectations are so lofty when it comes to iPhone and iPad growth, that it will be hard for Apple to surprise investors and deliver constant outperformance.
Don't get me wrong: I love to read and hear about Apple's stunning success in the BRIC countries (Brazil, Russia, India and China) last quarter and surging iPhone shipments. Bloomberg reported sales from Apple's earnings call:
And Cook kept returning to the BRICs and other emerging economies. IPhone sales in Brazil, which got its first Apple Store this year, were up 61 percent during the first half of the company's fiscal year compared with the same period last year, Cook said. Russia grew 97 percent, and India 55 percent, he said. Apple set a quarterly revenue record for Greater China at $9.8 billion - thanks in no small part to a 28 percent jump in iPhone sales, with the addition of China Mobile, the largest phone company in the world.
As fascinating as those growth rates are, I believe the Apple story will now shift more toward financial engineering measures such as debt-financed share buybacks.
Major upgrade in capital deployment program
On April 23, 2014 Apple announced further financial engineering efforts. Apple will continue to repurchase more shares going forward, at least partly debt-financed, increase its dividend and enact a 7:1 stock split. The press release read [emphasis added]:
CUPERTINO, California-April 23, 2014-Apple® today announced that its Board of Directors has authorized another significant increase to the Company's program to return capital to shareholders. The Company expects to utilize a total of over $130 billion of cash under the expanded program by the end of calendar 2015.

As part of the program, the Board has increased its share repurchase authorization to $90 billion from the $60 billion level announced last year. The Company expects to continue to utilize about $1 billion annually to net-share-settle vesting restricted stock units.

Additionally, the Board has approved an increase to the Company's quarterly dividend of approximately 8 percent and has declared a dividend of $3.29 per common share, payable on May 15, 2014 to shareholders of record as of the close of business on May 12, 2014. The Company also plans to increase its dividend on an annual basis. With annual payments of $11 billion, Apple is among the largest dividend payers in the world.

From August 2012 through March 2014, Apple has spent $66 billion in cash on its capital return program.

To assist in funding the program, the Company expects to access the public debt markets during 2014, both domestically and internationally, for an amount of term debt similar to what the Company raised during 2013. The management team and the Board of Directors will continue to review each element of the capital return program regularly.

"We are announcing a significant increase to our capital return program," said Tim Cook, Apple's CEO. "We're confident in Apple's future and see tremendous value in Apple's stock, so we're continuing to allocate the majority of our program to share repurchases. We're also happy to be increasing our dividend for the second time in less than two years."

The Board of Directors has also announced a seven-for-one stock split. Each Apple shareholder of record at the close of business on June 2, 2014 will receive six additional shares for every share held on the record date, and trading will begin on a split-adjusted basis on June 9, 2014.
Apple's 10-K filing with the SEC shows net borrowings of $16.9 billion in fiscal 2013.
Apple, as we all know, is good for surprises and also purchases its own stock opportunistically. And that's exactly where the value is. I have previously asserted, that I think share repurchases will predominantly drive shareholder value (I have modeled a full-year 2014 share count of 862 million which after yesterday's earnings release has almost already been reached). In my latest Apple article I wrote with respect to share repurchases:
Apple has announced a substantial share repurchase program in 2013 that will see a dramatic decrease in outstanding shares. However, modeling the path of share repurchases is highly unrealistic, mainly because Apple repurchases its own stock opportunistically.

Apple reported outstanding (diluted) shares of 901.5 million in Q1 2014. In the model below I assume that Apple repurchases approximately 40 million shares in fiscal year 2014 which includes the $14 billion deployed in February to repurchase shares. I am aware that this estimate is at the lower end of what is possible, but I didn't want to push the valuation model too far. In any case, additional share repurchases far below intrinsic value are a good thing for shareholders and only add to the attractiveness of an Apple investment.
Apple's $30 billion increase in repurchase authorization should prove to be a major boost for Apple's stock as witnessed by Apple's strong After Hours surge (see below).
A note on Apple's stock split: The tech company announced a 7:1 stock split which means that shareholders will get six additional shares for every share that they own on June 2, 2014, the record date. Many stock market and financial commentators will argue that the stock split is purely a cosmetic measure and theoretically shouldn't affect the equity valuation whatsoever. Though this is technically correct, benefits for shareholders include a higher degree of liquidity and a more "appealing" stock price which could lure new investors. Apple's proposed stock split is the fourth stock split since the company went public.
Share performance
Not surprisingly, Apple's stock saw heavy after-market action after the company disseminated news about the prospects of additional share repurchases: The stock is up about 8% in after hours trading and I expect ongoing momentum in today's trading session.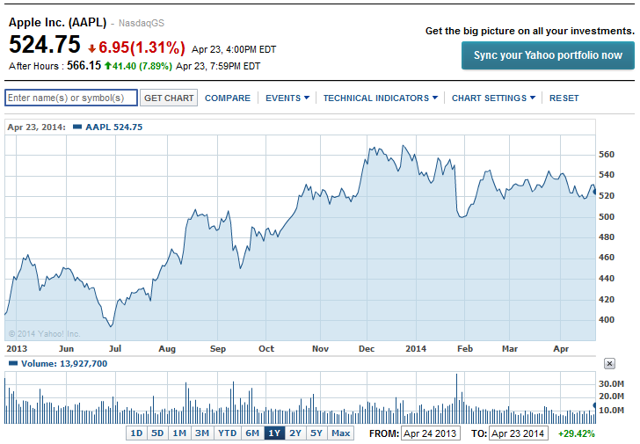 Click to enlarge
(Source: Yahoo Finance)
Conclusion
I can only applaud Apple for another great quarter and respectable earnings- and revenue beats. However, the real story and driver of shareholder value are share repurchases as part of a comprehensive financial engineering initiative. Investors are looking at a massive reduction in outstanding shares over 2014 and 2015 which will boost Apple's earnings and free cash flow on a per share basis. Apple still trades at only 11-12 times forward earnings and 9-10 times estimated free cash flow to equity which makes the company almost grotesquely undervalued given the size of the capital pool waiting for deployment. Strong BUY.
Disclosure: I am long AAPL. I wrote this article myself, and it expresses my own opinions. I am not receiving compensation for it (other than from Seeking Alpha). I have no business relationship with any company whose stock is mentioned in this article.