USG Corp. (NYSE:USG) is a leading manufacturer and distributor of building materials. USG products are used in both residential and nonresidential applications. The company is the largest manufacturer of gypsum products in North America and the largest manufacturer of wallboard in the United States. The most widely known of the company's products is sold under the SHEETROCK brand name. USG is engaged in a very cyclical business, which is very sensitive to certain economic conditions. North American housing and construction-based markets are two of the most important ones. The new century has been a particularly discordant period for the company at times. Not only was there the housing boom and bust to contend with, but there was severe trouble due to legacy asbestos liabilities.
Bankruptcy
USG sold certain specialty products during the 1930s to 1970s, which contained carcinogens. Around the turn of the century, lawsuits built up and spiraled out of control for the company. As a result, USG posted a net loss of $260 million in 2000. The dividend was soon suspended. By 2001, the problems became so severe that USG was forced to enter into Chapter 11 bankruptcy proceedings. The bankruptcy proceedings were cumbersome, and lingered for years.
During those years, USG actually prospered. Shares rose from under $5 to around $80 in response. The housing market was on fire. By June of 2006, USG finally emerged from bankruptcy, with shareholders retaining their ownership of the company. Warren Buffett told the Wall Street Journal that it was "the most successful managerial performance in bankruptcy I've ever seen." His Berkshire Hathaway (BRK.A, BRK.B) was already a long-time shareholder, having purchased 15% of the company after USG stock fell 60% in 2000.
A $3.9 billion trust fund was set up to pay all the asbestos claims. A unique $1.8 billion rights offering was created to help pay for this fund. USG offered to let existing shareholders buy 1 share at $40 for each share they already held. That $40 offering was well below the existing market price. Warren Buffett stated Berkshire Hathaway would acquire any shares not purchased by other shareholders. Finally, the asbestos problems appeared to be in the rearview mirror. Unfortunately, the housing market collapsed soon after, and the country was thrust into a recession unlike any it has seen for generations.
Recovery
New residential and new nonresidential construction, as well as repairs and remodeling are all showing positive trends that are helping and should continue to help USG.
Housing starts in the United States increased 18.7% in 2013 to 926,800. That marks the 4th consecutive year of increases. Analysts' expectations for 2014 are 1-1.2 million. USG forecasts a range of 1-1.1 million.
For new nonresidential construction, demand can be determined by looking at the floor space by which new contracts are signed for, through which the installation of USG's products typically begins in about 1-1.5 years. 2013 saw a 5% increase in this figure. This comes after a 10% increase in 2012 and a 3% increase in 2011. USG anticipates a mid-single digit increase in 2014.
Repairs and remodeling often take place within the first 24 months of the purchase of a new property. Sales of existing U.S. homes increased to 5.09 million units in 2013, a 9% increase over 2012. It was also at its highest level since 2006.
After 5 straight years of negative EPS numbers, these positive trends led to USG pulling in $47 million in net income and $.44 in EPS in 2013. This is despite industry demand being only about 70% of what it was in 2007.
Using housing starts as an example, you can see how even with the improvement of recent years, numbers are still far below historical levels.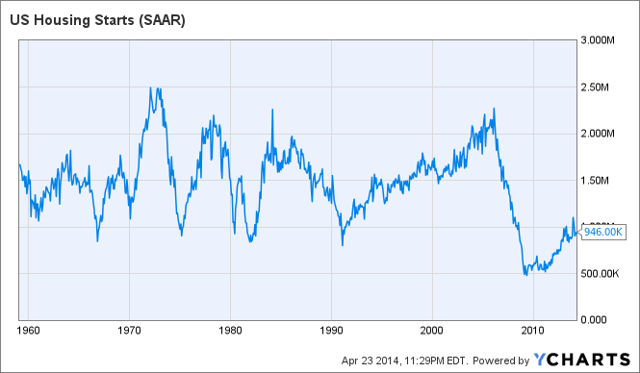 Important steps have been taken to deleverage the balance sheet. $325 million out of the $400 million in 10-year notes issued in 2008 were called in December of 2013. The remaining $75 million is planned on being redeemed soon as USG strives to reach its target leverage ratio of 1.5 to 2x debt-to-EBITDA. $300 million of that initial $400 million went to Berkshire, while the remaining $100 million went to Fairfax Financial Holdings (OTCPK:FRFHF). After receiving 10% interest, Berkshire converted its holdings into 21.4 million shares at a price of $11.40. Berkshire now owns over 30% of the company, which would fit in nicely with many companies Berkshire has made acquisitions of, such as Clayton Homes and Shaw Carpet.
Buffett has spoken numerous times about his belief in the housing turnaround in the United States, and has taken steps to capitalize on it. An acquisition of USG is quite possible, although not quite at this time. USG's use of net operating loss carryforwards would be restricted after a change of control. It's far more advantageous to let USG work through them for now. At $2.1 billion remaining, USG will not pay any federal income tax in 2014.
Disclosure: I am long USG, BRK.B. I wrote this article myself, and it expresses my own opinions. I am not receiving compensation for it (other than from Seeking Alpha). I have no business relationship with any company whose stock is mentioned in this article.