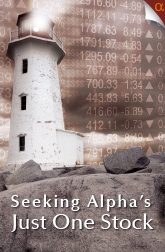 Several times a week, Seeking Alpha's Jason Aycock asks money managers about their single highest-conviction position - what they would own (or short) if they could choose just one stock or ETF.
---
Mark C. Minichiello is chief investment officer of the Los Angeles investment firm QCA Capital Management and managing director of Quincy Cass Associates. He's also a founding principal of Chicago-based research firm Spin-Off Advisors.
If you could only hold one stock position in your portfolio (long or short), what would it be?
CareFusion Corp. (NYSE:CFN), a medical-equipment maker, which is a spin-off of Cardinal Health (NYSE:CAH).
CareFusion's focus is on medical equipment that reduces medication errors and reduces hospital-acquired infections. The business is divided into two main segments: Critical Care Technologies, and Medical Technologies and Services. They make intravenous pumps, automated dispensing and patient identification systems, electronic infection surveillance, and ventilation and respiratory products.
The company was a spin-off from Cardinal Health because it had different capital requirements, distinct business needs and a different risk/reward profile from the parent. As an independent company, CareFusion is now free to increase its R&D budget to pursue high-growth medical products, to optimize management and staff incentives, and to pursue mergers and acquisitions.
How does your choice reflect your investment approach?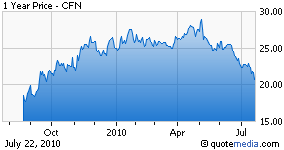 Our strategy is to identify and exploit opportunities in undervalued securities primarily in companies that have recently experienced an event that causes a discrepancy between its securities' intrinsic and market values. Our investment strategy is based on the premise that opportunistic events and market inefficiencies and inattention often cause securities' market valuations to materially diverge from their intrinsic values based on cash flow.
We typically invest in companies that have experienced spin-offs, reorganizations or other catalyst-driven events. CareFusion was spun out of Cardinal Health in August of 2009, and that's how it came onto our radar screen.
How much is your selection based on CareFusion's industry, as opposed to a pure bottom-up pick?
The industry certainly plays a role in our review process, but our investment style is a bottom-up approach. We generally look for a combination of cash flow potential, strong share position, high barriers to entry, recurring revenue stream and a strategic fit for an acquirer.
How is CareFusion positioned with regard to competitors?
CareFusion is No. 1 or No. 2 in all of its markets. Its largest market is infusion pumps under its Critical Care Technologies segment. This division generates about $1 billion in sales (25% of CareFusion's revenue). Their largest competitor in this market is Baxter (NYSE:BAX), which has recently experienced an FDA recall of their product, creating a great opportunity for CareFusion to pick up market share in the coming quarters. The Baxter recall affects about 200,000 units, or 25% of the market over the next two years.
How does CFN's valuation compare to its competitors?
CareFusion stock is off nearly 30% from a high of $30.08 on May 4, along with the rest of the industry. It currently trades around a forward P/E of 12.5x which is on the low end of the group's historical range and in line with comparables. However, it trades at a 6.6x EV/EBITDA multiple and a free cash flow yield of 9%, which is the low end of the comparables.
Spin-offs of course mean changes to the balance sheet; do you have any concerns about CFN's debt position (about $1.4B against $1.1B in cash)? It seems in a stronger position than Baxter, but with less free cash flow to work with.
I don't see any issues with their debt level. CareFusion's free cash flow is yielding about 9% per share. They should generate between $400 - $460 million each year for the next several years and could conceivably pay their debt off in three years. In 2011 - net debt to EBITDA is only 0.13x.
What about current sentiment on CFN?
The current sentiment is really set up for a bear case scenario on CareFusion, which I don't believe is the case. Hospital capex makes up 40% of their sales, which we have seen leveling off. Also, the FDA is reviewing its 510(k) approval process, which is the most common route for medical devices. Any slowdown in the approval process will certainly affect CareFusion's pipeline.
Their two primary goals are to increase operating margins, the lowest in the group, and to introduce over 40 new products within the next two years. If management can execute as I believe, you will see significant margin expansion in 2011.
Does CareFusion's management play a role in your selection?
Management plays a key role in any type of transformational event because execution is critical. Management has to motivate and energize employees while simultaneously changing the culture of the business, and meeting stated financial and operational goals.
These types of situations require a deep management team having a depth of knowledge and industry experience. In the case of CareFusion, David Schlotterbeck became the CEO; he was the vice chairman of Cardinal Health. The CFO is Edward Borkowski; he previously served as the CFO of Mylan Inc. (NASDAQ:MYL).
What catalysts, near-term or long-term, could move the stock significantly?
It has many new products in its pipeline and it's one of the best growth stories in the medical equipment space. CareFusion generates $3.9 billion in sales (69% domestic, 31% international) and should grow earnings in the mid to high single digits. CareFusion can deliver outsized returns in the next couple of years as it rationalizes its operations and increases its operating margins.
About the margins, what needs to happen for them to increase? CFN has an operating margin of just over 13% while Baxter is over 19%.
CareFusion needs a combination of new products with high margins and manufacturing operating efficiency. Spin-offs typically have bloated cost structures upon separation from the parent company. The spin-off management team usually steps in and improves the efficiency over the next two years.
What could go wrong with your pick?
The FDA could slow down the approval process for new products, hospital capex could remain depressed for an extended period of time, and - more important - management could fail to execute as anticipated.
Thanks, Mark, for sharing your pick with us.
Disclosure: QCA Capital Management is long CFN.
Read more Just One Stock articles »
If you are a fund manager and interested in doing an interview with us on just one stock or ETF position you'd hold, please email Rebecca Barnett.