Look out China, there's an Asian tiger on your heels. Singapore's economic growth soared 26% in the second quarter, and that's after first quarter growth of 45.9%. And that means that Singapore has seen its fastest growth ever in the first half of this year. And the government forecasts that GDP will expand 13 to 15% for the year (the last time full year growth was over 13% was 1972).
And Singapore's benchmark stock index, the Straits Times Index, has done well in the past year.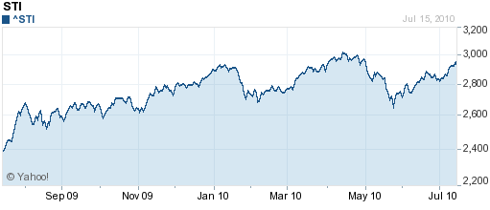 Click to enlarge
(Click to enlarge)

But that's not all, Singapore's housing market has surpassed Hong Kong, with prices rising 38.1% last quarter (Hong Kong gained 28.5%). But that doesn't necessarily mean a bubble … Singapore's properties are overvalued by 20.3%, while Hong Kong's market is overvalued by 53.6%.
And the government of Singapore isn't going to let the property market spiral out of control. Last year, the government banned interest-only mortgages on uncompleted homes. Then in February the government took steps to cool pricing pressure: it increased down payment requirements, and put stamp duties on homes resold within one year of purchase.
And there's more: while unemployment in the US remains stubbornly high, Singapore's jobless rate has fallen to 2.2% (the lowest level in almost two years).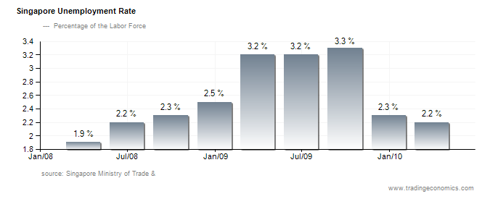 Click to enlarge
(Click to enlarge)
Oh, by the way, Singapore's per capita GDP is higher than the US, too.
Now, one of Singapore's problems is that its public debt stands at 113% of GDP (according to the CIA World Factbook), just a breath below that of Greece. The good news: much of that debt is held by the Central Provident Fund (Singapore's pension fund) and the securities are non-tradable. Beyond that, Singapore ranks 69th in the world on external debt … the US ranks number 1. And by the way, Singapore hasn't issued debt to fund deficit spending for over twenty years. That's not to mention the fact that Singapore ranks tenth in the world in terms of foreign exchange and gold reserves.
The bottom line: Singapore has a chance to overtake China as Asia's fastest growing economy. Now, Singapore is one of the four Asian tigers (along with Hong Kong, Taiwan and South Korea). But I don't think that title fits anymore. Tigers are fast, but Singapore is faster. Really, it's beginning to look more like an Asian cheetah.
As for investing, take a look at iShares MSCI Singapore Index (NYSEARCA:EWS): this ETF is a good opportunity to gain exposure to Singapore's equity markets, with top holdings in financials, industrial materials, and telecom.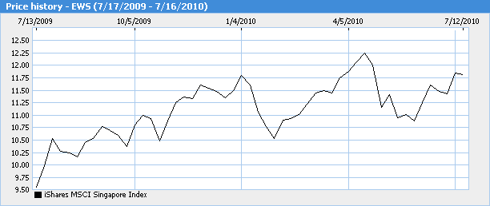 Click to enlarge
(Click to enlarge)
Disclosure: No positions