The lifeblood of the global oil tanker business is the international flow of oil across countries and continents, or the dependence on oil imports. Oil tanker trade is growing at its fastest rate in a decade. According to Icap shipping, the number of oil tonne-miles surged 10% to a record 7.8tn tonne miles last year. This is good news for oil shipping companies like Nordic American Tankers (NYSE:NAT), Teekay Corporation (NYSE:TK), and Frontline Ltd. (NYSE:FRO).
Tanker spot rates are driven by supply and demand. The demand side, in this case, consists of how much crude oil and other liquid petroleum products need to be shipped from one point to another. On the supply side is how many ships are available to transport crude oil and products around the world.
According to International Energy Agency, global oil consumption will increase by 1.4 million barrels a day, or 1.5% this year to a record 92.7 million a day. World's top five oil producers are Saudi Arabia, Russia, Norway, Iran and United Arab Emirates. World's top five oil importers are United States, China, Japan, India and Germany.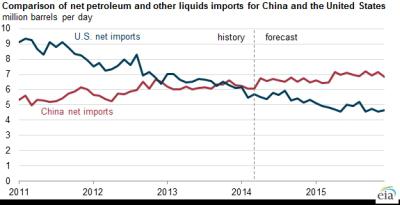 Source: tandlnews.com
The U.S. was the world's largest importer of oil for many years. But in September 2013, China has passed the United States as the world's biggest oil importer. The rise in China's net imports of petroleum and other liquids is driven by steady economic growth, with rapidly rising Chinese petroleum demand outpacing production growth. Between 2011 and 2014, U.S annual production of petroleum and other liquids is estimated to grow 31% to 13.3 million barrels per day. In contrast, Chinese production will increase at a much lower rate of around 5% for the same period.
US crude oil production and lease condensate is expected to increase 13.9% to 8.54 million b/d this year. Last year, U.S. crude oil production increased by 1.01 million b/d, about 15.5%. This increase was driven by tight oil developments in Texas, North Dakota, and other locations, helped by increased drilling efficiency and well productivity. North Dakota's production reached a record 887,000 b/d last year, representing an increase of 33.8% over the previous year.
Due to increasing production, U.S. oil imports are decreasing. According to OGJ forecast, U.S. crude oil imports will decrease 13% to 6.6 million b/d this year. This represents a decrease of 11% over the last year. Although, U.S. oil imports are expected to decrease, on the other side, its oil exports are expected to increase. OGJ forecasts that US oil exports will increase 7.1% to average 3.69 million b/d this year.
Looking at China, CNPC (China National Petroleum Corporation) forecasted that China's oil demand will grow 4% this year. A large part of this expansion will support crude imports because the country's domestic crude oil production is expected to increase 2.2%, while several refineries are expected to come online. As a result, China's net crude imports are forecast to increase 7.1%, to 5.96 million barrels a day.
Price also affects the crude oil demand. When prices of crude oil increases, the demand decreases because folks are no longer willing to buy crude. As a result, the demand for shipping crude oil worldwide will also decrease, causing tanker spot rates to go down as well. However, this rate drop is an indirect effect of rising oil prices, which is why the relationship between crude oil prices and tanker spot rates isn't easily quantifiable.

Source: eia.gov
Brent crude oil spot prices averaged $107 per barrel in March. The Brent crude oil price is expected to average $105 per barrel in 2014 and $101 per barrel in 2015. The WTI crude oil spot price has decreased to $95/bbl in January 2014 and then increased to an average of $101/bbl in February and March. EIA forecast that WTI crude oil prices will average $96/bbl and $90/bbl in 2014 and 2015, respectively. Decrease in WTI and Brent crude oil will increase the oil demand, as a result, demand for tankers will increase.
Looking at supply growth of tankers, the global tanker fleet is expected to grow by only 1.2% and 1.3% in 2014 and 2015, respectively. This is the smallest fleet growth rate since 2001. The new tanker ordering increased from 13.9 mdwt in 2012 to 33.6 mdwt in 2013. Between 2000 to 2012, annual orders averaged 35.8 mdwt.
Increasing oil imports, exports will benefit almost all the tanker companies. I have evaluated the financial performance of some major oil shipping companies to help investors to choose the best one.
| | | | | |
| --- | --- | --- | --- | --- |
| | NAT | FRO | TK | Industry |
| Market Cap. | $659.39 M | $347.9 M | $4.06 B | N/A |
| EPS | -1.65 | -2.37 | -1.63 | N/A |
| P/E (ttm) | N/A | N/A | N/A | 11.08 |
| Price/Sales | 2.73 | 0.67 | 2.19 | 0.56 |
| Price/Book | 0.78 | N/A | 3.55 | 0.86 |
| Current ratio | 6.82 | 1.99 | 1.27 | 1.45 |
| Total Debt/Equity | 29.24 | N/A | 208.34 | 112.19 |
| Dividend yield | 10.60% | N/A | 2.30% | 1.17 |
| Beta | 1.72 | 3.44 | 1.41 | 1.39 |
Source: Yahoo finance
The chart represents that Nordic is more liquid and less volatile than Frontline and Teekay. Nordic's current ratio is much higher than Frontline and Teekay. A higher current ratio means the company is more capable of paying its obligations. Also, its total debt/equity ratio is 29.24x, the lowest among the three. Lower values of debt-to-equity ratio are favorable indicating less risk. A lower debt/equity ratio means that a company is using less leverage and has a stronger equity position. Looking at Price/Book and Price/Sales ratio, Nordic seems undervalued as compared to Frontline and Teekay.
Bottom Line
Due to increasing oil consumption, Chinese oil imports will increase in the coming years. This will benefit all the above mentioned companies. Although, U.S. oil imports are expected to decrease, but on the other side, its oil exports are expected to increase. As a result, tanker's demand will be there from the U.S. I expect that these oil shipping companies will deliver solid returns to their investors. However, If I have to choose one among the three, I will prefer Nordic over Frontline and Teekay.
Disclosure: I have no positions in any stocks mentioned, and no plans to initiate any positions within the next 72 hours. I wrote this article myself, and it expresses my own opinions. I am not receiving compensation for it (other than from Seeking Alpha). I have no business relationship with any company whose stock is mentioned in this article.