Energy exploration companies have made significant investments over the past two years in response to the improving economy. Unstable gas prices forced many companies to find liquid plays. That shift in the energy sector forced companies to invest heavily, and as a result, business increased for the oilfield service companies. Oilfield services companies provide the engineering, products and services that are needed to complete complicated drilling and exploration activities and extract and transport natural gas and oil.
With steady growth in the economy, oilfield services companies have generated record growth over the past two years. The entire energy sector is making massive investments to find new energy sources, while enhancing existing assets. This, in turn, increases the demand for oilfield services companies like Halliburton Company (NYSE:HAL), Baker Hughes Inc. (NYSE:BHI) and Schlumberger (NYSE:SLB).
Where Does Halliburton Stand?
Halliburton is one of the top-rated companies in the oilfield services industry. It offers products and services for the exploration, development and production of oil and natural gas to the entire energy industry. It has earnings momentum because of the growth in the economic environment and increases in the search for energy resources. Further, demand for Halliburton's products and services is gearing up because locating and extracting energy resources is turning out to be more complex.
The good news for Halliburton is that it has seen increasing demand for its products in the international markets. In the first quarter of this year, it generated 13% revenue growth in the Middle East and Asian region. In Europe, Africa and CIS, revenue growth was higher by 7% and operating income was higher by 21%. In North America, the company grew revenues by 5%, and it has significantly more growth potential; its growth in North America was slowed by a harsh winter season during the first quarter. However, it is expecting much better growth in coming months. The weakest area for Halliburton was in Latin America, where the company is having a tough time, as the entire region is going through a transition phase.
Overall, its innovative new technologies, strategic investments, operational efficiencies and increased pricing were the catalysts that resulted in Halliburton reporting record growth in both its top and bottom line in 2013 and in the first quarter of 2014. Strong demand for its products like perforating and testing, completion tools, Multi-Chem service and wireline technology led to record revenues. Particularly its Multi-Chem service, perforating and testing product lines, Boots & Coots activity and software sales set new landmarks for sales and operating income.
With the strategy of creating a portfolio of innovative products and services that meet customer demand, the company is set to grow even further during this year. After record revenue growth in 2013, the company is set for another year of strong performance in 2014, with single-digit growth in revenues and a more than 20% expansion in margins. Halliburton's cash generating potential will allow it to continue investing in the company and increase dividends for investors. In the latest quarter, its cash flow from operations was $954 million and its capital expenditures were $643 million, resulting in free cash flow of $311 million. Its free cash flow will allow for dividend payments of $127 million. I believe that Halliburton will increase its dividends in the second half of 2014, just as it did in 2013. We can expect additional increases in the free cash flow in 2014, as the company is expecting much better growth in the second half of the year.
Where Do the Other Players Stand?
Baker Hughes offers products and drilling services for the exploration, completion and production of gas and oil wells, reservoir technology and fluids and chemicals. Its high-technology products and services like logging-while-drilling services, remote monitoring to highly complex deepwater wells, dynamic kill drilling fluid systems, and wireline-conveyed cased hole logging are generating strong sales for the company throughout the world.
Its revenue growth is high, at more than 15% in the past three years. It saw 10% growth in revenues in the first quarter of this year and nearly 29% growth to its net income. The company has growing momentum and expects strong 2014 results, as it has won multiple contracts in the Middle East, Australia, North Africa and Russia. Looking forward, Baker Hughes' free cash flow will ensure that it can continue to make capital investments and pay dividends.
Schlumberger is also one of the strongest company's in the oil services industry. Its revenue growth in the past three years is very high, at 17%, with a net margin of 14.5%. It offers technology, integrated project management and information solutions to the global oil and gas industry. Its software and multi-client license sales in Australia, Ecuador, North America, the Middle East, Asia and Argentina are very strong. The company generated strong growth in the first quarter of 2014, when revenues increased to $11.24 billion, compared to $10.57 billion in the first quarter of 2013. Schlumberger's cash position is also very strong. In 2013, its free cash flow was $5.8 billion, with dividend payments of only $1.6 billion.
In Conclusion
| | | | | |
| --- | --- | --- | --- | --- |
| | HAL | SLB | BHI | Industry Average |
| Price/Earnings TTM | 27.0 | 19.2 | 28.5 | 25.7 |
| Price/Book | 3.9 | 3.4 | 1.6 | 2.5 |
| Price/Sales TTM | 1.9 | 2.9 | 1.3 | 1.8 |
| Forward PE | 12.5 | 14.8 | 13.7 | |
| Rev Growth (3-Yr. Avg.) | 17.8 | 17.4 | 15.8 | 15.8 |
| Net Income Growth (3-Yr. Avg.) | 5.0 | 16.4 | 10.5 | 14.6 |
| ROE TTM | 14.5 | 18.1 | 6.3 | 10.6 |
(Source: Morningstar.com)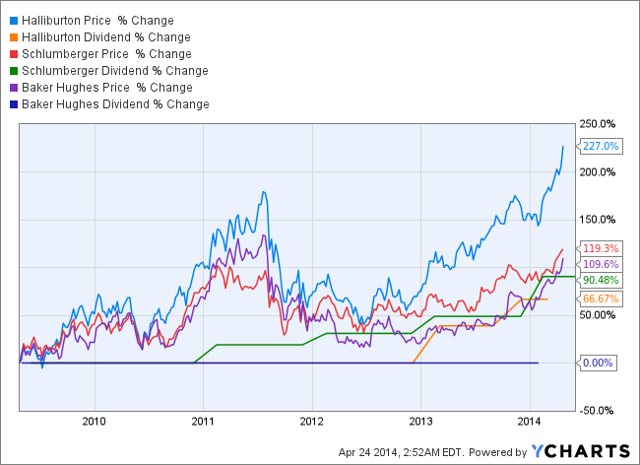 As you can see from the above table and chart, all three companies have strong momentum. Further, they are on track to generate big profits in this year as well. However, in terms of returns for investors, Schlumberger looks to be a winner. The company's return on equity (19.6%) is higher than its two competitors. Its dividend yield (1.6%) and dividend growth are also higher than its competitors. In addition, it has a strong stock buyback program. Finally, its cash generating potential is very strong, and there is plenty of free cash with which to continue or increase dividend payments.
It is difficult to pick the best out of these three companies, each of them has a strong history, and I am expecting price appreciation and a dividend increases from all three of them. However, if I had to recommend one, it would be Schlumberger. I like Schlumberger because it is undervalued, with a low PE (19.2), a high forward PE (15.2), strong revenue and cash flow growth, the ability to make consistent increases in its dividends and the potential for steady price appreciation.
Disclosure: I have no positions in any stocks mentioned, and no plans to initiate any positions within the next 72 hours. I wrote this article myself, and it expresses my own opinions. I am not receiving compensation for it (other than from Seeking Alpha). I have no business relationship with any company whose stock is mentioned in this article.