Tourism is a trillion-dollar industry, and Priceline.com Incorporated (NASDAQ:PCLN) rules this space. Priceline's stock had a stunning performance over the last five years. An investment of $100 in PCLN in December 2008 grew to $1,578 by 2013. PCLN has been very successful in capturing the huge business opportunities presented by e-commerce in the last decade. PCLN's growth is still very strong, and it does not seem to be slowing down.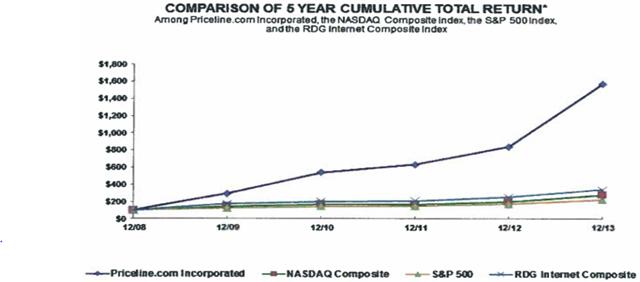 If we compare PCLN's returns with that of other indices, we see that the highest-performing index rose to $344 and other indices produced much inferior returns compared to PCLN. These returns are calculated assuming dividends received are reinvested.
Can This Performance be Replicated in the Future?
Success in the e-commerce world is heavily dependent on the quick and successful adaptability of operations and business models. Priceline's success depends on how successfully it adapts to the changing landscape, and in past years, it has done a fabulous job. Mobile commerce is a hot phenomenon that is changing the game in e-commerce, and PCLN successfully used this platform to grow its business. In coming years, PCLN will only be able to replicate its explosive performance if it successfully adapts to new opportunities before competitors. Judging by PCLN's current performance, it is expected to do a fantastic job in the future. The following is a summary of Priceline's strong financial performance, in which we see the strength in its top and bottom lines and cash flow growth depicting the company's financial discipline. Financial discipline is another important strength that is helping PCLN to thrive.
Priceline's Story of Explosive Growth

In 2013, the company's top line grew by 29% and its net income grew by 33% YOY. Since 2004, the top line grew at a CAGR of 25% and its revenue grew every single year. Its revenue growth did not slow down even during the years of the most difficult economic conditions. Gross margins have improved over the years, from 21.7% in 2004 to the highest-ever level of 84.1% in 2013. Operating margins also improved over the years, from 3.3% in 2004 to the highest-ever recorded level of 35.5% in 2013. Operating cash flow also increased by 28%, in line with revenue and net income growth rates.

PCLN is a genius that knows how to surprise and delight customers with its offerings. The company did an amazing job by booking more room nights in 2013 compared to 2012. Room nights increased by 36.9%, from 197.5 million in 2012 to 270.5 million in 2013. Rental car days also increased from 32 million to 43.9 million, reflecting a 37% increase YOY. Airline tickets also increased from 6.4 million to 7 million, reflecting a 9.1% increase. PCLN's most significant brand, bookings.com added 150,000 new properties to its destination list in 2013, that now includes over 425,000 properties worldwide. New properties were added mostly from North America, the Asia-Pacific region and South America.
The Company is Positioned to Capture Growth
One of Priceline's biggest strengths is that it is geographically diversified, and this is expected to give PCLN continued growth in coming years. With operations in nearly 200 countries, the company has huge penetration in the developed countries of Europe and North America, and it is also present in the rapidly developing emerging regions of the world. PCLN was a late entrant in the North American market, but it is doing well and capturing this vibrant tourism market.
Eighty-five percent of the gross booking on its top performing brand, booking.com came from international markets, and especially from the Asia Pacific region, including China. North America is a relatively new market, as mentioned before, and a good amount of growth is also coming from this region through booking.com. Going forward, Priceline's huge presence in emerging markets is going to give it growth opportunities, as these regions are forecasted to see growth in per capita income. So we should expect that PCLN will capitalize on this growth trend.
Proactive: One Step Ahead of the Game
Being the king means PCLN has ruthlessly pursued every growth opportunity before its rivals. Priceline's strategy is expected to keep the company at the top of its game in the coming years.
Mobile commerce has been a key determinant of growth in recent years for e-commerce businesses, and PCLN invests heavily in mobile commerce capabilities. PCLN made a billion dollars' worth of revenues through booking.com via mobile interfaces in 2011. This figure rose to $8 billion in 2013. Mobile interfaces are very important channels for PCLN to extend its products to its customers.
Online travel is a very competitive space, especially now Google (NASDAQ:GOOG) is taking more interest in this space and has licensed hotel booking software from Room 77. Through this, Google will push its users to book their travel though this app. This will increase competition for PCLN.
Relative Valuation
The company's P/E ratio is 22.51, and it is lower than the industry and sector, but higher than the P/E ratio of the S&P 500. The PEG ratio that scales the P/E ratio with expected growth is a good relative valuation measure, especially for companies that are rapidly growing. Priceline's PEG ratio is 1.14 times, and it is lower than the industry, sector and S&P 500. This shows that the company is relatively undervalued and presents a good investment opportunity for investors that want exposure in a rapidly expanding internet business. The recent correction in tech stocks makes it an important entry point.

Source: Yahoo Finance
Conclusion
PCLN is an e-commerce genius that is run with strict financial discipline. Its ability to capitalize on growth opportunities ahead of its competition makes it an outstanding business. It is well-diversified, and is positioned to cater to the huge travel market in developed markets, while at the same time maintain a huge presence in developing markets to fuel its growth in coming years. Based on its multiples, it is relatively undervalued, and therefore, a good investment at present.
Disclosure: I have no positions in any stocks mentioned, and no plans to initiate any positions within the next 72 hours. I wrote this article myself, and it expresses my own opinions. I am not receiving compensation for it (other than from Seeking Alpha). I have no business relationship with any company whose stock is mentioned in this article.