A recent article on Zero Hedge entitled, "The Rise of the Fatty" has inspired me to revisit a company that I used to cover on this site but have admittedly been fairly neglectful towards as of late. That company is Danish pharmaceutical giant Novo Nordisk (NYSE:NVO) which specializes in making products that treat diabetes. The Zero Hedge article is fairly offensive from a humanitarian point of view as it focuses exclusively on the burdens that obese people will place on everyone else that will need to share in the cost of providing medical care for these individuals. However, the article does show that obesity is becoming an epidemic and with it come the various medical conditions that accompany obesity.
One of these conditions is type-2 diabetes. According to the Centers for Disease Control, there is a scientifically proven link between obesity and type-2 diabetes. In fact, the risk of developing this condition increases even before the individual medically qualifies as "obese." The American Medical Association states that,
"Risks for developing these conditions [including type-2 diabetes] increase as weight increases."
Unfortunately, obesity is becoming more prevalent throughout the world. The Zero Hedge article included this graphic that shows the growing number of people around the world that suffer from obesity: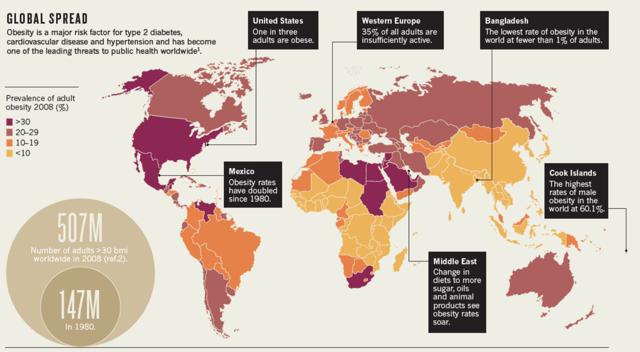 Source: Nature, Zero Hedge
The data that was used to assemble this chart is supported by findings by the Centers for Disease Control. According to the CDC,
35.9% of American adults are obese.
69.2% of American adults are overweight.
For the purposes of these statistics, an American adult is defined as any individual living in the United States who is at least twenty years old.
As frightening as these statistics are, it does get worse. This is because it is not only adults that are rapidly putting on weight but our children are too. In addition, our children are putting on weight at younger and younger ages. The CDC breaks these figures down by age group:
18.4% of adolescents aged 12-19 are obese.
18.0% of children aged 6-11 are obese.
12.1% of children aged 2-5 are obese.
One of the reasons why the growing prevalence of childhood obesity is so concerning is because of the problems that accompany it. These problems include the same health conditions and concerns that come with adult obesity but these conditions are coming at a younger age. According to the CDC, these risks include (bold text added for emphasis):
Obese youth are more likely to have risk factors for cardiovascular disease, such as high cholesterol or high blood pressure. In a population-based sample of 5- to 17-year-olds, 70% of obese youth had at least one risk factor for cardiovascular disease.
Obese adolescents are more likely to have prediabetes, a condition in which blood glucose levels indicate a high risk for developing diabetes.
Children and adolescents who are obese are at greater risk for bone and joint problems, sleep apnea, and social and psychological problems such as stigmatization and poor self-esteem.
Children and adolescents who are obese are likely to be obese as adults and are therefore more at risk for adult health problems such as heart disease, type-2 diabetes, stroke, several types of cancer, and osteoarthritis. One study showed that children who became obese as early as age two were more likely to be obese as adults.
The point of all of this is that type-2 diabetes is likely to become increasingly common going forward due to the high obesity rate among adults and the rising obesity rate among children. In the case of obese children, they are likely to contract diabetes at a younger age than what previous generations or the newly obese adults did and so will likely require treatment for longer periods of time and thus consume more diabetes care products.
This is where Novo Nordisk comes in. As the world's largest supplier of diabetes care products, the company will see a growing demand for its products as diabetes becomes more common.
In fact, we can already see evidence of this rising demand by looking at the company's sales growth. This chart, which comes directly from the company's 2013 annual report, shows Novo Nordisk's annual sales in each of the past five years:

Source: Novo Nordisk
This sales growth has translated into an expanding bottom line as well.

Source: Novo Nordisk
As you can see from the chart, Novo Nordisk has successfully grown its bottom-line profit from DKK 10.77 billion in 2009 to DKK 25.18 billion in 2013. This represents a growth rate of 133.8% over the five year period. This growth is likely to continue as diabetes becomes more common and more people require treatment for it.
Novo Nordisk also has a very promising R&D pipeline that contains several products that are intended to treat type-2 diabetes. The company has already filed for approval from the respective regulators for permission to sell several of these drugs.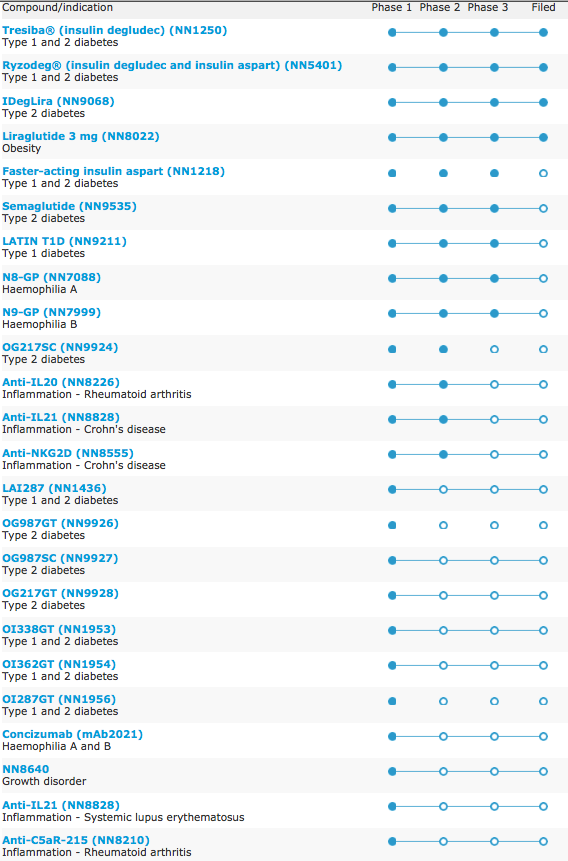 Source: Novo Nordisk
Here is just a brief overview of a few of these drugs:
Tresiba: Tresiba is a basal-insulin that has a rather long duration of action of 42 hours. The drug is currently being sold in the E.U., Japan, and elsewhere but has not yet been approved for sale in the U.S.
Ryzodeg: Ryzodeg is a co-formulation of Tresiba and NovoRapid (NovoLog), a rapid-acting mealtime insulin. Ryzodeg is currently approved for sale in the E.U., Japan, and elsewhere but has not yet been approved for sale in the U.S.
IDegLira: IDegLira is a combination of Degludec and liraglutide that is intended to offer the benefits of both drugs at once. The drug is currently under regulatory review in the E.U.
All of these drugs are intended to treat type-2 diabetes. However, not one has received regulatory approval by the FDA. Assuming that approval is granted, it should be easy to see how these drugs could be quite stimulative to the company's forward growth if they become widely accepted by doctors in treating their patients.
Despite the company's strong fundamentals, the stock price may have gotten ahead of itself. As I already mentioned, Novo Nordisk has more than doubled its earnings over the past five years. However, the stock has gone up by significantly more than that.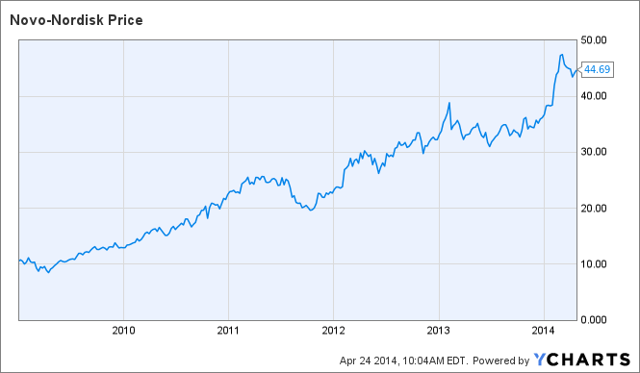 As the chart shows, Novo Nordisk traded for a split-adjusted price of $10.67 in January 2009 and trades for $44.70 today. This is certainly partially due to earnings growth but it is also due to the P/E expansion that most stocks have experienced over the same time period. Analysts seem to agree. According to Zacks' Investment Research, Novo Nordisk currently trades with a PEG ratio of 1.99. In general, a PEG ratio of more than 1 indicates that the stock is overpriced relative to forward growth.
With that said, I do think that there is a lot to like here and I think that the company could certainly have a place in a long-term investor's portfolio. I would just prefer to wait for a dip before adding to my existing position.
Disclosure: I am long NVO. I wrote this article myself, and it expresses my own opinions. I am not receiving compensation for it (other than from Seeking Alpha). I have no business relationship with any company whose stock is mentioned in this article.