By David Russell
Dividend-rich pipeline stocks have been rallying along with Treasury bonds, and traders expect a reversal.
optionMONSTER's Depth Charge tracking system detected a large bearish trade on Alerian MLP Index (NYSEARCA:AMJ) exchange-traded note, which tracks the performance of companies including Enterprise Products Partners, Kinder Morgan Energy Partners, and Plains All American Pipeline.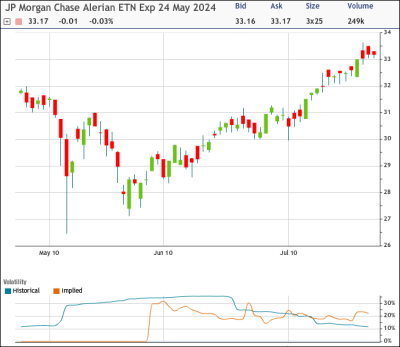 The transaction included the purchase of 4,100 September 33 puts for $1.35 and the sale of an equal number of September 30 puts for $0.25, resulting in a net cost of $1.10. Volume was more than four times open interest in both strikes.
This bearish vertical spread will earn a maximum profit of 173% if AMJ closes at or below $30 on expiration. The trade followed a similar pattern of put buying yesterday.
The security is off fracionally to $33.17 in afternoon trading. It has risen about 10% in the last month but seems to be running out of energy as its underlying stocks approach resistance levels or stand at all-time highs.
The note is a debt obligation of JP Morgan that tracks the sector. It was designed to eliminate some of tax complications that result from direct ownership in the equities, which are structured as master limited partnerships.
AMJ has rallied as the yield on fixed-income products such as Treasury notes plummeted. If investors expect money to leave fixed-income products, that could hurt pipeline stocks, which pay dividend yields of 5-7%.
Overall options volume in the note is 19 times greater than average so far today, with puts accounting for more than 99% of the activity.
(Chart courtesy of tradeMONSTER)