We have received a huge chunk of earnings data over the last two days, so it might be helpful to take a step back from the flurry of new reports and take a look at some highlights and lowlights of the earnings season thus far. Overall, we've seen some volatility on earnings but not as much as you might expect. Of the 529 tracked by Bespoke that have reported as of this morning's open, there has been on average a slightly negative reaction to earnings, averaging a 20 basis point decline in share prices in the day following an earnings report. Slightly less than half (266 or 48.45%) have had a gain, while 51% or 280 have had a negative reaction. Three stocks have been flat on the day following their earnings, including Royal Caribbean (NYSE:RCL), NorthWestern (NYSE:NWE) and Simon Properties (NYSE:SPG).
In terms of big gainers, we've seen some strong performances by Technology, Industrials, Healthcare and Consumer Staples, led by Insteel Industries' (NASDAQ:IIIN) 16.89% reaction, XOOM's (NASDAQ:XOOM) 16.85% pop and iGate (NASDAQ:IGTE) jumping 16.42% following its release.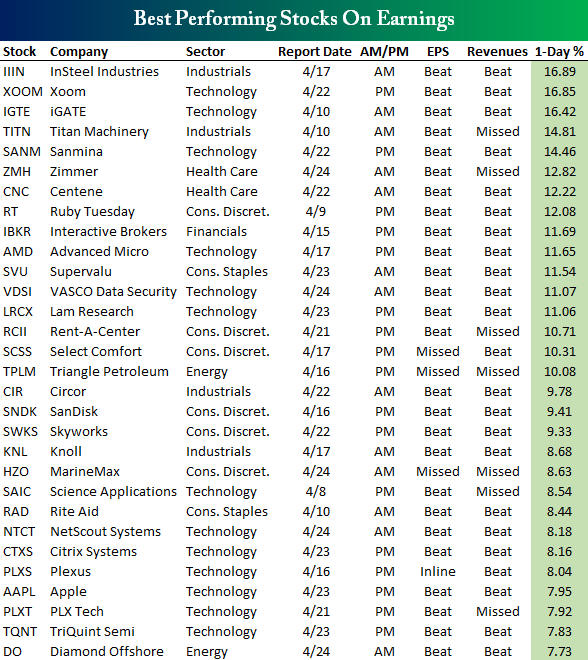 While MarineMax (NYSE:HZO) and Triangle Petroleum (NYSEMKT:TPLM) managed to jump despite missing both EPS and revenue estimates, that under-delivery of results is far more common for the stocks in our next table. These 30 names fell the most following their earnings release.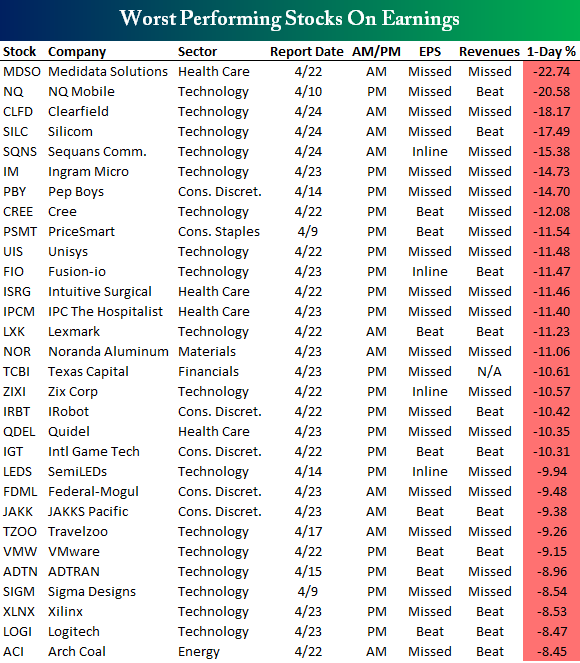 The volatile Technology sector is also a big presence on our list of worst performers out of earnings. Joining it are a smattering of Consumer Discretionary names. There also are a few outliers on this list. While the biggest losers all missed EPS, a bottom-line beat was no guarantee of good trading following a quarterly report. VMware (NYSE:VMW) and International Game Tech (NYSE:IGT) actually managed to lose over 9% and 10%, respectively, despite beating on both top and bottom line. Lexmark (NYSE:LXK) did even worse, losing 11% on a relatively strong beat in terms of profit and revenues.