The charts never lie. But – half a truth is ever the blackest of lies.

We have all seen them before. The charts with gold at constant (inflation-adjusted) prices. They usually support various stories: why gold is an inflation hedge, why gold is not an inflation hedge (in the 80s and 90s); why gold is a bubble and why gold is not a bubble.

Depending on what deflator you use, the charts look optimistic or pessimistic. Of course, 90% of readers of media geared towards the general public, such as the Economist, take charted data for granted. Hence, these graphics are a good way of leading the reader into believing your story. The remaining 10% of curious readers you can discourage from questioning the chart by not stating which deflator you used. It can be the CPI-U, CPI-W, the pre-Clinton CPI and so on. Depending on which one you use, you can double or half inflation.

Below, 10 examples of such charts are shown. Sit back and try to grasp the first impression each one of them makes on you. What story are they telling?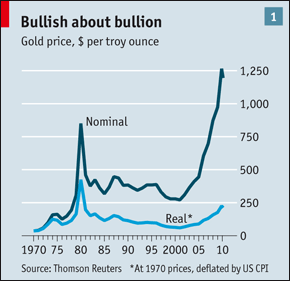 1) Just two days apart (July 6 and July 8, 2010), the Economist published two articles on gold containing these two different charts (No.1 and No.2). The latter article, titled "Store of Value", featured a chart in which the gold price is adjusted at 1970 prices (above). Optically, this chart suggest that there is still a lot of room for an upwards movement ($250 to $450; +80%). Original story and chart.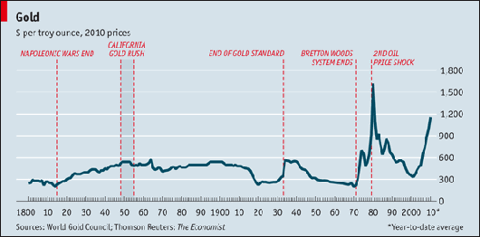 2) In the other article, titled "After the gold rush", the gold price is adjusted at 2010 prices. Here, the upside seems much more limited ($1,200 to $1,650; +38%). It is unclear which deflator the Economist and its contributors used, but it must have been hard to find an index with lower inflation than the CPI. Using the 2010 CPI-U, you get a 1980 peak of about $2,300. Original article and chart.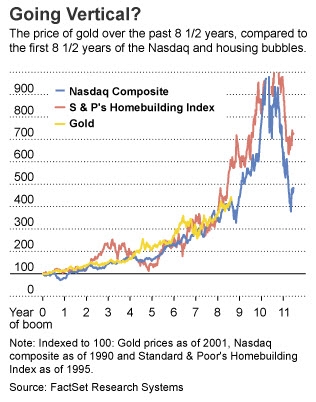 3) Comparing gold with other asset classes can add yet another twist. Demonstrated here by a WSJ chart which suggests that gold may be a bubble but its price could still double or triple before bursting. Original article and chart.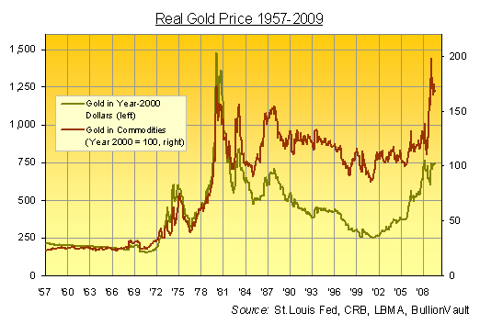 4) BullionVault: Gold price at 2000 prices and gold in commodities. Interestingly, if you compare it to the Economist chart (chart No 2), you will notice that the 1980 peak in the Economist is also around $1,500, at 2010 prices, which, of course, doesn't make sense and one of the charts has to be wrong (the Economist's). Original article and chart.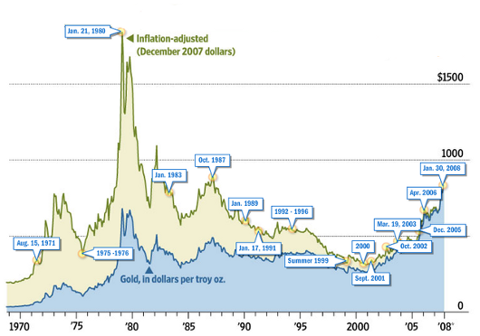 5) A relatively neutral WSJ Chart from January 2008, gold at inflation-adjusted December 2007 dollars. Original article and chart.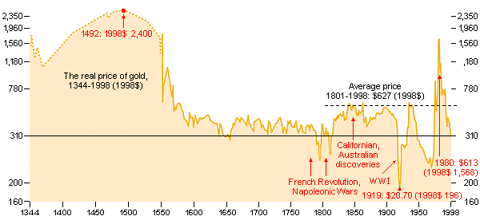 6) Chart of unidentified origin. Gold at 1998 prices. I guess the story could go: A prolonged period of a high gold prices such as between 1344 and 1550 is possible. Original article and chart.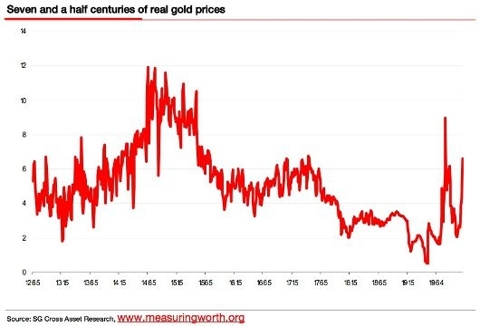 7) Inflation adjusted gold price 1265 - ~1990. A sister chart of number 6, Societe Generale Cross Asset Research, unknown deflator. Original article and chart.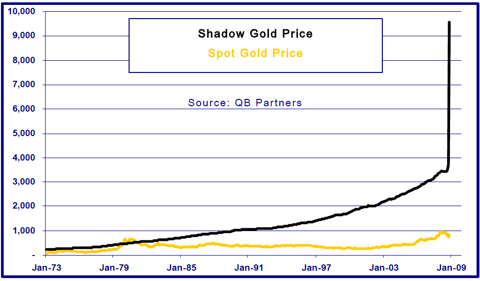 8) I was hesitant about including this chart, but then I did to show that charts are not resistant even to the wildest fantasies. Paul Brodsky & Lee Quaintance run QB Partners, a private macro-oriented investment fund based in New York: "As we discussed in 'A Not-So Modest Proposal', one would simply divide the dollar amount of current Fed liabilities by official gold holdings. This calculation, while simple, is intellectually honest and produces a breathtakingly large 'equilibrium' gold price of approximately $9500 per ounce today ($2.5 trillion divided by US official gold holdings of 8100+ metric tons)." Original article and chart.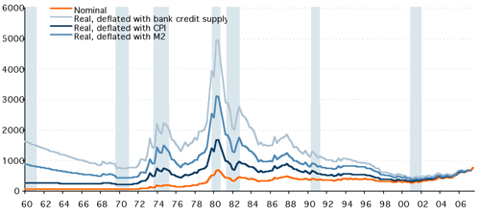 9) Gold price deflated with bank credit supply, CPI and M2, November 2007, Moneyweek. A very interesting chart, if you are willing to admit that inflation at some point catches up with the expansion of the money supply. It is probably safe to say that in the long run (1950-2000) it has never failed to do so. Given the money printing that happened between 2000 and 2010 ... now you know where the $5,000 gold forecasts are coming from. Original article and chart.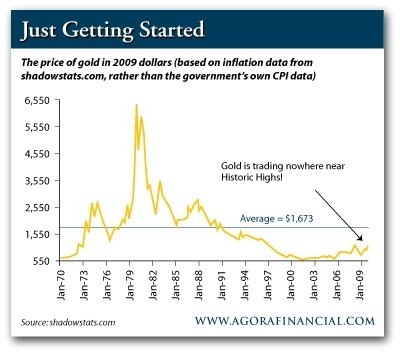 10) Real Gold price 1970-2009 deflated with pre-Clinton CPI (shadowstats). This chart (apart from the psychologically effective lifted x-axis) is interesting because it uses the pre-Clinton CPI calculated by shadowstats.com. The upside demonstrated here is indeed very impressive and shows about the same potential as chart No 9. It also supports the assumption that inflation is a direct function of the money supply in the long run. Original article and chart.

Conclusion
Given the uncritical way of media consumption, followed by far-reaching actions (investing), it is clear that most of the investment choices of the broad public will be suboptimal. Even worse, most of these charts and articles encourage binary thinking: "Should I buy gold or not?" A more fluid mindset would reflect the nature of our world much better.

If the likelihood of gold's appreciation is just 50% (gold price forecasts by most experts suggest it to be much higher), I sure want to participate in that market, especially given the tremendous upside. Just in case, even if it's a small investment. Hence, a better question would be: "How much gold should I own right now?"

In any case, it's good news that the variety of information is so vast that those who chose to get informed can get the big picture. By the way, which chart did you like the best?


Disclosure: Long gold