I originally posted this piece on my blog on July 17, 2010. I hope you find the idea timely and useful.
| | | | |
| --- | --- | --- | --- |
| Date of Report | 7/17/10 | Shs Outstanding (mm) | 24.9 |
| Current Price | $2.40 | Institutional Holding | 76% |
| 52-Week Range | $1.97 - $5.63 | Fiscal Year End | Dec. 31 |
| Avg Daily Volume | 107,977 | Book Value (mm) | $152.9 |
| EPS (FY 2009) | ($1.15) | Market Cap (mm) | $59.9 |
| P/E (NYSE:TTM) | N/M | Price / Book | 0.39x |
| Dividend Yield | 0.00% | Industry | Retail |
| Index Membership | NasdaqGS | | |
INVESTMENT THESIS:
A.C. Moore Arts & Crafts, Inc ("A.C. Moore" or "ACMR") is an attractive investment opportunity from both an asset and earnings perspective. Current macroeconomic and industry conditions are masking the fundamental improvements in ACMR's underlying business as a direct consequence of its operational turnaround plan. This opportunity offers the patient investor a chance to engage in what I call "time arbitrage." Warren Buffett once stated that "the future is never clear, you pay a very high price in the stock market for a cheery consensus."
BUSINESS DESCRIPTION:
A.C. Moore is a specialty retailer of arts, crafts and floral merchandise for a wide range of customers. The Company operates 136 stores in the Eastern United States, ranging from 20,000 to 25,000 square feet. The Company targets women aged 35 and older.
According to its Attitude and Usage Study for the twelve months ended June 30, 2009, the Craft and Hobby Association ("CHA") found that the industry size was approximately $27 billion. A.C. Moore competes against multi-store arts and crafts retailers (e.g. Michael's Stores Inc.), mass merchandisers (e.g. Target), and small local specialty retailers. The Company believes that competition is based on product assortment, convenience, customer service, and pricing. The industry is fragmented in nature, but oligopolistic in structure, with only four stores achieving annual sales over $100 million.
THE TURNAROUND PLAN:
In 2007, the Company introduced its turnaround plan to improve store profitability, expand gross margins, and upgrade its information technology systems. Below, I outline several of these key initiatives, which I later evaluate by dissecting the economics of the retailing business as it relates to ACMR. For further information regarding the turnaround plan, please reference the Company's 2007, 2008, and 2009 Annual Reports (under Business and Operating Strategy).
Improve Store Profitability
Decreasing Store Payroll Costs. Management pursued this initiative by shifting the Company's labor mix from more expensive full-time employees to less costly part-time employees. Today, its full-time/part-time employee mix is 35%/65%, a much improved position from its 43%/57% mix in 2006. In addition, ACMR further cut costs by reducing total employee headcount from 4,941 to 4,400, while also increasing its store base from 122 to 135.
Real Estate Optimization Strategy. This strategy resulted in the closure of two underperforming locations in 2007, and nine underperforming locations in 2009.
Advertising Spending. The Company was able to increase the efficiency in which it spent advertising dollars by lowering per store advertising expenses from $294/store in 2006 to $202/store in 2009.
Introducing a New Standardized Store Model. In 2007, ACMR introduced a new store prototype, dubbed the Nevada model. The Nevada model serves two distinct purposes: 1) to increase the level of standardization across the organization, and 2) to drive operating efficiencies. Per management guidance on its 1Q10 conference call, the Company expects to have converted 30% of its stores to the Nevada prototype by Fiscal Year End (FYE) 2010. Preliminary evidence supports this new store model. On a year-over-year basis, Nevada stores comped (comparable sales) +1.7% versus -5.7% for its traditional stores in 1Q10 (a spread of 720 basis points), a slight decrease from the 710 basis point spread in 4Q09. Management intends to convert its entire store base to this model over the next few years.
Increase Gross Margins
ACMR set out a plan to improve gross margins through a combination of category management, sourcing, and supply chain initiatives.
Cross-Docking. Cross-docking refers to the practice of shipping items to a centralized warehouse or distribution center. For FYE 2006, 64% of all orders were shipped directly to stores, whereas today only 47% are shipped via this method. By 3Q10, management believes that 80% of its inventory will be shipped through the cross-docking method. Since direct store shipments are more expensive, this practice reduces total shipping costs (improving gross margins), while also allowing management to focus more of their time on client facing activities.
Information Technology. Upgrades in the firms Information Technology have assisted efforts to improve inventory turns, manage gross margins, and optimize each store's product mix. Notable accomplishments include the introduction of an automatic inventory replenishment system ("ARS"), various sales forecasting and analytic tools, and an advance shipment notification ("ASN") system, to name a few. Prior to the purchase and development of these integrated IT systems, regional and store managers performed these tasks the old fashioned way with paper and pencil, an extremely time consuming and cumbersome process.
UNCOVERING THE HIDDEN VALUE:
So if management has thus far delivered and met expectations with respect to its turnaround plan, why is ACMR undervalued? The simple answer is that all of these improvements have been hiding on the income statement just waiting for someone to dig them up. In the short-term, the market is driven by headline EPS figures and various animal spirits (greed and fear). For the five years preceding 2008, ACMR earned an average of $0.47/share. Since then, the Company earned ($1.31)/share and ($1.15)/share in 2008 and 2009 respectively. Hardly an inspiring picture!
But wait, let's step back for a minute and talk about the economics of retailing. Unlike most traditional businesses, financial metrics for a retailer are best measured on a per store basis. As you can see in the chart below, sales per store has steadily declined from a high of $6 million in 2002 to a low of $2.5 million in 2009, whereas reported SG&A as a percent of sales exhibits the exact opposite behavior. It's obvious that the level of staffing, compensation, advertising, and depreciation vary directly with the number of stores (the actual cost driver), and not the level of annual sales. Sales declined from $589.5 million in 2006 to $468.9 million in 2009, driving SG&A/Sales higher as a result of this lower sales base.
click to enlarge images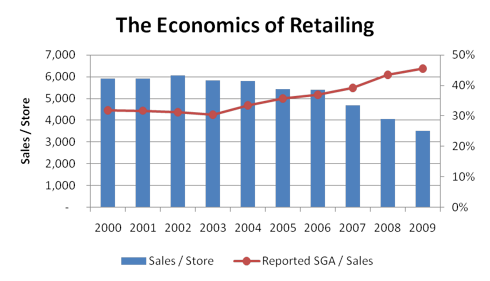 To measure the effectiveness of the aforementioned turnaround initiatives, it is more appropriate to measure SG&A on a per store basis. Please note that in order to isolate pure SG&A expenses I made a few adjustments. First, I removed the effects of asset impairments taken in 2008 and 2009. Then, I stripped out both depreciation and amortization charges, and advertising expenses to isolate each of these variables on a stand-alone basis. Finally, I backed out compensation expenses associated with stock options in 2006-2009, which was only included from 2006 onwards because of an arbitrary accounting rule change. I juxtapose reported SG&A/Sales for comparability purposes. Notice that management has been wildly successful in reducing costs, with adjusted SG&A/Store declining from $1.4 million/store in 2006 to $1.2 million/store in 2009. The same success in managing inventory and advertising expenses is evident by examining the table and chart below.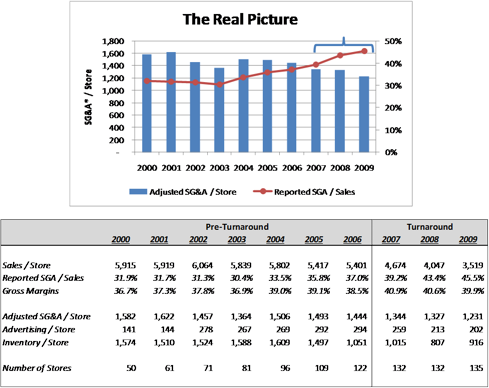 Now let's turn out attention to the gross margin initiatives. Management sought to improve gross margins through improved inventory and supply-chain management. In both 2008 and 2009, gross margins remained resilient despite aggressive promotional activity associated with a weak retail environment. For point of reference, promotional items gross anywhere between 30%-50% less than their full price counterparts. Yet, despite aggressive promotional activity, gross margins stayed relatively flat at 39.9% of sales (table above). Without these improvements, gross margins would have compressed even further. It wouldn't be a stretch of the imagination to state that under normal conditions, ACMR could earn gross margins of 42%. However, for the sake of conservatism, I'll assume normal gross margins of 41.5%, only a 60 basis point increase over 2007 levels for valuation purposes below.
VALUATION:
To place a value on the shares of ACMR, I used the insights gained from the above analysis as primary inputs to a income statement model. The figures below represent what I believe to be normal run rate EPS figures. Please refer to the appendix for the complete model. Also, note that both scenarios are zero-growth scenarios, meaning that I am not counting the value that would accrue to investor from an increase in store base. ACMR will invariably continue to expand irrespective of my assumption.
Base Case Valuation
The key inputs for my base case valuation are as follows: 136 stores, sales/store of $4.3 million, gross margins of 41.5%, SG&A/store of $1.231 million, advertising expense/store of $202,000. I assumed a 38% tax rate, and that depreciation, interest, and compensation expense (stock options) remained equal to 2009 levels. The base case valuation results in earnings per share of $0.60. The Company's historical annual average Price/Earnings ratio has exceeded traditionally conservative standards of safety, thus, using a range of 10x to 15x earnings, its shares are worth between $6.00/share and $8.99/share. An investor would earn a total return of +149.8% to +274.7%, respectively.
Best Case Valuation
For the best case valuation, I assume sales/store of $4.7 million, an entirely plausible assumption, given that sales/store peaked around $6 million per store over the course of its trailing ten-year history. All other inputs remain constant. Under this method, shares are worth between $11.46/share and $17.19/share for a total return of +377.6% to 616.4%.
DOWNSIDE RISK:
The thesis is dependent on the resilience of the US economy and resumption in consumer spending. Given that consumer spending is the main driver of economic growth; a contrary opinion presupposes that the US economic system will not recover from this recession over the long-term. I'm an optimist, so if your view differs, then you should avoid all equities. I cannot predict when ACMR will be able to earn its normal-run rate EPS. However, even a five-year investment horizon would make an investment in this situation an attractive endeavor.
ACMR's strong balance sheet and additional borrowing capacity under its $60 million revolving credit line with Wells Fargo provides an adequate capital cushion for withstanding the prevailing economic conditions. Per the 1Q10 balance sheet, book value per share is $6.12, an ample margin of safety for even the most conservative investor. Even assuming that inventory (which comprises $4.88/share of that figure) is worth 50% of its stated value under an extremely dire situation, adjusted book value per share would be $3.68. In summary, an investment in ACMR offers a highly attractive risk-to-reward ratio with sufficient downside protection.
Disclosure: No positions