Even a devout follower of financial news may have missed it; that is, the real engine behind renewed bullishness is the continuation of the China growth story.
Granted, there's been a variety of exceptional earnings reports, including UPS (NYSE:UPS), 3M (NYSE:MMM), Apple (NASDAQ:AAPL), Qualcomm (NASDAQ:QCOM) and Pepsico (NYSE:PEP). However, plenty of others expressed "unusual uncertainty," such as Amazon (NASDAQ:AMZN), Google (NASDAQ:GOOG), Starbucks (NASDAQ:SBUX) and Bank of America (NYSE:BAC).
Sure, the markets did respond positively to European bank stress tests, a rising euro-dollar, and a surprising manufacturing gain for the European region. Yet the net effect of stress tests may result in less lending, further dampening hopes for economic revival. And few seem to think the euro is completely out of the woods.
So why a sudden revival in bullish momentum for stock assets? In essence, investors have regained confidence that China's tightening policies may be coming to a close for 2010. Efforts to tame inflation as well as cool property speculation have been effective, as China's GDP slowed in Q2 and its industrial production dropped significantly in June.
Faith that the world's largest producer of energy has engineered a soft economic landing has pushed PowerShares Golden Dragon China (NASDAQ:PGJ) back above its 200-day trendline. Moreover, a series of "higher lows" can be seen from May to June to July.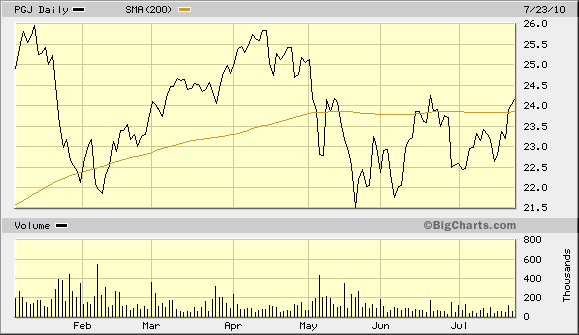 The bottom line is this: If investors believe the China-driven global growth story is back in play, commodities and materials companies become more desirable. Add a falling dollar to the mix, and commodities have yet another tailwind at their backs.
Need percentage proof? Here are some of the week's top performers:
Leading ETFs For The Trading Week Ending 7/23/2010
Approx % Gain
Market Vectors Steel (NYSEARCA:SLX)
13.0%
SPDRs Metals & Mining (NYSEARCA:XME)
10.8%
iPath DJ AIG Copper (NYSEARCA:JJC)
9.0%
iShares DJ Materials (NYSEARCA:IYM)
8.3%
Claymore China Real Estate (NYSEARCA:TAO)
7.9%
iPath DJ AIG Nickel (NYSEARCA:JJN)
7.6%
Claymore Timber (NYSEARCA:CUT)
7.2%
iPath DJ AIG Industrial Metals (NYSEARCA:JJM)
7.1%
S&P 500 SPDR Trust (NYSEARCA:SPY)
3.5%
Disclosure Statement: Gary Gordon, MS, CFP is the president of Pacific Park Financial, Inc., a Registered Investment Adviser with the SEC. The company and/or its clients may hold positions in the ETFs, mutual funds and/or index funds mentioned above. The company receives advertising compensation at the ETF Expert web site from Invesco PowerShares Capital Management, LLC. The commentary does not constitute individualized investment advice. The opinions offered herein are not personalized recommendations to buy, sell or hold securities.